Ackley sees action in outfield at Triple-A
Ackley sees action in outfield at Triple-A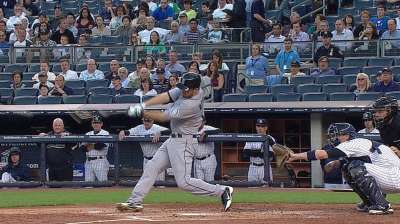 SEATTLE -- With rookie Nick Franklin playing well at second base for the Mariners, the club plans to take a look at Dustin Ackley in the outfield as he continues working at Triple-A Tacoma.
Ackley started in left field for the Rainiers on Wednesday night in Las Vegas, his first game action in the outfield since his college days at North Carolina. Ackley was drafted by the Mariners with the second overall pick in 2009 as an outfielder, but converted to second base and has played exclusively there in his first three seasons in Seattle.
Ackley was sent to Tacoma after hitting just .208 in the first two months of this season, but has batted .429 in his first 13 games for the Rainiers.
"I think it's good for Dustin," Mariners general manager Jack Zduriencik said. "You never know what will happen. Versatility is a good thing. Right now, we spoke to him yesterday, asked him to take balls in the outfield, and he's wide open to it. It's great. He took balls in center field yesterday, took balls in left field, tonight he's starting in left.
"We'll see him play the outfield and just see how it goes. We know what he's done at second, let's let him get his feet wet in the outfield. … We've actually talked about this for a while. The timing never seemed right to do it, because he was playing second base in the big leagues. We didn't want to upset the apple cart at that point. But I think now that's he's down there, in a little more relaxed atmosphere, the time is right."
Mariners scouting director Tom McNamara said he saw Ackley play center field before the Mariners drafted him, though he played mostly first base in college after having Tommy John elbow surgery.
"We took him as a hitter," McNamara said. "In the back of our mind, he may end up in the outfield because that's where he played before he got hurt. It's kind of an interesting story. He was at first base. But here's a guy who could run and hit, but he was at first base in college because he couldn't throw because he just came off Tommy John. But all of us scouts saw him play in the outfield as a center fielder.
"He can run," McNamara said. "You could see more of his speed when he played outfield. I still think that run tool could be more productive out there."
Greg Johns is a reporter for MLB.com. Follow him on Twitter @GregJohnsMLB as well as his Mariners Musings blog. This story was not subject to the approval of Major League Baseball or its clubs.