In fourth round, Seattle nabs St. John's lefty
In fourth round, Seattle nabs St. John's lefty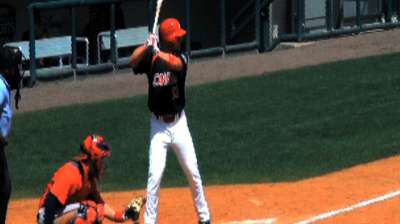 With the 117th overall pick, the Mariners made left-handed pitcher Ryan Horstman their fourth-round Draft choice. The Massachusetts native played his college ball at St. John's University, but not before taking a year off from the game.
"He's a draft-eligible freshman, which is unique. St. John's actually talked to him about playing basketball, he's a real good athlete," Mariners scouting director Tom McNamara said. "We went in there late and he's got a good delivery, good arm action. We look at him as at 20 years old, he's a draft-eligible freshman, it's almost like taking a junior college guy or an older high school guy."
Forced to repeat his senior year at South Hadley High School for academic reasons, Horstman also redshirted his freshman season with the Red Storm, meaning he didn't pitch in a game for two years. Those two years off made him eligible to be drafted after a freshman season in which he went 6-6 with a 2.33 ERA and 56 strikeouts in 65 2/3 innings. The 6-foot-2 lefty was a Louisville Slugger Freshman All-American, and third team All Big East.
"In the Draft, you want to take a high school lefty and a high school righty, sometimes you want to take two or three of them," McNamara said. "We look at him as a starter potential guy."
Jacob Thorpe is an associate reporter for MLB.com. This story was not subject to the approval of Major League Baseball or its clubs.