Morse joins team in Minnesota; still unready to play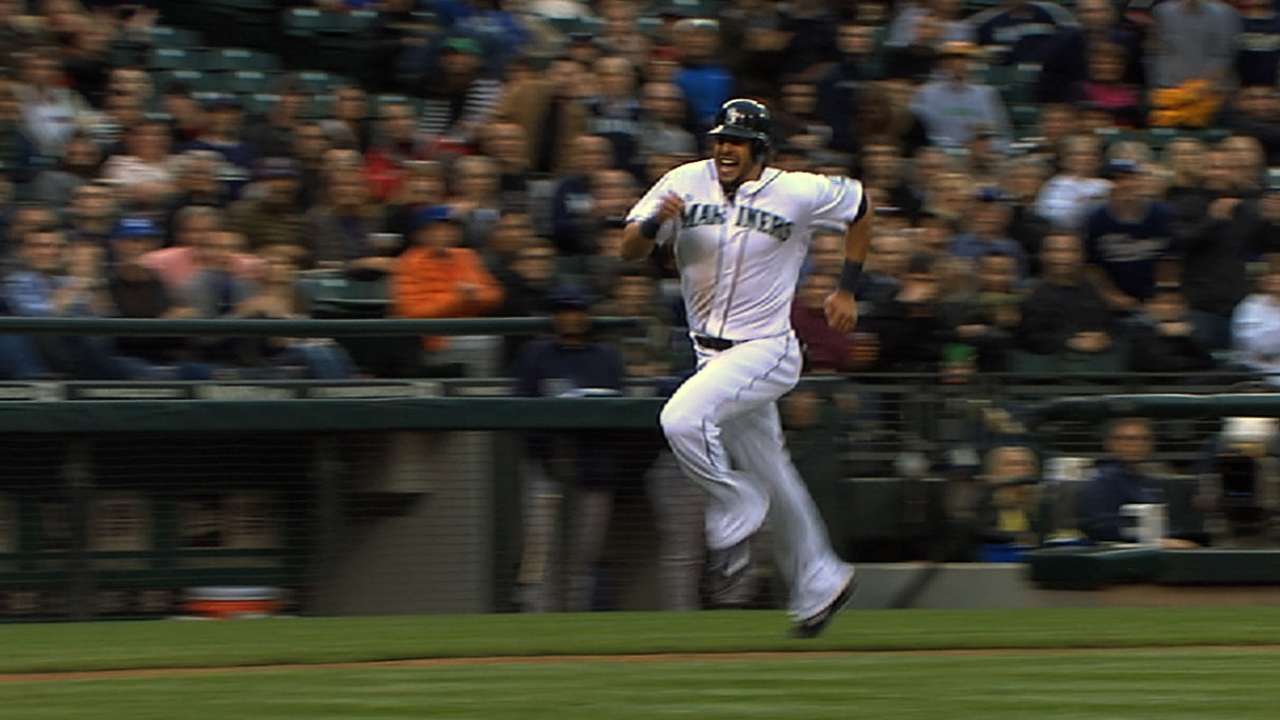 MINNEAPOLIS -- After staying behind in Seattle to treat a strained right quadriceps muscle while the Mariners played a pair of games in San Diego, right fielder Michael Morse rejoined the club on Friday at Target Field in time for a three-game set with the Twins.
Morse isn't ready to play just yet, however. He may not be available until the club returns to Seattle for a 10-game homestand that opens Monday.
"He's going to take some batting practice and we'll see how he feels and moves around," manager Eric Wedge said prior to Friday's game. "He feels better, he's just not ready to be in there yet. He's here to work.
"I don't know if we'll have him available here or not. We'll just take it day to day and potentially have him available to pinch-hit."
Morse feels he's close, however, and he will be able to go once he can get up to speed.
"It's better," Morse said. "I can hit. I can do everything. The one thing I feel is running. It's just sore, a little tight. It's not a pulled feeling anymore. If it was up to me, I'd give it one or two more days and I'll be fine."
Morse, who leads the team with 11 home runs, injured the leg while trying to score from first on a double by Michael Saunders in the fourth inning of Tuesday's 6-1 loss to the Padres at Safeco Field.
"To me, it's such a fluke thing," said the 6-foot-5, 245-pounder. "I felt so good. I've taken really good care of my legs and I felt great in the outfield. I felt really good running, especially right there I felt great. I just tried to push it a little too much.
"I compare it to like driving a car and red-lining a car. You just don't do that. I tried to run a little faster and I'm not fast, so I don't know what I was doing."
Morse, 31, spent Wednesday and Thursday getting treatment at Safeco Field and watching his teammates split a pair in San Diego.
"I was actually in the clubhouse, and it was weird because no one else was in there and I was just doing rehab stuff," Morse said. "Every time we started getting on a roll, I didn't move. That first game was frustrating, but [Thursday] was a nice game to watch."
Morse hit off a tee while in Seattle and said everything felt fine swinging the bat. Now he just needs to be able to run full speed. He's hitting .254 with 21 RBIs in 45 games.
Greg Johns is a reporter for MLB.com. Follow him on Twitter @GregJohnsMLB as well as his Mariners Musings blog. This story was not subject to the approval of Major League Baseball or its clubs.