Even without surgery, Saunders indebted to Yocum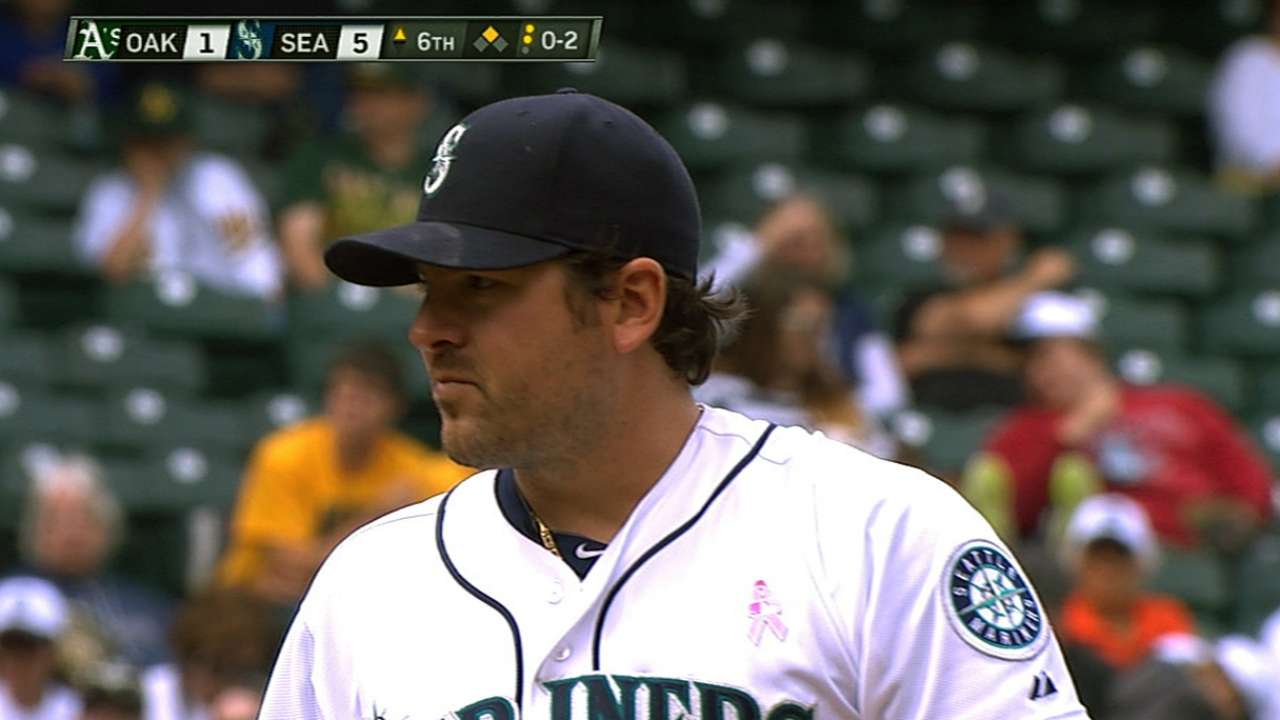 SEATTLE -- Joe Saunders and Kendrys Morales didn't have to have Dr. Lewis Yocum operate on them to appreciate the renowned orthopedic surgeon.
In fact, Saunders says he owes much of his career to the Angels' longtime team orthopedist and one of the country's most noted practitioners in the field of sports medicine -- because he didn't operate on him when he was a young, top prospect.
Yocum passed away Saturday from liver cancer at the age of 65.
"He was a pioneer, and a shoulder to lean on," said Saunders, the Mariners left-hander whom the Angels drafted 12th overall in 2002.
Saunders had shoulder pain after most of his 13 starts for two Angels' Class A affiliates during the summer of 2002. The following spring Yocum diagnosed fraying of the labrum in his pitching shoulder.
Instead of performing one of the surgeries for which he was a baseball hero to countless players, Yocum put Saunders on an intensive rehabilitation and exercise program for about a year. It cost the pitcher his entire 2003 season -- but not his career.
"He pretty much told me, 'This is what you need to do. This is what it would take. Here's how you do it,'" Saunders said.
"I owe a lot to him. I owe a whole hell of a lot to that man for what he did for me."
Two seasons after completing Yocum's non-surgery treatment, Saunders was the Angels' Minor League Pitcher of the Year. He made his Major League debut that season, in August 2005. He was 7-3 for the Angles in 2006, then won 33 games for them over the 2008 and '09 seasons.
That earned him a huge new contract, with a raise from $475,000 to $3.7 million in 2010.
More than 1,200 Major League innings later, the 31-year-old Saunders is 81-70 in his nine seasons with the Angels, D-backs and Mariners entering Wednesday night's start at San Diego. He is signed through 2013 on a contract that has paid him $18 million the last three years.
So, yes, he owes plenty to Yocum.
"The thing is, it was very impressive to me that for as esteemed as he was in his field, he was so down to earth," Saunders said. "We were pretty good friends. He would come up and shake your hands and say hi to you. I talked to him all the time.
"Just a great, great man."
The Angels signed Morales two years after they drafted Saunders. He played for them through December, when the Mariners acquired him for left-hander Justin Vargas.
"He was one of the very best in baseball. He was very good to me," Morales said of Yocum through a team interpreter following batting practice Tuesday.
Morales had two surgeries on his left ankle after he broke it in a home-plate celebration for a grand slam that beat the Mariners early in the 2010 season. The surgeries were done by Dr. Phil Kwong in Orange, Calif., and Dr. Thomas Clanton in Vail, Colo.
Yet Morales valued Yocum for what he did for every player, not just the ones on whom he operated.
"He knew everything about each player," Morales said. "He was great."
Gregg Bell is a contributor to MLB.com. This story was not subject to the approval of Major League Baseball or its clubs.