Franklin ready to contribute at Major League level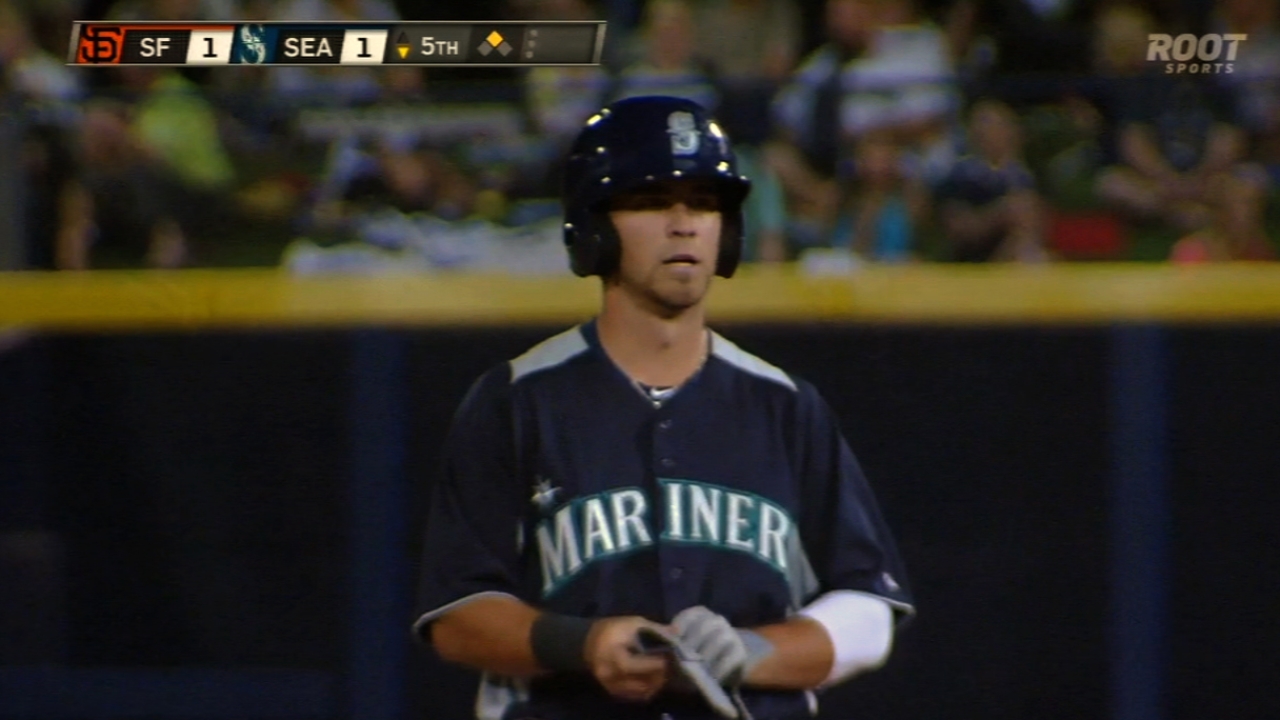 SEATTLE -- Nick Franklin was not in the Mariners lineup for Monday afternoon's game, but he will be starting Tuesday night's game at second base and quite possibly many more after that. After walking through the doors of the Seattle clubhouse on his first day as a Major League ballplayer, that seemed to suit him just fine.
Franklin, a 22-year-old Florida native who was the 27th overall pick in the 2009 First-Year Player Draft out of Lake Brantley High School, said he learned of his promotion while with Triple-A Tacoma on a road trip in Reno. He watched the Mariners game on TV a bit Sunday, then decided to hit the showers. That's when the phone call came.
"I didn't know what to do," said Franklin, who will wear No. 20. "Honestly, they told me, and I didn't even think to call my dad. I was like, 'Uh, I don't even know what I do from here.' It took me about a minute and I was like, 'I should probably call my dad.' So I talked to my dad for like 30 seconds and then jumped on a plane two hours later."
Franklin said his dad, mom and brother would be in the stands at Safeco Field on Monday and Tuesday night. Although he was expected to make his debut Tuesday, he entered Monday's game in the eighth inning as a defensive replacement. He made two plays in the field at second base and drew a walk at the plate.
"It's exciting," Franklin said. "I can't really explain the feeling yet, because it hasn't really hit me. I'm more than excited."
Franklin, who was drafted as a shortstop but has seen time at second in the Minors, said he's fine playing the keystone position.
"I feel like it's more of a vacation to me at second," Franklin said. "Not really, but from short to second, there's a big difference, just in the throw. There's not as much responsibility, so I'm pretty comfortable with it."
Franklin, who is a switch-hitter, said he's found success in a reliable offensive approach.
"Just being patient," Franklin said. "Going from last year to this year was the big difference, just seeing pitches, seeing the good ones and hitting the good ones. Not trying to hit every single ball. Just trying to get your pitch and square it up as best you can."
Franklin said he has no expectations about playing time or how long he'll stay up here. In fact, he kept his assessment of the situation very simple.
"I know I'm here," Franklin said. "And I'm here to win."
Greg Johns is a reporter for MLB.com. Follow him on Twitter @GregJohnsMLB as well as his Mariners Musings blog. This story was not subject to the approval of Major League Baseball or its clubs.