Mariners option Ackley, promote prospect Franklin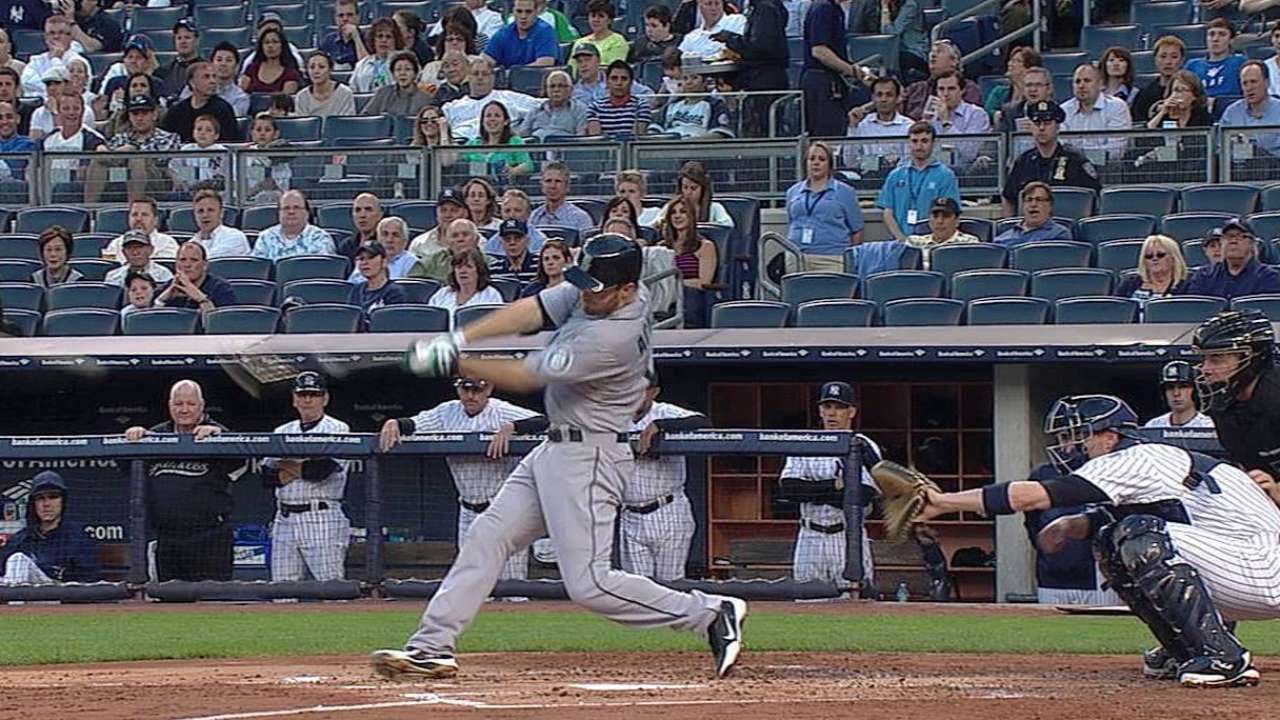 SEATTLE -- The Mariners continued to reshape their roster on Monday, this time bidding what they hope will be a temporary goodbye to one huge prospect while saying hello to another.
Seattle optioned second baseman Dustin Ackley, the No. 2 overall pick in the 2009 First-Year Player Draft, to Triple-A Tacoma and called up 22-year-old infielder Nick Franklin from Tacoma. The Mariners also optioned left-handed reliever Lucas Luetge to Tacoma and recalled righty Hector Noesi in a move designed to provide the beleaguered bullpen with some security. Outfielder Francisco Martinez was designated for assignment to clear room for Franklin on the 40-man roster.
While the promotion of No. 4 prospect Franklin, who was hitting .325 with four home runs, 20 RBIs and seven stolen bases in 39 games for Tacoma this season seemed inevitable considering how quickly Franklin has risen through the organizational ranks, the demotion of Ackley was a tough but ultimately necessary decision for the club's brass. Ackley, 25, was hitting .205 with one homer and eight RBIs in 45 games.
"It was just time," Mariners manager Eric Wedge said. "Obviously, we've fought for the guy for quite a period of time now. We wanted to make it work up here and not do that, but ultimately we didn't feel like we could take it any further."
Seattle general manager Jack Zduriencik couldn't put a finger on exactly why Ackley -- who burst onto the big league scene in 2011, hit .273 with six homers and 36 RBIs in 333 at-bats and ended up sixth In American League Rookie of the Year voting -- had slumped so badly in the ensuing seasons. Last year, Ackley hit .226 with a .294 on-base percentage.
"Whether he lost his stroke and lost his confidence, it's hard to say," Zduriencik said. "But I think it was very evident to us that what this guy needed was to be taken out from under the big league lights. ... Take a step backwards, go down and try to get your swing back, try to regain your confidence and let the pieces fall where they may."
The Mariners made a similar move with once-heralded hitter Jesus Montero last week, but as Zduriencik explained, the Montero move was more about getting a player acclimated to a new position (in this case, first base).
Wedge said he thought Ackley's troubles were almost 100 percent mental.
"It's not his swing anymore," Wedge said. "He's in a pretty good position fundamentally. But I do think it's the mental that leads to the fundamental, the mental that leads to the actual performance. Listen, he's going to be a good hitter. He's going to be a good player. He's done a [heck] of a job at second base. … He gets down the line quicker than anybody, he can steal a bag, he cuts the bases as good as anybody. There's a lot there to like.
"He's a good kid, he competes. But he just needs to get over some things mentally in regard to approach. When he does that, we'll get him back up here and I think he'll take off. That's why you have Triple-A. This is the exact situation for that. It allows him to catch his breath and go down there and work on what he needs to work on."
Greg Johns is a reporter for MLB.com. Follow him on Twitter @GregJohnsMLB as well as his Mariners Musings blog. This story was not subject to the approval of Major League Baseball or its clubs.