More positive Ryan: '.200 feels like .550'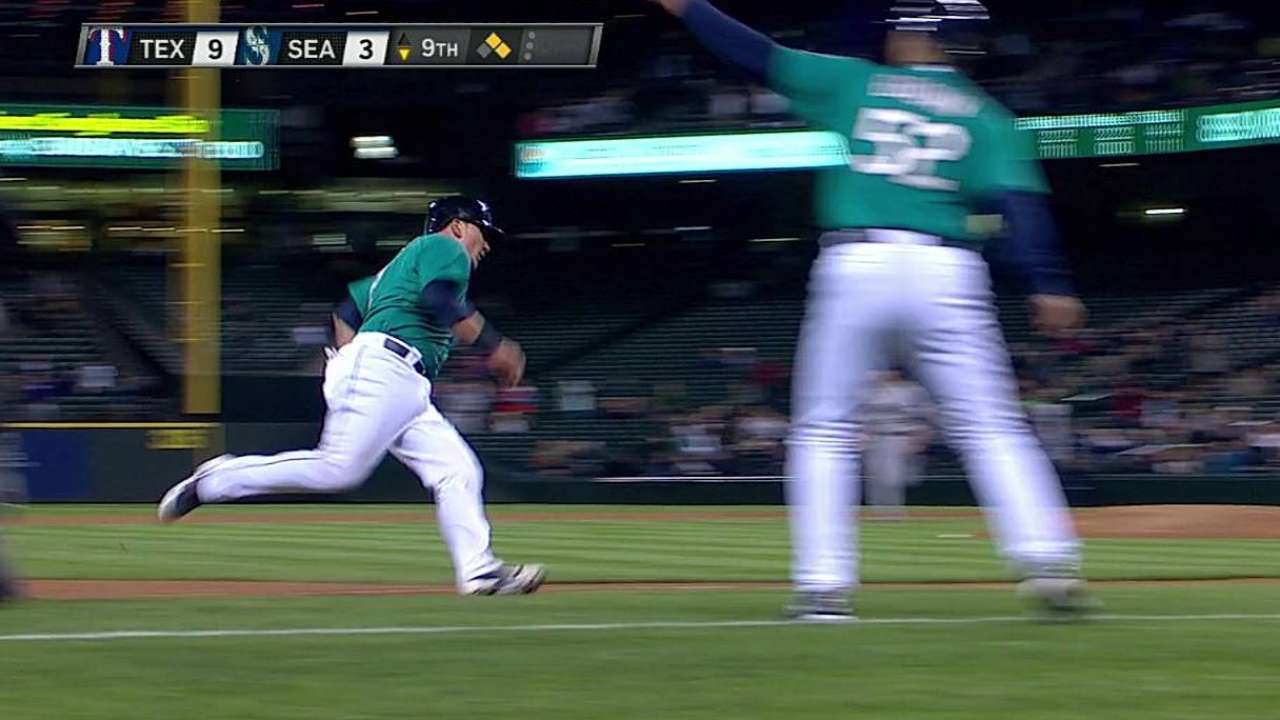 SEATTLE -- The youth movement that edged into the middle of the Mariners' infield on Friday shifted into full gear against the Texas Rangers on Saturday night, when Carlos Triunfel made his first start of 2013.
But the 23-year-old didn't make his sixth Major League start since debuting last September by playing his natural position of shortstop. He was batting eighth and playing second base, for Dustin Ackley, who's mired in an 0-for-13 skid.
Brendan Ryan wasn't about to yield at shortstop. Not now, anyway.
The Mariners entered the second game of the weekend series against first-place Texas on a seven-game losing streak. That wasn't because of Ryan. Seattle's three-year starter at shortstop entered Saturday 13-for-32 (.406) in his last nine games. That had raised his average 80 points in 12 days, from his season low of .122 to .202.
No, that's not exactly the stuff of Tigers reining Triple Crown winner Miguel Cabrera. Yet, it was good enough for Ryan to laugh about being above .200 for the first time since April 13. He finished 2012 at .194.
"It's been so bad, .200 feels like .550 right now," he joked before Saturday's batting practice. "I almost don't even want to know what it [batting average] is. I want to stay hungry."
Ryan credits a concerted mentoring combination for heating up his bat: hitting coach Dave Hansen; first-base coach Mike Brumley; plus Ryan's brother, Paul. Paul is 15 years older than the 31-year-old Brendan and has been tutoring him since T-ball in their native Southern California.
Brendan and Paul talk at least three or four times each week. Big brother's latest tip was to watch pitches longer through the strike zone.
"He just wanted me to see the pitches deeper. My point of contact had been so far in front of me, I was just popping pitches up or rolling them over," Brendan said. "It's about trusting your hands, and trusting your eyes."
Ryan's contract expires after this season. He loves Seattle so much he recently bought a condominium downtown near Pike Place Market. That's where he, his wife, Sharyn, and their golden retriever/poodle Bear Grylls (yes, after the TV adventurer) live.
Saturday was the 718th game he has played since he debuted with St. Louis in 2007. That's enough experience to know why the Mariners promoted Triunfel from Triple-A Tacoma.
The native of the Dominican Republic, considered a top Mariners prospect a few years ago, hit .300 in 44 games with the Rainiers. That was before Triunfel flew from SeaTac Airport to Reno and back to SeaTac on Friday, arriving a half-hour after this series with the Rangers began.
He flied out while pinch-hitting in the ninth inning in his 2013 debut.
"I can only control so much," Ryan said. "I know he is not here to sit. He's going to play. Sometimes there will be days I'm not in there. I understand that."
Ryan also understands he and Triunfel will continue to play together if Ryan keeps hitting like this.
"It's been a good 10 days now for him," manager Eric Wedge said of Ryan. "He just needs to stick with what he's been doing."
Gregg Bell is a contributor to MLB.com. This story was not subject to the approval of Major League Baseball or its clubs.