Ryan trying to get on roll in batter's box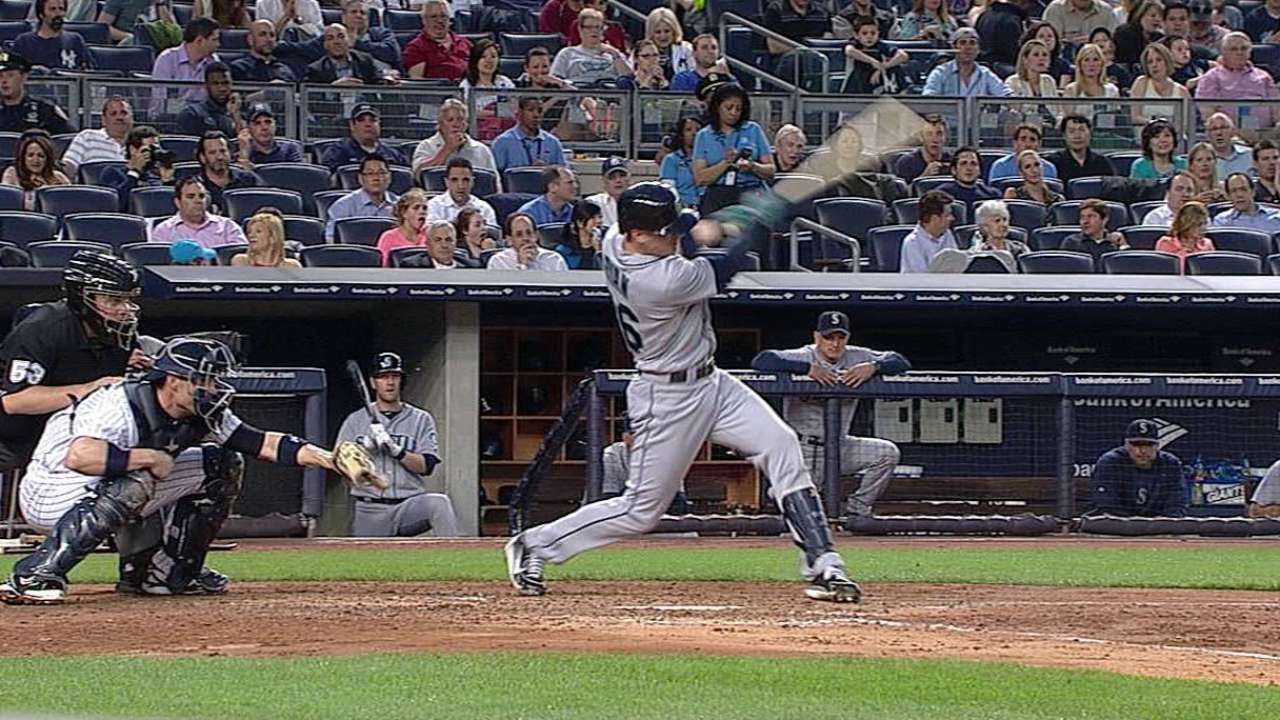 NEW YORK -- Brendan Ryan hasn't hit well for two seasons now. He knows it, you know it, manager Eric Wedge knows it. But the Mariners shortstop has never stopped trying, and nobody was more thrilled when he beat out an infield single in the ninth inning of Wednesday's 12-2 blowout over the Yankees to become the last Seattle starter with a hit in the game.
"I would have risked being on crutches for the rest of my life for that hit," a beaming Ryan said. "You're talking to a two-game-hitting-streak shortstop right now, so let's ride this wave."
Ryan is still batting just .149 after Thursday's 3-2 win over the Yankees, although he went 2-for-4 with an RBI single. He was robbed of potentially two RBIs in the second inning, when right fielder Ichiro Suzuki made a sliding catch to end the threat, and Wedge was ejected after arguing that Ichiro trapped the ball.
On the heels of last year's .194, it's not where he wants to be. But after losing some playing time to Robert Andino at shortstop, Ryan has been at least splitting time the past two weeks while Wedge looks for one of the two to grab hold of the job.
Ryan offers Gold Glove defense, so it wouldn't take much for him offensively to maintain the position. But he needs to hit a little. And, yeah, he's trying. Ironically, the pitch he hit for a single on Wednesday was one that he got out ahead of and rolled to the third baseman, hugging the line just enough to let him beat the throw by half a step.
"It was absolutely everything I wasn't trying to do," he said. "I've been trying to let the ball get deeper and then make contact. It's been happening and then not happening. But when it has happened, the results have not been there. Not every at-bat is going to be squared up and all that, but the at-bats have gotten better, I just haven't had the results.
"It's just a matter of not burying yourself. Along with that, we're winning games, so I can't get too discouraged because my main responsibility is to be out there catching balls. Still, from a personal standpoint, you'd like to be on the basepaths a little more often."
Greg Johns is a reporter for MLB.com. Follow him on Twitter @GregJohnsMLB as well as his Mariners Musings blog. This story was not subject to the approval of Major League Baseball or its clubs.