In return to Bronx, Ibanez focuses on present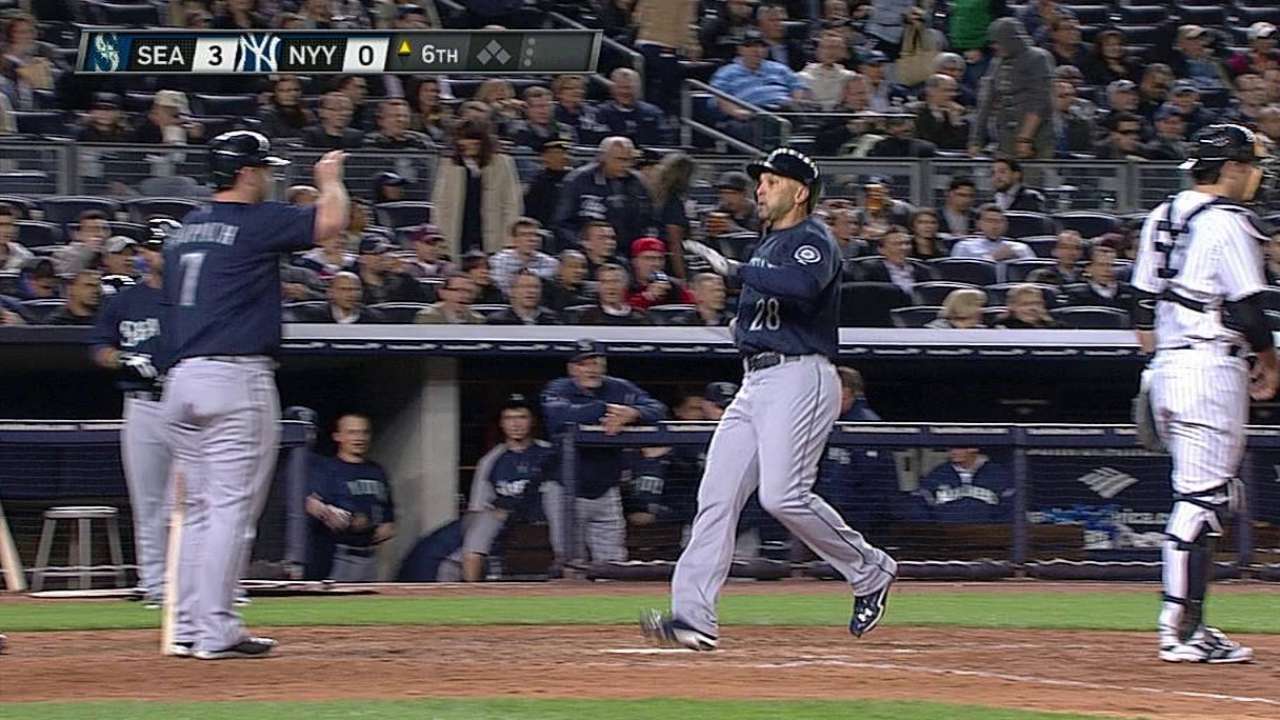 NEW YORK -- Raul Ibanez returned on Tuesday to Yankee Stadium, where his postseason heroics a year ago were memorable both for himself and Yankees fans. But the 40-year-old outfielder wasn't getting caught up in the past as he prepared to face CC Sabathia in the opening game of a three-game series with his Mariners.
"It was definitely a lot of fun to be a part of that," Ibanez said before hitting a two-run homer off Sabathia in his third at-bat of Seattle's 4-3 loss. "Winning is always fun, and being a part of something like that was definitely special and a time I'll always remember. But it has very little to do with anything that happens in today's game. This is a new day, a new season, a new game. And if I'm thinking about the past, then I'm not focusing on today. It's great to be back, and it's going to be better if we can win the series."
Ibanez hit 19 home runs and 62 RBIs last year in 384 at-bats during his one season with the Yankees, then signed a one-year deal to return to Seattle for a third time. He's played for the Mariners, Royals, Phillies and Yankees in his 18-year career and is definitely glad to have added New York to his resume.
"It was a great experience to be part of it and play in Yankee Stadium," Ibanez said. "As a kid growing up, you watch games in Yankee Stadium. I grew up watching Reggie Jackson and Bucky Dent and Thurman Munson and Don Mattingly, so being able to be part of that tradition, I had a great time. I really did, and I enjoyed it. And now I'm here and I'm trying to beat them."
Ibanez got the start on Tuesday, even against the left-handed Sabathia. After a 1-for-23 slump dropped his batting average as low as .148, Ibanez entered Tuesday having gone 5-for-13 over his last six games to inch his average up to .194.
"I think I've been better the last four games or so that I've played," Ibanez said. "I've put some good swings together, I've hit some balls hard, I've got some hits. I'm feeling better. I'm working on some stuff, and I think I'm ready."
Greg Johns is a reporter for MLB.com. Follow him on Twitter @GregJohnsMLB as well as his Mariners Musings blog. This story was not subject to the approval of Major League Baseball or its clubs.