Felix, Iwakuma give Mariners strong starting tandem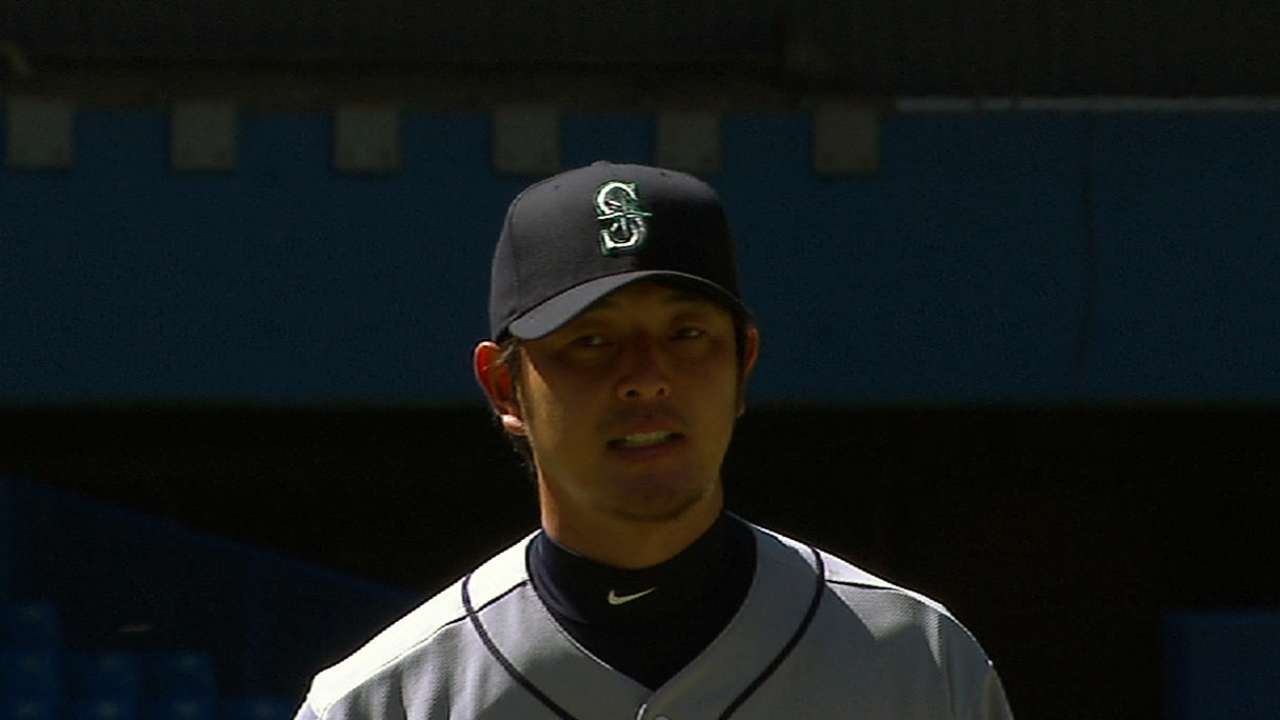 TORONTO -- As second baseman Dustin Ackley said following the Mariners' 8-1 victory over the Blue Jays at Rogers Centre on Saturday, Seattle has two of the best starting pitchers in baseball right now in ace Felix Hernandez and fellow right-hander Hisashi Iwakuma.
The two have thrown 12 quality starts in 14 outings and each sports an ERA under 1.65. Hernandez is the Major League-leader in innings pitched with 50 2/3, while Iwakuma's minuscule 0.76 WHIP is tops in the American League. Entering Sunday, the pair are only two of eight starters in the game with 1.8 wins above replacement (WAR), according to baseball-reference.com, and both are among the top 10 in strikeout-to-walk-ratio. They are near the front of the class in many other significant pitching categories, too.
Manager Eric Wedge is familiar with having a lockdown 1-2 punch atop his rotations, having had CC Sabathia and Cliff Lee together in Cleveland. He says the biggest thing it does for a club is set the tone for every other player on the roster. The performances of Hernandez and Iwakuma speak for themselves, and Wedge said that rubs off on the rest of their teammates.
"It takes some time to get to that point -- and it took us a little bit of time in Cleveland, and it has here, too," said Wedge. "But when you have people at the top of your rotation that you can count on, it's going to keep coming around.
"What I mean by that is, from a position player's standpoint or the other pitchers or the bullpen, you know that every three or four days that those guys are going to be out there -- and that's going to go a long way."
One of the biggest benefits the team has enjoyed with the hot starts of Hernandez and Iwakuma, Wedge said, is the luxury of saving the bullpen by their ability to go deep into games.
Hernandez has completed eight innings in three of his last four starts and gone six in all seven of his outings, while Iwakuma has failed to log six frames just once this season.
Wedge has had a first-hand look at Hernandez's dominance the last few seasons and said talent alone is not the only reason why the 27-year-old is one of the game's best.
Although Hernandez expects success each time he takes to the mound, Wedge said, he doesn't take anything for granted.
"He knows he has to go out there and make it happen. He has worked hard and pitched for a long time to get to this point," Wedge said. "I love the fact that he doesn't assume anything, he knows he has to go out there and do the work in between his starts.
"That's one of the many reasons why he is who he is."
Wedge, a former catcher, said being behind the plate for pitchers that are as consistent as the pair is a pleasure. He knows backstops Jesus Montero and Kelly Shoppach are having a lot of fun with it.
"When you have someone out there that can execute pitches with good stuff, that's when it gets to be a lot of fun," Wedge said. "[Hernandez] is the best of the best. To be able to go out and execute and pitch and give your team a chance to win ballgames, that says a lot about those guys."
Chris Toman is a contributor to MLB.com. This story was not subject to the approval of Major League Baseball or its clubs.