Saunders continues to shine on home soil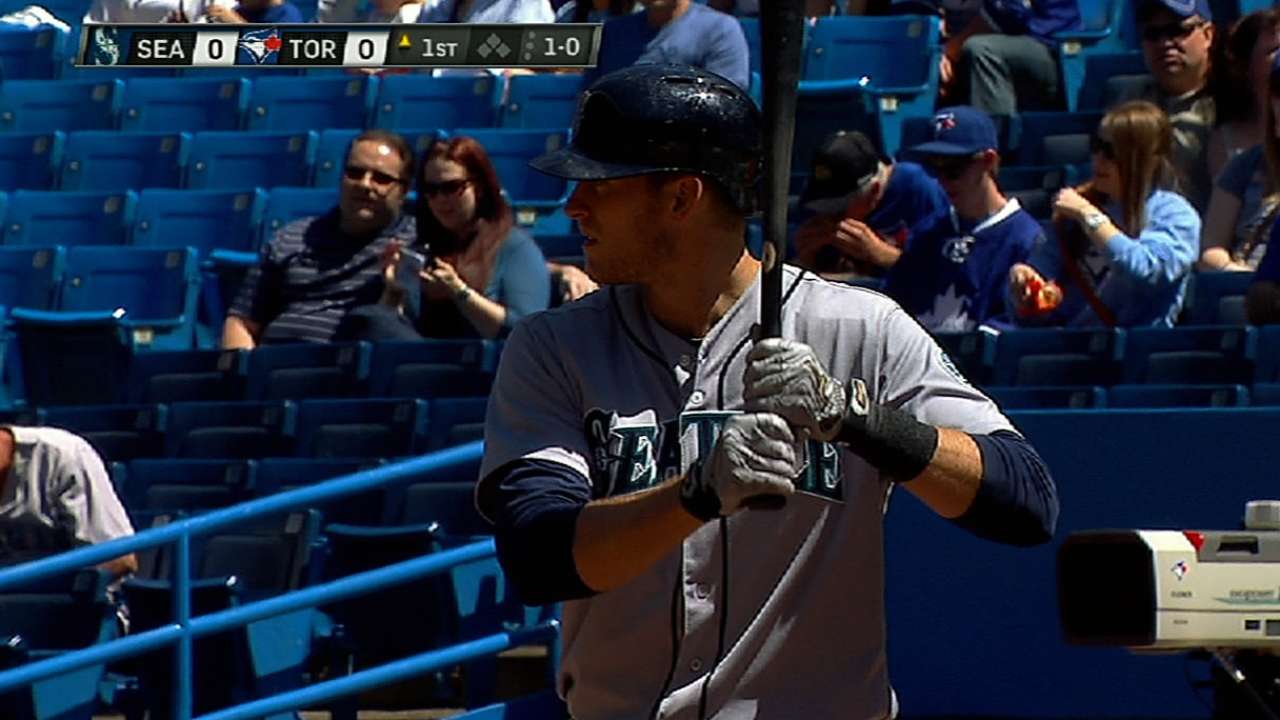 TORONTO -- He has been doing it for five years now, but Michael Saunders still enjoys coming back to Canada and playing in his home country. Toronto is one of the few cities that Saunders checks the schedule for at the beginning of the year.
Saunders proved how much he relishes playing at Rogers Centre yet again in the Mariners' 8-1 victory over the Blue Jays on Saturday. He started the game off with a leadoff homer and added another in the fifth inning, hitting both against knuckleballer R.A. Dickey. Saunders, a native of Victoria, British Columbia, finished the game 3-for-5, adding a double in the ninth inning, with two runs scored and three RBIs.
It was the fourth multihomer game of Saunders' career and second one in Toronto. In 15 career games at Rogers Centre, Saunders has gone deep five times.
"Sometimes it's weird like that -- pitchers, hitters have their places, their teams, whatever it may be," Saunders said about his power display when he plays in Toronto. "I don't know, to be honest."
Saunders has a contingent of friends and family in town to watch Seattle's three-game set against the Blue Jays. Last season, in the Mariners' first visit to Canada in April, Saunders was jeered by the Toronto crowd and promptly responded by drilling a pair of home runs and five RBIs in a Seattle victory. Through the first two games of the series, there haven't been nearly as many boos, perhaps due to the performance Saunders had for Team Canada at the World Baseball Classic.
The 26-year-old Saunders was named the Most Valuable Player in Pool D after batting .727 (8-for-11) with three doubles, a home run and seven RBIs in three games.
"It's always nice to come back," Saunders said. "I do look forward to it. It's always good, too, to see family and friends. It's a blessing to be able to play in front of loved ones."
Saunders, who is batting .300 with four homers, four stolen bases and a .971 OPS in 14 games this season after a breakout campaign last year, feels he gained a lot of valuable experience playing in the Classic.
"It certainly gave me some confidence coming into the season," Saunders said. "It's basically a tournament of all-star teams. It's the best in the world. It's something that, I think, is really good for baseball and I hope it continues throughout the years."
After making his Major League debut in 2009 as a 22-year-old, Saunders spent parts of the next few seasons shuffling back and forth between the Majors and Minors. He has now found a home at the top of Seattle's lineup, playing either right or center field.
The biggest thing, Saunders said, in his evolution as a hitter, was believing that he belonged at the highest level.
"I made a few mechanical adjustments, but mainly it was a mental approach that, I think, really kind of helped me stick the last few years," Saunders said.
Fellow countryman Jason Bay, who is enjoying a good start to the year in his first season with Seattle, has always paid attention to Saunders' growth as a player, but gained a greater appreciation for his skill set once he was able to first suit up alongside him during Spring Training.
Bay believes Saunders is an undervalued asset in the game.
"A lot of people had a lot of good things to say about him in Spring Training and the more you're around, the more you realize they were right," Bay said. "He's really kind of coming into his own. Good defense, good presence at the top of the lineup.
"Kind of in Seattle, a lot of people forget about the West Coast teams. He is a guy that has a real good start on a real good career."
Saunders missed more than two weeks from mid-to-late April with a sprained right shoulder, but has hit three homers and scored eight runs in five games since returning. The Mariners have won four of those contests and manager Eric Wedge doesn't believe that's a coincidence.
"He brings a lot of energy to our club," Wedge said. "He can do so many things to help you win ballgames. There is a level of intensity and toughness there, too, that he brings."
Chris Toman is a contributor to MLB.com. This story was not subject to the approval of Major League Baseball or its clubs.