Hultzen expected to miss at least a month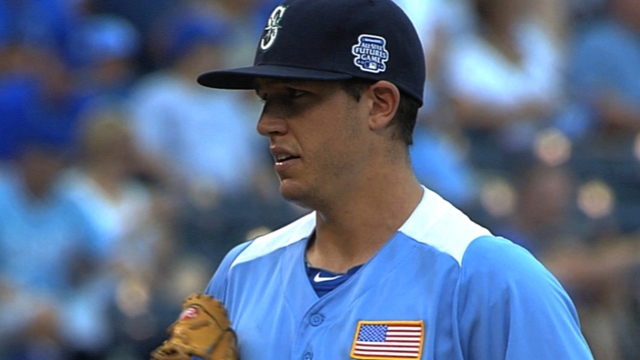 SEATTLE -- Danny Hultzen was at Safeco Field on Sunday, but this wasn't the glorious call-up of one of the game's premier left-handed pitching prospects.
"I don't want to be here for this reason," Hultzen said as he checked in for rehab work after being diagnosed with a rotator cuff strain and tendinitis in his left shoulder after being scratched from his Thursday start with Triple-A Tacoma.
"I'm doing my rehab here, just to get work done with the trainers," Hultzen said. "Then I'll go be a cheerleader for the Rainiers. That's the plan for now."
Hultzen has been told he'll likely need two weeks with no throwing, followed by at least two weeks of rehab, before any decisions will be made on his potential return.
"This is obviously something you don't want to have happen, but I'm going to just stay positive and get through it," Hultzen said. "It'd been bothering me a little bit, just the normal pitcher's tired arm or whatever. Nothing I worried about. But it got to a point where Dwight [Bernard], the pitching coach, asked me if my arm hurt because he could see something. So that's when we shut it down before the game."
Mariners manager Eric Wedge said it was wise of the 23-year-old to acknowledge the difficulty before it got worse.
"It's real important and good for him, being honest and smart about it," Wedge said. "If you feel something that's not right, you've got to be careful. Just total body awareness is such a key thing for these guys. You want them to be tough, but you want them to be aware. If something doesn't feel right, then something probably isn't right and let's at least get it checked out. If it is something, maybe we can preempt something."
Greg Johns is a reporter for MLB.com. Follow him on Twitter @GregJohnsMLB as well as his Mariners Musings blog. This story was not subject to the approval of Major League Baseball or its clubs.