Andino replacing Ryan as starting shortstop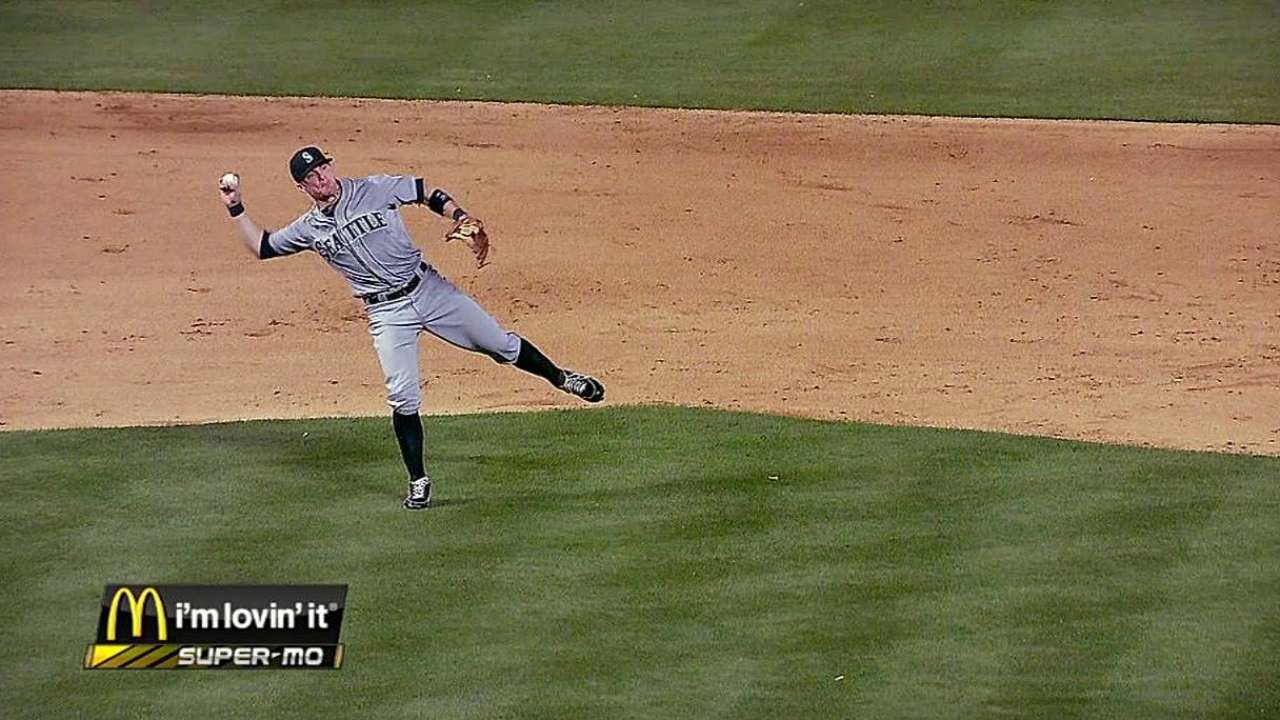 HOUSTON -- Brendan Ryan is regarded as one of the premier defensive shortstops in baseball, but his continued lack of offensive production has finally led Mariners manager Eric Wedge to go a different direction.
Wedge said Wednesday he would give utility infielder Robert Andino a run as the starting shortstop going forward, essentially flip-flopping the roles of the two infielders. Andino, 28, was acquired from the Orioles in a trade for Trayvon Robinson over the offseason.
Andino has not hit well in the early going for Seattle, either, carrying a .161 batting average in 31 at-bats into Wednesday's series finale with the Astros. But he is a career .235 hitter in eight seasons with the Marlins and Orioles, and Wedge is willing to take a shot after seeing Ryan continue his offensive struggles.
Ryan has just one hit in his last 25 at-bats as his average has dropped to .143 in 56 at-bats. After hitting .194 last season, that is not enough to make up for his stellar defense.
"I'm going to take it day-by-day, week-by-week and month-by-month, quite frankly," Wedge said. "I'm going to give Robert a chance to play and see where he takes it. I like what I saw with his work and his approach this spring. I don't feel it's been as good inseason, but it's been a little better here the last week in the cage."
Andino hit .263 as the Orioles' starting second baseman in 2011, but Baltimore was willing to part with him after he batted .211 in 127 games last season.
"It's an opportunity for Andino to go out and take it," Wedge said. "He doesn't have to get four hits today, he just needs to go out there and be a good big league player and let the rest take care of itself."
As for Ryan? Wedge is not closing the book. He just wants the 31-year-old to work on things to make a permanent improvement in his hitting approach.
Wedge intimated that he would have made a change last year if the Mariners had a better option. Munenori Kawasaki was the backup infielder last year, but he was not much of an offensive threat either.
"We stuck with him last year because we felt we'd give him every opportunity," Wedge said. "And quite frankly, we had an opportunity to give him every opportunity, if that makes any sense. But you can't expect change by doing the same thing every day. You have to change your habits and the way you go about doing things. It's as simple as that.
"We're going to give him a chance to work with [hitting coach] Dave Hansen and take a step back, hopefully to take two steps forward. It's up to him."
Greg Johns is a reporter for MLB.com. Follow him on Twitter @GregJohnsMLB as well as his Mariners Musings blog. This story was not subject to the approval of Major League Baseball or its clubs.