Gutierrez injures hamstring, may be headed to DL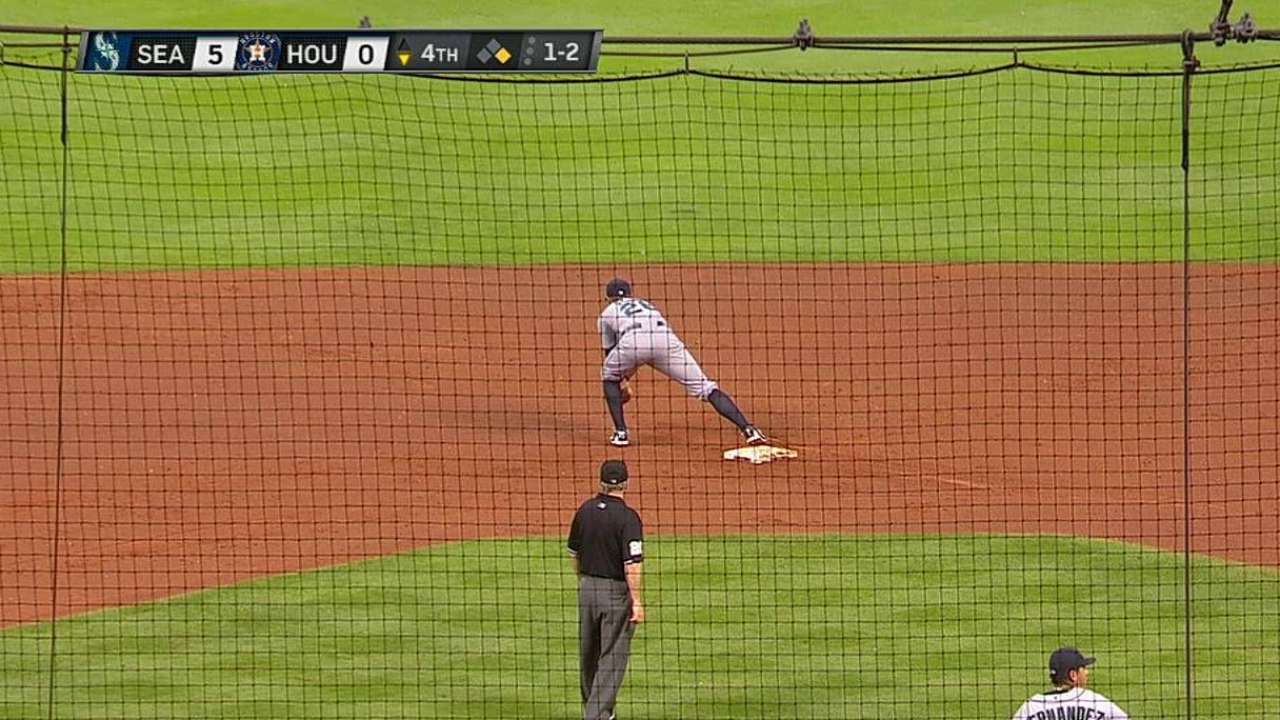 HOUSTON -- Just as the Mariners were working Franklin Gutierrez back toward more consistent playing time, the injury-plagued center fielder strained his right hamstring in the fourth inning of Monday's 7-1 victory over the Astros and could be headed for the disabled list.
Gutierrez was helped off the field after just missing a diving attempt at a bloop single by Chris Carter. The 2010 Gold Glove winner has been in and out of the lineup most of the past two weeks with leg issues, but this one might sideline him completely.
"It's a potential DL," said manager Eric Wedge. "We'll talk to him here in a little bit and see how he feels tomorrow. But the poor guy just can't catch a break."
Gutierrez has missed 192 of the 324 games the past two seasons due to a stomach disorder, a strained oblique, a torn pectoral muscle and a concussion, all of which put him on the disabled list for extensive periods. But this latest issue is a new one.
"I have some issues with my pelvis, and I'm trying to fix it," Gutierrez said before the game. "Some days it's the groin, some days the hamstrings. It's different, but I'm working on it. I'm doing a lot of things just to get strong in that area and avoid any injury."
Four innings later, he was headed to the clubhouse with the trainers for tests.
"It's the right upper hamstring," Wedge said. "He didn't feel anything pop, but he definitely felt something. I think he just overextended in the dive."
The Mariners are short on center fielders, as Michael Saunders is already on the 15-day disabled list with a sprained shoulder, though he could be back sometime next week.
Endy Chavez has been playing center when Gutierrez has been out. If Gutierrez goes on the disabled list, the club will likely need to bring an outfielder up from Triple-A Tacoma.
Carlos Peguero was removed from the Rainiers game early on Monday night in Salt Lake City and could be headed to Houston to join the the team. Peguero is hitting .246 for the Rainiers and has played 63 games for the Mariners over the past two years.
Wedge didn't specify what the Mariners would do, but acknowledged "we probably have to do something to bridge the gap until Saunders gets back."
Greg Johns is a reporter for MLB.com. Follow him on Twitter @GregJohnsMLB as well as his Mariners Musings blog. This story was not subject to the approval of Major League Baseball or its clubs.