Zunino's bat scorching in first taste of Triple-A action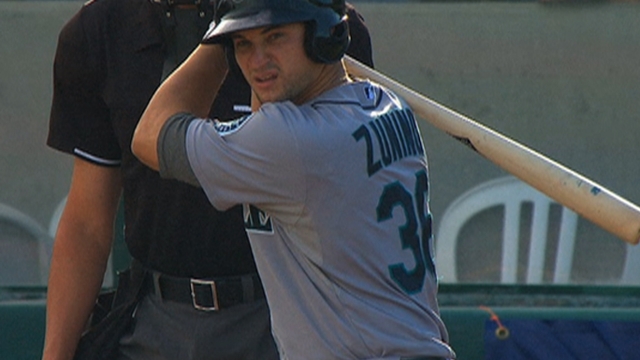 SEATTLE -- One of the reasons the Mariners were able to trade away catcher John Jaso in the three-team offseason deal to get slugger Michael Morse came up again in conversation during Tuesday's pregame chat with Seattle manager Eric Wedge.
That reason has a name and it's Mike Zunino.
Zunino, whom the team selected with the third overall pick in the 2012 First-Year Player Draft, turned 22 on March 25 and began the season in Triple-A Tacoma after hitting a combined .360 with 13 home runs and 43 RBIs in 44 games split between short-season Everett and Double-A Jackson. Zunino was with the Mariners for a good deal of spring camp and hasn't let up in Tacoma.
Entering Tuesday's action, Zunino led the Minor Leagues in RBIs and extra-base hits, and that was before he unleashed a grand slam Tuesday night, his fourth homer in five games, raising his RBI total to 16.
The Mariners are still giving Jesus Montero a good look behind the plate and also have veteran backup Kelly Shoppach on the 25-man roster, so the team is in no hurry to start Zunino's Major League career, but they like what they're hearing.
"He's a good player," Wedge said. "All the reports have been good. I can't really say anything more than that. He's an all-around player, especially for the position he's in. Obviously, we really gave him a lot of exposure this spring. He had a chance to play a long time with us, and it was good for him and good for us to see."
It was brought up to Wedge that Zunino hasn't yet shown any growing pains in pro baseball.
"At some point in time it'll happen, but who knows when and where," Wedge said. "But when it does, he'll make the adjustment and keep moving. But he's been pretty impressive in his brief pro career. No doubt about it."
Doug Miller is a senior writer for MLB.com. Follow him on Twitter @DougMillerMLB. This story was not subject to the approval of Major League Baseball or its clubs.