Mariners ready to test Safeco's shorter fence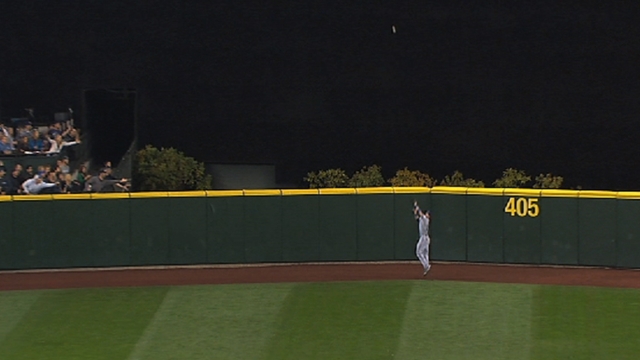 SEATTLE -- While the most noticeable change to Safeco Field is the mammoth new video board in center field, the biggest difference for ballgames will be the new dimensions of the outfield with the shorter fences in left field.
As they prepared for Monday night's home opener against the Astros, Mariners hitters were interested to see how that will affect things over the course of time, particularly the left-center gap, where the fence is as much as 17 feet closer at one point.
"Without a doubt, I think it'll make a difference, not only for us but anybody who comes in here," said Mariners outfielder Michael Saunders. "Everyone around the league knows this is notoriously a pitchers' park. With the fences coming in, it's probably at the very best going to play fair."
Mariners assistant general manager Jeff Kingston has said studies of previous seasons estimated that about 40 more home runs would carry out over the course of the 81 games for both teams. The Mariners hit 56 home runs at Safeco last year, so an additional 20 would have put them at 76.
They hit 93 homers on the road in 2012, so that estimate still makes Safeco a tough park. And that doesn't surprise anyone who has played in Seattle for any length of time.
"It's really due to the weather we have, being right on the water," said Saunders, a native of Victoria, British Columbia. "It's cool and damp and the ball just doesn't carry very well. But it also depends on what kind of summer we have. Last year we had a great summer and the ball obviously carries better during those months.
"But ultimately, as a psychological point it's going to help us as hitters take a foot off the pedal, if you will, and not feel like we have to muscle up 500 feet. It's probably going to play more fair now. And as an offensive guy, I'd be lying if I said I didn't care about that."
First baseman Justin Smoak hit only four of his 19 home runs at home last year, but 10 of his 15 2011 homers came at Safeco. So he knows things even out over time with any park and different times of year.
"It's still early," Smoak said Monday. "Once it heats up, it'll be a little different. It's still chilly, so it'll play pretty much the same. But hopefully a couple of those flyouts to the warning track will be a little different, maybe off the wall or a homer.
"At the same time, we lose some ground out there so there could be balls that could be caught that used to get over guy's heads. But I think for us, it's all psychological. It's the fact you might not fully get one, but it still has a chance to go out. You add that to getting two-three RBIs for your team and it changes the whole ballgame."
One guy not that worried about it is manager Eric Wedge.
"I'm not that curious about it, quite frankly," Wedge said. "You still have to go out and play the game. It's more of a fair ballpark now. But the changes you'll see in our ballclub this year are within the players themselves. Even if the fences were the same, we were going to be a better offensive ballclub."
Greg Johns is a reporter for MLB.com. Follow him on Twitter @GregJohnsMLB as well as his Mariners Musings blog. This story was not subject to the approval of Major League Baseball or its clubs.