New radio announcer Goldsmith enjoying first week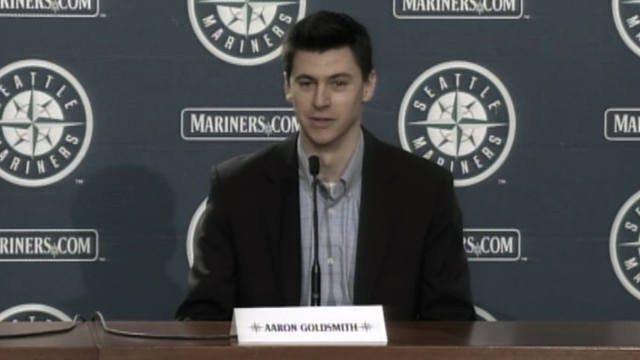 CHICAGO -- New Mariners radio announcer Aaron Goldsmith is just like any other rookie getting started in his career as he's soaking up the experience of the Major Leagues in his first week of regular-season broadcasts.
Goldsmith, 29, was working as a Triple-A announcer for the Red Sox before being hired this year by the Mariners to work alongside veteran play-by-play man Rick Rizzs. The two called Spring Training games together and now are in full swing on 710 ESPN Seattle and the Mariners Radio Network broadcasts.
"It's been a complete thrill," Goldsmith said. "It's funny because when we went to Oakland, everybody was telling me the ballparks get better after this. But that was the best ballpark I'd ever been to, especially on Opening Night. So it's hard to believe it's happening, and we're here and we're doing it."
Goldsmith said he had some initial nerves, but things have gone well thanks to a full Spring Training to get up to speed. It's been a progression for him, learning a new team and doing Major League games for the first time, but he's feeling more at ease and thinks that will only continue to get better.
"The big thing for me, when I did the first 15 games of spring, I was thinking so much about what I was saying and kind of forcing it at times," he said. "Every player's name and the opposing team and everything was new, so there was a lot of effort. I was the giraffe on ice skates for the first two weeks.
"Now things are flowing and they'll flow even better a month from now. It got a little tougher again when we started in Oakland. That first game I definitely had a little bit of butterflies, but I'm so happy that we had 30-some broadcasts during the spring. I'd have been a train wreck if we'd just gone straight into the real thing on Opening Night."
Goldsmith said his security blanket from the start has been working with Rizzs, who is in his 29th year calling Mariners games.
"Rick has been beyond outstanding to me," he said. "Just to have him by my side and have that chemistry we've built up in the two months in Arizona, it made Opening Night and everything since that much more enjoyable."
Greg Johns is a reporter for MLB.com. Follow him on Twitter @GregJohnsMLB as well as his Mariners Musings blog. This story was not subject to the approval of Major League Baseball or its clubs.