Pryor thrown into fire in Opening Night appearance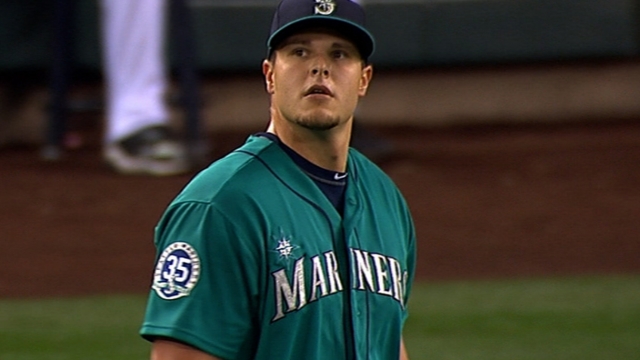 OAKLAND -- A year ago, Stephen Pryor opened the season with Double-A Jackson as a largely unknown reliever who'd spent only a few days in the Mariners' Major League camp in spring before leaving for the birth of his daughter in Tennessee and then getting sent to the Minors upon his return.
But there he was Monday night, getting called into a hornet's nest at the Oakland Coliseum in his first Opening Day appearance: bases loaded, two outs and Felix Hernandez's game on the line in the eighth inning.
So what does the hard-throwing 23-year-old do upon striding in to face A's catcher Derek Norris?
A first-pitch breaking ball, something rarely seen last year after Pryor joined the Mariners in midseason and displayed an upper-90s fastball in his 26 rookie appearances with the big club.
Norris didn't offer at the pitch, but he saw it, he had to think about it and he wound up grounding out to second base four pitches later to end the threat in a game the Mariners went on to win, 2-0.
"This spring, I threw that pitch every time I got a 3-2 count, just to throw it in situations like that," Pryor said. "To come in and be able to throw it like that, it wasn't for a strike, but I had confidence to throw it. It definitely helps to show it, especially when they know you throw a fastball most of the time."
The maturation of Pryor and Carter Capps as late-inning relievers will be critical for the Mariners this season. As manager Eric Wedge showed Monday, they're going to get thrown straight into critical situations this season.
Both got some experience late last season, but this was their first Opening Day with the big club and expectations and roles have been raised. Wedge liked what he saw from Pryor in what he noted was a heated atmosphere in front of a sellout crowd on the road.
"This is a young man that continues to get better," Wedge said. "We talked about it all spring. He worked hard to be a complete pitcher and it puts him in position to go out and have success."
Pryor said he had just one thing on his mind when he was called in to face Norris, who was brought in to pinch-hit for John Jaso when A's manager Bob Melvin looked to avoid Jaso facing left-hander Charlie Furbush.
"Don't walk him," said Pryor. "Throw strikes. Make him hit it."
Tough situation for any reliever, let alone one in his first Opening Day. But Pryor said it was the perfect way to jump into the season.
"It was good just to be able to go out there in the first game and get all the butterflies and nervousness out of the way," Pryor said. "I like the situation, I like the pressure and I'm just glad I got called on to go into it."
Greg Johns is a reporter for MLB.com. Follow him on Twitter @GregJohnsMLB as well as his Mariners Musings blog. This story was not subject to the approval of Major League Baseball or its clubs.