Shoppach, Morse provide pop in Mariners' victory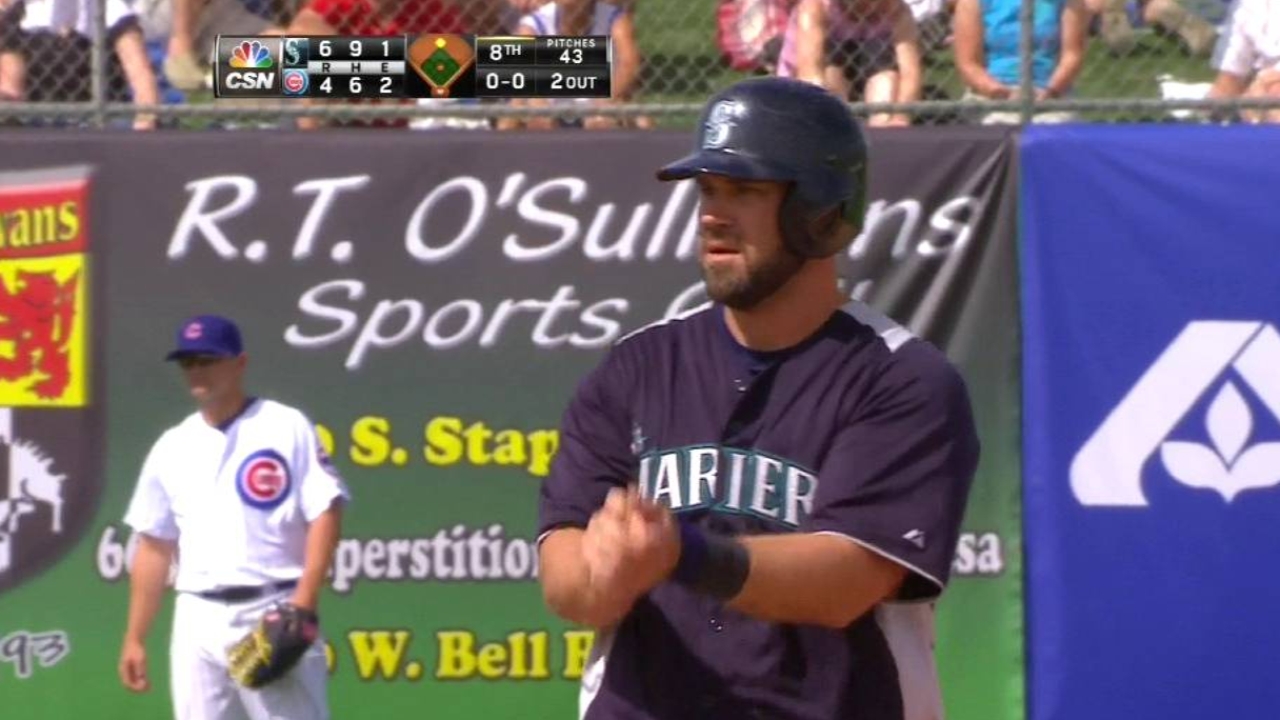 MESA, Ariz. -- Seattle's Michael Morse cracked his ninth homer of the spring and Chicago's Alfonso Soriano hit his fifth on Thursday as the Mariners rallied for a 6-4 win in the Cubs' final home game at HoKoKam Park. Morse, acquired from the Nationals in the offseason, hit his blast the opposite way to right-center field to lead off the second inning against Cubs starter Carlos Villanueva. Morse eclipsed Mike Wilson's previous club record of eight set in 1999, as the Mariners extended their team record for the spring to 56 homers in 32 games, with one game still to go. "He's strong and he works on his craft," manager Eric Wedge said of Morse. "Everybody looks at him like a big, strong guy, which he is. But he's a hitter first and if you watch the discipline and focus he has in batting practice, it's obvious. Because of that he's able to take it into games. He has the ability to make adjustments and take what they give him."
Soriano delivered a two-run shot to deep left-center off Mariners starter Hisashi Iwakuma in the third. Kelly Shoppach had a go-ahead two-run double in a three-run eighth inning for the Mariners that held. The Cubs scored the go-ahead run in the sixth, with Brett Jackson coming around from second when first baseman Nate Tenbrink's errant throw to third allowed Jackson to jog home to make it 4-3. After Morse's homer put the Mariners on top early, Arismendy Alcantara started off a three-run third inning for the Cubs with a triple, scoring on a single by Zeke DeVoss, who scored on Soriano's homer. The Mariners rallied for a pair of unearned runs in the fifth inning, both runs scoring on a Kyle Seager double down the left-field line. Neither starter factored in the decision. Villanueva allowed three runs (one earned) on four hits in five innings, facing one batter in the sixth before his outing was complete. Iwakuma went four innings, allowing three earned runs on four hits while striking out four, leaving the game slightly earlier than expected as a precaution as he was dealing with a blister-like condition caused by dry skin on his pitching hand. The Cubs will play their 2014 spring games in a new facility in Mesa.
Up next for the Mariners:
The Mariners have a travel day on Friday as they fly to Salt Lake City, where they'll face the Rockies on Saturday at 12:05 p.m. PT in an exhibition contest to close out their spring schedule. The game will be televised live on ROOT Sports and
MLB.TV
. Brandon Maurer will make the start in his final tuneup before his Major League debut next Thursday in Oakland.
John Schlegel is a national reporter for MLB.com. This story was not subject to the approval of Major League Baseball or its clubs.