Wedge ejected during Felix's final start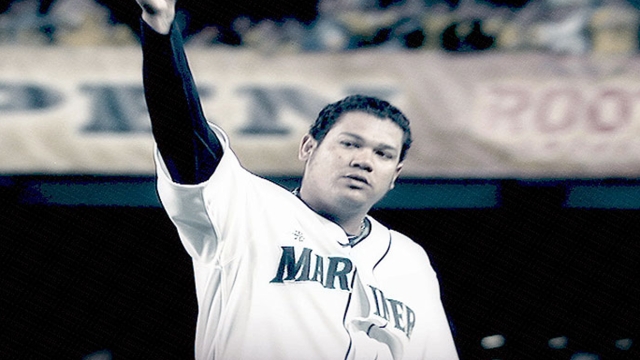 PEORIA, Ariz. -- Eric Wedge managed a new first in the last home game of the Cactus League schedule on Wednesday, getting ejected by home plate umpire Seth Buckminster in the sixth inning of a 10-7 victory over the Dodgers after coming out of the dugout to defend starter Felix Hernandez.
"That's my first Spring Training toss," said Wedge, who is beginning his 10th season as a Major League manager. "I never even go out there or say anything, if you notice. But there was some back and forth with Felix and I'm not going to let that happen. It's as simple as that."
Hernandez gestured at Buckminster after a ball was called on a pitch to Joe Pederson as the Mariners ace neared the end of his outing. When the situation threatened to escalate, Wedge hustled out and was immediately tossed.
Wedge then jogged down the right-field line and out of the stadium as Hernandez got Pederson to fly out for his final out in a six-inning performance that completed his Spring Training.
The skipper said he had no problem with Hernandez's actions.
"He's out there competing," Wedge said.
Hernandez threw 96 pitches in his longest Cactus League outing and said he's eager to move ahead to the regular season, where he'll pitch against the A's on Monday in his sixth Opening Day start.
"I felt strong today," Hernandez said. "Not as sharp, like the other ones, but it was a good workout. It's been a long Spring Training. I just want to get out of here and go to Opening Day."
Hernandez gave up nine hits, including a two-run double by Dodgers pitcher Ted Lilly just before the flare-up with Buckminster. He walked one and hit a batter while striking out three.
"My command was not there," Hernandez said. "The breaking ball was pretty good, but my fastball wasn't there. I was falling behind most of the time. But I felt strong. I felt good. That's the bottom line."
Greg Johns is a reporter for MLB.com. Follow him on Twitter @GregJohnsMLB as well as his Mariners Musings blog. This story was not subject to the approval of Major League Baseball or its clubs.