After rough outing, Bonderman must wait and see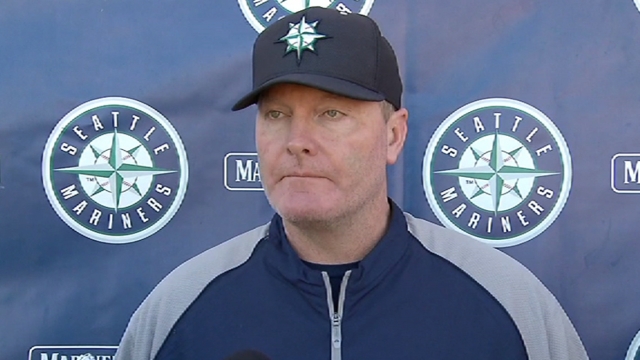 PEORIA, Ariz. -- Jeremy Bonderman's final audition for a starting spot to open the season with the Mariners hit a snag Tuesday as the veteran right-hander got rocked in the fifth inning in an 11-6 loss to the Royals.
Bonderman gave up seven hits and six runs in his one rough inning as fatigue set in during the longest stint of his first Spring Training since 2010 with the Tigers. With the Mariners down to the final days of their decision-making process, the 30-year-old admitted it was a bad time to struggle.
"It sucked. There's nothing else to really say about it," Bonderman said. "I was throwing the ball well, and then I just gave up some hits and it extended the inning. As the inning went on, the ball stayed up a little more, and I got in trouble."
Bonderman said he was happy with the first four innings, but "the fifth just unraveled a little on me. It isn't the first time it's ever happened, but it was definitely the wrong day to have it happen."
The Mariners sent Bonderman back out to face two batters in the sixth, finally replacing him after his low-90s fastball had dropped to 84-85 mph. He gave up 11 hits and seven runs in his 5 1/3 innings to put his spring ERA at 8.80.
Manager Eric Wedge said the Mariners would see how Bonderman felt after throwing 89 pitches, but hinted his future might depend on accepting some time in Triple-A Tacoma to build himself up further.
"It's a unique situation," Wedge said. "What we're trying to do is put everybody in the best position to succeed and help us this year, whether it be right away or at some point in time later this year."
Bonderman is competing with Blake Beavan, Brandon Maurer and Erasmo Ramirez for the final two rotation spots. Ramirez will throw three innings in a Minor League start Wednesday after being slowed last week by some arm soreness. That would seem to put Beavan and Maurer in the driver's seat for the fourth and fifth starter jobs, but Bonderman will wait and see.
"They know what I can do," said Bonderman, who had Tommy John surgery last April. "They've seen how far I've come this spring, so we'll let them make the decision and move on and see what happens.
"I feel good. I think I proved to myself I can pitch again at this level. It's just really the only bad outing I've had. Everything else has been one pitch. This was a full inning. It's frustrating. Nobody wants to get their [butt] kicked. It's just a matter of finding a way to get better."
Wedge didn't disagree.
"He's had a good camp," the manager said. "He's come a long way. From the way he was throwing the ball early in camp to what we saw especially early on today, it's a considerable difference. That's where we are."
Greg Johns is a reporter for MLB.com. Follow him on Twitter @GregJohnsMLB as well as his Mariners Musings blog. This story was not subject to the approval of Major League Baseball or its clubs.