Headaches aside, Montero having more fun in '13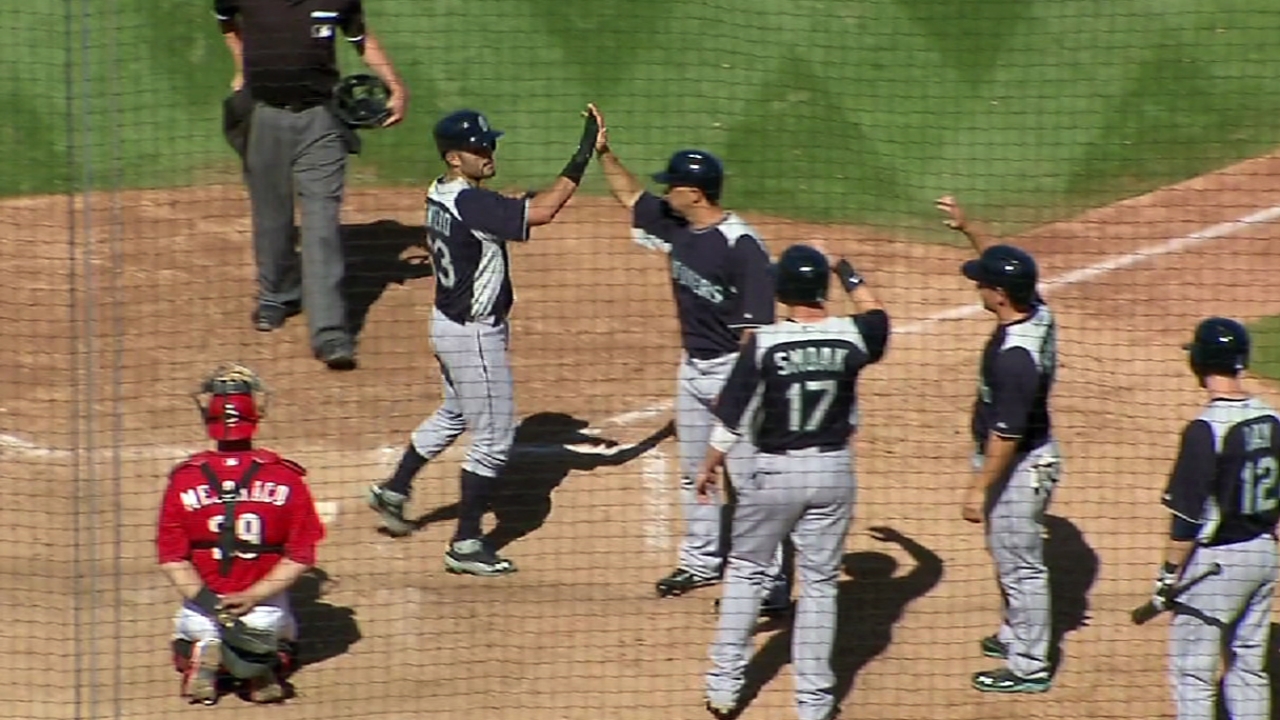 PEORIA, Ariz. -- Getting six RBIs in a game can give some guys a big head, but Jesus Montero was already feeling a little swollen in the noggin' when he racked up a grand slam and three hits in Monday's 16-0 victory over the Reds.
The Mariners catcher was hit in the forehead by a bat on a backswing by Francisco Lindor of the Indians on Saturday, the blow raising an egg-sized welt and leaving him down on the ground for several minutes before being carted off to the trainer's room.
Montero said he could still feel his forehead pulsing inside his batting helmet Monday when he came to the plate, but he singled in his first two at-bats, drew a bases-loaded walk and then unloaded a towering grand slam in the fifth.
Manager Eric Wedge credited Montero for having the patience to draw the bases-loaded walk, something the youngster might not have shown a year earlier. But it turns out the 23-year-old was patient for a reason.
"I wasn't thinking I have to get on base. I was thinking about my head," Montero said. "The thing was like, 'Boom, boom, boom.' Then I walked and hit a homer. I guess I have to do that all the time.
"I put my hand up there and I could feel pressure. I still feel it. But I was like, 'You know what? You're playing. Have fun.'"
Montero has been having more fun all spring in his second go-round with the Mariners, hitting .405 with two home runs, six doubles and 10 RBIs in 13 games. He seems to have connected with new hitting coach Dave Hansen, who is having an impact on many of the young hitters.
"We kind of just let him go last year and tried to get an understanding of where he was at and get a feel for him with the way he practices and plays," Wedge said. "This year we're able to do a lot more with him, and Dave Hansen has done a nice job. They've had a nice relationship there. He's more under control in batting practice and has a better mindset with what he's trying to do, a better focus with his work, and I think you're seeing that leak into the games."
Montero said Hansen has been preaching patience, waiting for the right pitch, and that he has found a willing pupil.
"It's been good. He's a good guy," Montero said. "I know last year we had [Chris] Chambliss, but everybody is different. This is a new era. This guy is awesome. He can tell you a little of everything and help you. I like him a lot."
Greg Johns is a reporter for MLB.com. Follow him on Twitter @GregJohnsMLB as well as his Mariners Musings blog. This story was not subject to the approval of Major League Baseball or its clubs.