Erasmo prepping for whatever role club needs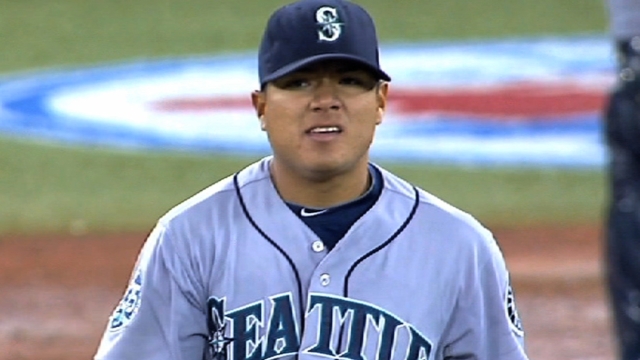 PEORIA, Ariz. -- While fellow rotation candidates Brandon Maurer, Blake Beavan and Jeremy Bonderman continue getting starts this spring, Erasmo Ramirez is slated for his second straight bullpen appearance Wednesday.
The young right-hander said Monday his arm feels fine and nobody has told him he's no longer competing for a rotation berth, but he'll do whatever he's asked in the coming days.
Ramirez gave up six hits and four runs in two innings in his last outing Thursday against the Cubs, but he said everything is fine physically. He was working on his throwing motion in the bullpen on his own after Monday's workout, mentally trying to hone his delivery.
"I feel good," said the 22-year-old. "When I throw the ball, everything is fine. I'm just trying to control my breaking ball. I'm having a little trouble with the curve, but no pain. Everything is normal. I've just been a little high with that pitch, and I'm trying to bring it down."
Ramirez broke camp with the Mariners as a reliever last season before being converted to a starter in midseason. He finished the year with a 1-3 record and 3.36 ERA in 16 games, including eight starts.
"I was working all Spring Training as a starter, so my mind right now is like a starter. But back to the bullpen sounds fine," he said. "But I don't know. Last year they had me, like, starter, reliever, starter, reliever and more reliever the last month. This year I was starting from the time I got here, so my mind is like a starter right now.
"But if they give me a chance, all right, take it, and just figure out how to warm up for games. Just start over. I already know what to do, so just have to figure out my new plan and let's go. My goal right now is to make the team as a starter, but you never know. Last year, I didn't know. Relieving was fun, so I have to be ready for anything and let's see what happens."
Greg Johns is a reporter for MLB.com. Follow him on Twitter @GregJohnsMLB as well as his Mariners Musings blog. This story was not subject to the approval of Major League Baseball or its clubs.