Chavez returns to Mariners as non-roster invitee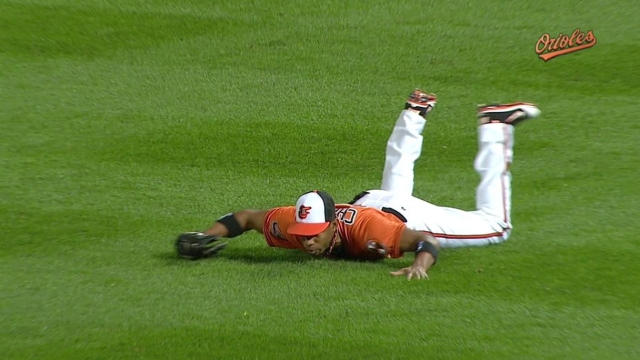 PEORIA, Ariz. -- A familiar and friendly face was back in the Mariners' clubhouse on Sunday morning, when outfielder Endy Chavez arrived as a non-roster invitee to Major League camp, smiling and happy to get another chance with the club.
Chavez, who was released by the Royals earlier in the week, returns after having been Seattle's Opening Day left fielder in 2009. He sustained a torn right knee ligament in a June collision with shortstop Yuniesky Betancourt and didn't play in the Majors again until 2011.
Chavez, 35, played with Texas in 2011 and Baltimore last season. He had signed with the Royals as a free agent this past offseason, going 6-for-32 with zero extra-base hits in Cactus League play before his release.
"I appreciate this opportunity," Chavez said Sunday morning. "These guys right here are giving me the opportunity to be back in the Majors. I have to just go forward, and I want to work hard and be healthy."
Now back with the Mariners, Chavez is expected to add depth in all three outfield spots and particularly center field, where starter Franklin Gutierrez is the main man on the Major League side, but was injured much of last season and has been dealing with leg issues this spring.
"You always have to have depth, you always have to have insurance, you always have to make sure you're prepared in case something happens," Mariners manager Eric Wedge said. "We're trying to take an optimistic viewpoint with Gut, but we want to make sure we're prepared whether it's him or somebody else that we have options out there."
Chavez got off to a good start with the Mariners, whacking a double off the fence -- just missing a homer -- in the ninth inning on Sunday.
With only a week to go in camp, Chavez knows his chance to play in the Majors again very likely will have to wait until after the season begins.
"I'm not expecting anything crazy," he said. "I know I'll start in Triple-A, and that's good for me. I'm getting the opportunity to play baseball and the chance to play in the Majors."
Chavez has 11 Major League seasons behind him, having played for the Royals, the Expos/Nationals, Phillies, Mets, Mariners, Rangers and Orioles. He made a famous catch in the 2006 National League Championship Series while with the Mets, leaping above the fence to rob Scott Rolen of a homer -- helping out current Mariners lefty Oliver Perez in the process.
John Schlegel is a national reporter for MLB.com. This story was not subject to the approval of Major League Baseball or its clubs.