Beavan survives 'fiesta' of a day in long outing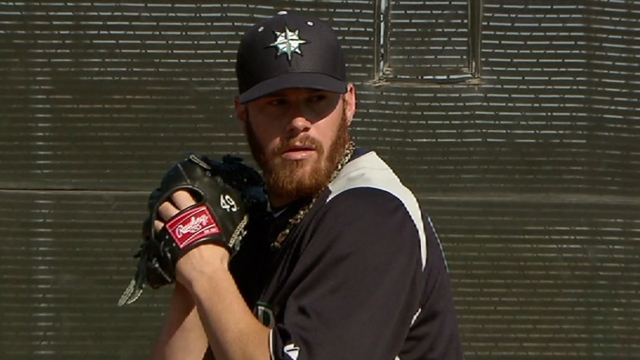 PEORIA, Ariz. -- Blake Beavan, one of four candidates for two open spots in the Mariners' rotation, battled into the sixth inning Saturday against the Indians, reaching the 100-pitch mark but allowing nine runs on 16 hits in the process.
Beavan said afterward he was having trouble getting the ball down in the strike zone and might have been rushing his delivery, but mostly he was just glad to survive the Cactus League ride.
"Just one of those you want to look past, and good thing you got it done in Spring Training," Beavan said. "That was a fiesta today. I couldn't believe it myself. Every time I tried to make a better pitch or I did make a good pitch, they still found a way to get a hit."
As manager Eric Wedge and the rest of the Mariners' brain trust continue to look at the likes of Beavan, Brandon Maurer, Erasmo Ramirez and Jeremy Bonderman for the No. 5 spot, Wedge said it's important to look at the big picture with each of them, not just one rough outing -- or one good one, like Beavan had his last time out.
"You evaluate everything -- the good days and the not-so-good days -- and you figure out why with the conversations you have," Wedge said. "We assess everything really in its entirety, really talk about the entire spring and their path to get here and where they are right now."
John Schlegel is a national reporter for MLB.com. This story was not subject to the approval of Major League Baseball or its clubs.