Bonderman knows he can pitch in the Majors again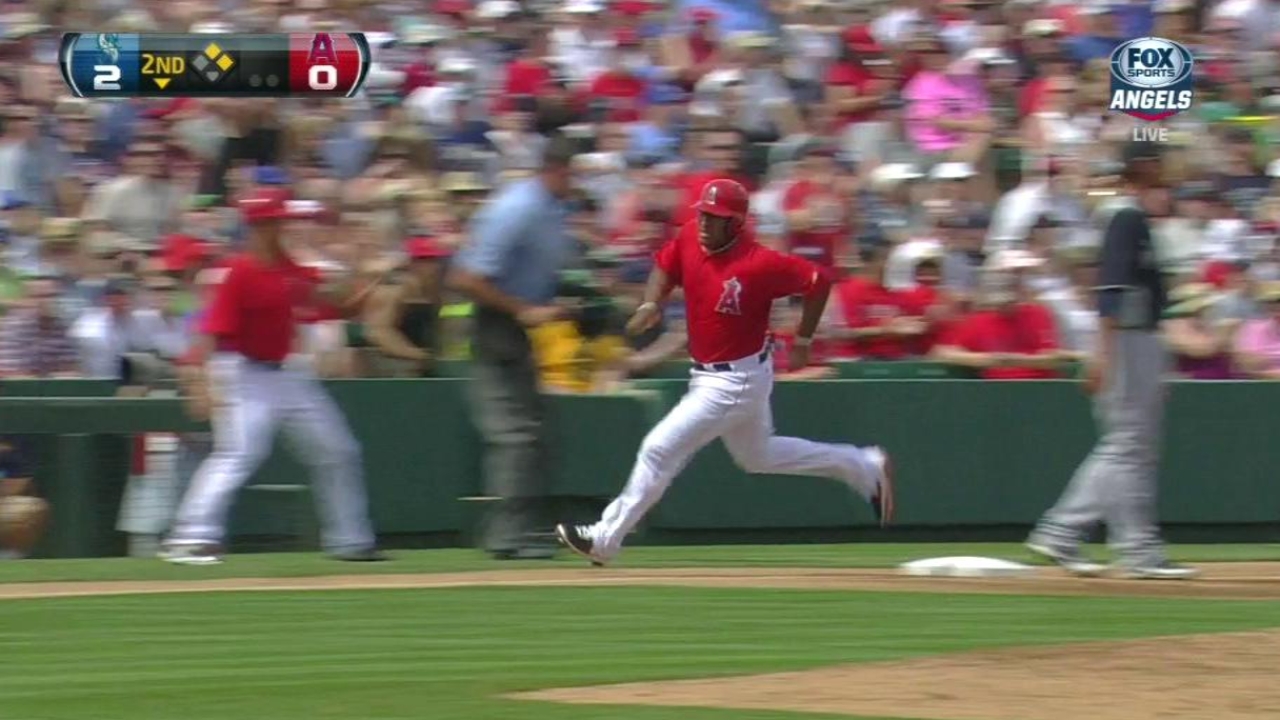 TEMPE, Ariz. -- Jeremy Bonderman showed big league stuff in his fourth spring appearance Friday, lasting four innings and allowing just two runs on five hits and no walks. Nine of his 12 outs were ground balls, with two strikeouts and a fly to right.
"I was just trying to stay down, use the bottom part of the zone and make them swing the bat," Bonderman said. "I only really made one mistake on that double, but I'll take it."
The double came in the second frame and was the source of the only damage against Bonderman. Following a leadoff bloop single to right from Vernon Wells, Chris Iannetta laced a run-scoring double into the left-center gap, then advanced on a sacrifice and scored on a grounder to third. Bonderman allowed a one-out single in each of his remaining two innings, but induced inning-ending double plays both times.
The 32-year-old right-hander is bidding for a spot in the back end of the Mariners rotation, and is pitching for the first time since 2010. Bonderman had Tommy John surgery last April, and posted a 9.00 ERA in six Cactus League innings entering his start Friday.
"I've gotten better every outing, so I'll keep working, trying to get quick outs and get in and out," Bonderman said. "I feel good. I don't hurt at all, I'm not sore, so there's no reason to doubt my arm as of right now. If it stays the same way, I'll be good."
Bonderman is competing with returning Mariners Erasmo Ramirez (1-3, 3.36 ERA in 16 appearances -- including eight starts -- in 2012), Blake Beavan (11-11, 4.43 in 26 starts) and Jon Garland, who is trying to come back from 2011 shoulder surgery.
"There's some good guys," Bonderman conceded. "If I don't make the team, I don't make the team. It's part of the business. I proved to myself I can pitch again in the big leagues. If it ain't here, it'll be somewhere, hopefully. If not, I'll be at home."
His enviable ground-ball ratio resulted from a good mix of breaking balls, giving Bonderman confidence that his stuff is where he wants it three weeks into the Cactus League season.
"My breaking ball's gotten a lot sharper, a lot better," he said. "Location's gotten better. Overall it's getting the feel back and making adjustments on the fly. I threw four or five splits, a bunch of breaking balls, four-seam, two-seam, running it, moving it around and trying to keep them off balance a bit."
He has eight years of big league experience, all with the Tigers, and he was 1-0 with a 3.10 ERA in three postseason starts in 2006, but Bonderman knows he can't make the club on his resume. The veteran has been careful to balance the exploratory work that is important to address during Spring Training along with the need to show the Mariners that he can contribute to the rotation.
"I threw a split to a righty -- I've never done that," Bonderman said. "I'm still taking the opportunity to try stuff and work on stuff. But also I need results. It's not like when you're on a team for sure and you can go out there and really work on stuff. I'm trying to work on stuff and get results. It's working out so far."
Greg Johns is a reporter for MLB.com. Follow him on Twitter @GregJohnsMLB as well as his Mariners Musings blog. Owen Perkins is a contributor to MLB.com. This story was not subject to the approval of Major League Baseball or its clubs.