Hultzen, Walker, Paxton sent down; Maurer remains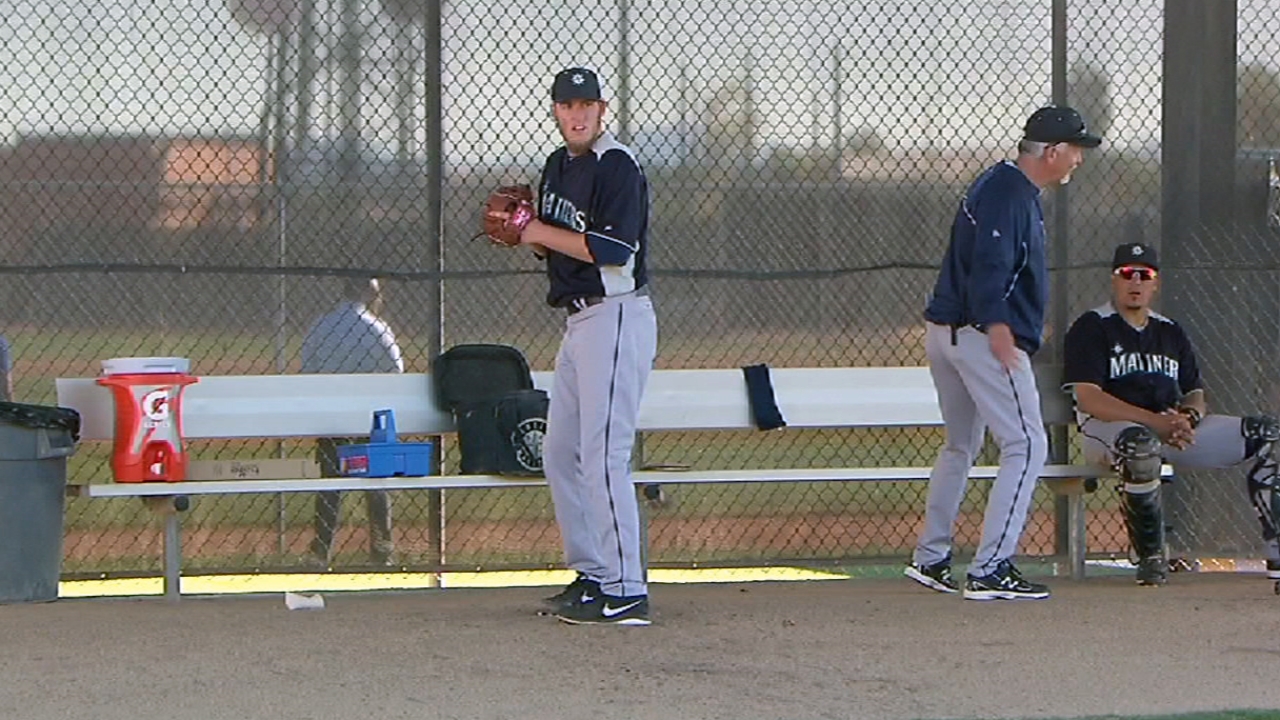 PEORIA, Ariz. -- The Mariners sent five pitchers down to the Minor Leagues on Thursday, including top prospects Danny Hultzen, Taijuan Walker and James Paxton. But interestingly, up-and-coming right-hander Brandon Maurer remains in the Major League camp after throwing four more shutout innings in an 8-7 victory over the Reds.
Hultzen and Hector Noesi, who are both on the 40-man roster, were officially optioned to Triple-A Tacoma. Three more pitchers -- Walker, Paxton and Jhonny Nunez -- were reassigned to Minor League camp since they're not on the 40-man roster.
The moves bring the Mariners' total to 51 players still in camp, including 22 pitchers.
Among those still competing is Maurer, the 22-year-old right-hander who has a 0.90 ERA with just one run allowed in 10 innings this spring. He allowed three hits and two walks with four strikeouts in shutting out the Reds from the fifth through eighth innings on Thursday. It was his longest spring stint, after Joe Saunders gave up seven runs in the first four frames.
"We had a couple starters out there pitching for us and it was a little different for Brandon coming out of the bullpen like that, but he knew he was going to pitch four innings and he did a great job," said manager Eric Wedge. "He rushed through a couple pitches at times, but he was able to fix it and that's a good sign. His stuff was good again, like it was his last outing. The baseball is doing what he wants it to do and obviously it's good stuff. So, he's been pretty impressive."
What exactly do the Mariners need to see from Maurer, who was the Southern League Pitcher of the Year last season for Double-A Jackson?
"It's a combination of things," Wedge said. "One, how he handles himself as a young pitcher. Two, just the way his stuff plays against big league hitters. And then you just look at how he continues to climb in regard to how we build him up and how he handles different situations and works through those situations. So far, we've seen all good things."
Walker and Hultzen are among the top prospects in baseball, but Walker is just 20 and has yet to pitch above Double-A ball and Hultzen -- the second overall pick in the 2011 Draft -- missed a week of camp with a sore hip and has thrown just four innings this spring.
Greg Johns is a reporter for MLB.com. Follow him on Twitter @GregJohnsMLB as well as his Mariners Musings blog. This story was not subject to the approval of Major League Baseball or its clubs.