Leake looks to stay perfect with Mariners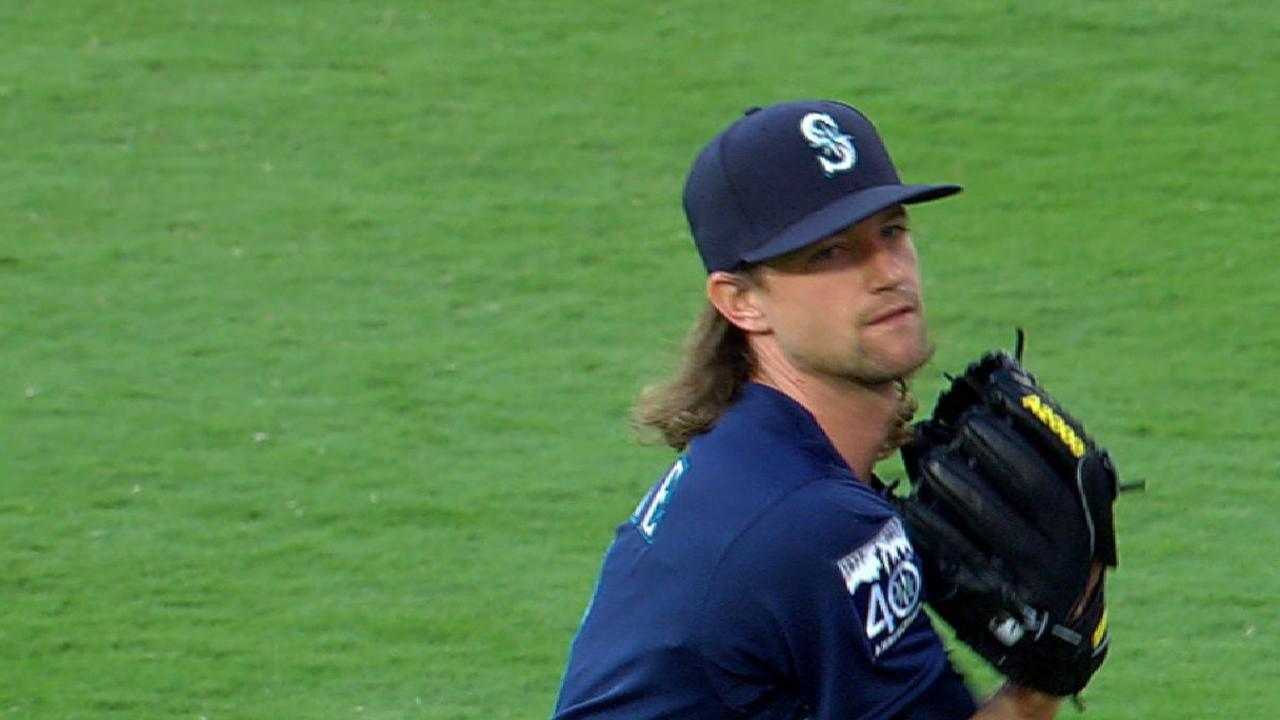 Newly-acquired Mariners right-hander Mike Leake will square off against Rangers southpaw Martin Perez for the second time in the past week when the two American League West rivals open a three-game series on Tuesday at Safeco Field still clinging to AL Wild Card hopes.
The game kicks off Seattle's final homestand of the season -- three games against the Rangers and three against the Indians -- while Texas is in the middle of its last road trip of the year. The Mariners sit 4 1/2 games behind the Twins for the second AL Wild Card spot, while the Rangers are five games back.
Seattle took three of four games in Arlington last week, including an 8-1 victory on Wednesday when Leake outpitched Perez and picked up his third straight win since being acquired from the Cardinals.
Leake allowed one run on five hits over 5 2/3 innings and has a 2.41 ERA in his three outings for Seattle, as he's taken a big step forward after going 7-12 with a 4.21 ERA in 26 starts for St. Louis.
"I think coming in here, I was able to relax a little and take a deep breath and get my body back to feeling good enough to pitch," Leake said of his turnaround.
The 29-year-old is 1-1 with a 2.16 ERA in four career starts against the Rangers.
Perez has gone 12-11 with a 4.82 ERA in 29 starts for Texas and had won seven straight starts with a 3.15 ERA before losing to Seattle on Wednesday. He gave up three runs on seven hits -- including a pair of home runs -- in that setback.
"I need to stay focused and just keep attacking hitters," Perez said. "Just go out there and execute my pitches, not worry about anything else."
Perez is 1-2 with a 4.15 ERA in four starts against the Mariners this year and 6-4 with a 3.42 ERA in 16 games (14 starts) in his career.
The Rangers are trying to hang in the postseason chase with several of their top position players ailing. Adrian Beltre is limited to designated hitter duty because of a strained left hamstring, Mike Napoli is limited to pinch-hitting because of a stress reaction in his right leg, and Carlos Gomez is sidelined with a sprained right ankle.
Things to know about this game
• Perez has had very different results against Seattle's two best left-handed hitters. While he's held Robinson Cano in check with a .214 average and no RBIs or extra-base hits in 28 at-bats, Kyle Seager has rocked Perez for a .390 average with four home runs and seven RBIs in 41 at-bats.
• Cano hit his 299th career home run on Sept. 2, but is still waiting to get to 300. When he does, he'll become just the third second baseman to reach that mark in Major League history, joining Jeff Kent (377) and Hall of Famer Rogers Hornsby (301).
• The Mariners are 11-5 against the Rangers so far this season, including a 5-1 mark at Safeco Field.
Greg Johns has covered the Mariners since 1997, and for MLB.com since 2011. Follow him on Twitter @GregJohnsMLB. This story was not subject to the approval of Major League Baseball or its clubs.