Mariners call up prospect Povse to boost 'pen
Whalen optioned to Double-A; Overton designated for assignment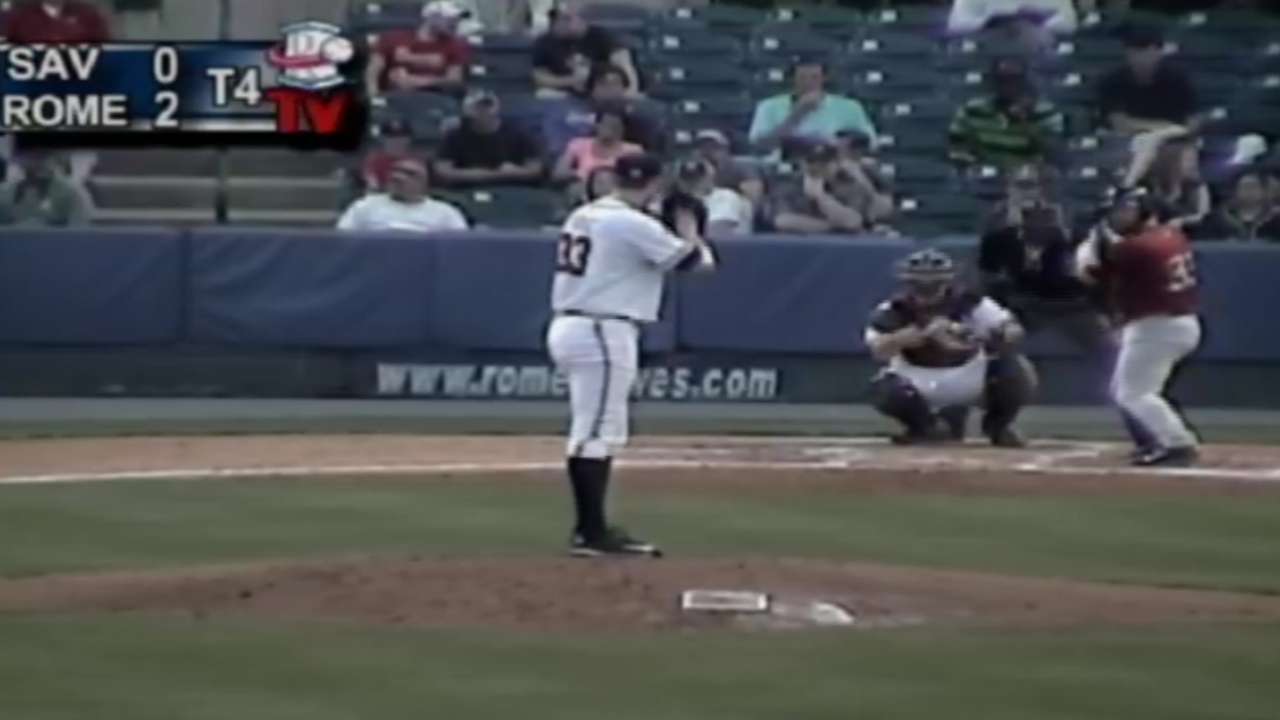 ARLINGTON -- For Max Povse, the timing was perfect -- a Father's Day callup to the big leagues for the first time. Naturally, his first phone call when he heard the news went to his father, Max, back home in North Carolina.
"Happy Father's Day to him," said the younger Max, the Mariners' No. 5 prospect per MLBPipeline.com. "He's been there for so much, and I wanted to tell him. It was an unbelievable phone call."
Povse's addition is yet another change to the Mariners' oft-shuffled pitching staff as he was selected from Double-A Arkansas, with right-hander Rob Whalen optioned back to Arkansas after pitching two scoreless innings of relief in Saturday's 10-4 loss to the Rangers.
The 6-foot-8 Povse needed to be added to the 40-man roster, so left-hander Dillon Overton was designated for assignment. The club now has seven days to trade, release or outright Overton's contract to the Minors.
The Mariners have used a carousel of long relievers to keep their bullpen fresh over the past month, and Povse becomes the latest addition. The 23-year-old is 3-2 with a 3.46 ERA in nine games, including eight starts, with Arkansas while missing three weeks with a hamstring issue.
Povse has been a starter all his career, but he pitched one game in relief in May before being sidelined by the hamstring. He was limited to 3 1/3 innings in his first start back on Wednesday as the club looks to transition him to a potential bullpen role.
"We were very impressed with what we saw in Spring Training," manager Scott Servais said. "He had a little hamstring issue a few weeks ago, but he's back throwing and his last few outings have been a little shorter, so the thinking is he might be the guy we can use for multiple innings out of the bullpen. His stuff has spiked up in the shorter outings.
"I don't know if he'll be the traditional long man. He certainly is today, if we have an issue, but hopefully he can settle in here and we can settle in with some longer outings with our starters so we don't have to run to that guy every day. We'll see what he brings."
Povse was acquired from the Braves along with Whalen in a trade for outfielder Alex Jackson and lefty Tyler Pike in November. He is 21-15 with a 3.57 ERA in 64 games (62 starts) over four seasons in the Minors.
Whalen, 23, spent just one day with the Mariners in his latest stint with the club and threw two perfect innings with two strikeouts. Overton was on the Mariners' Opening Day roster and has made two separate stints with the club, posting a 6.38 ERA in nine games, including one start.
If Povse gets into a game, he will become the 30th pitcher used by the Mariners this season. No other team in the Majors has used more than 24.
Greg Johns has covered the Mariners since 1997, and for MLB.com since 2011. Follow him on Twitter @GregJohnsMLB. This story was not subject to the approval of Major League Baseball or its clubs.