Paxton passes hurdle with bullpen session
Lefty throws 25 pitches, could begin rehab stint soon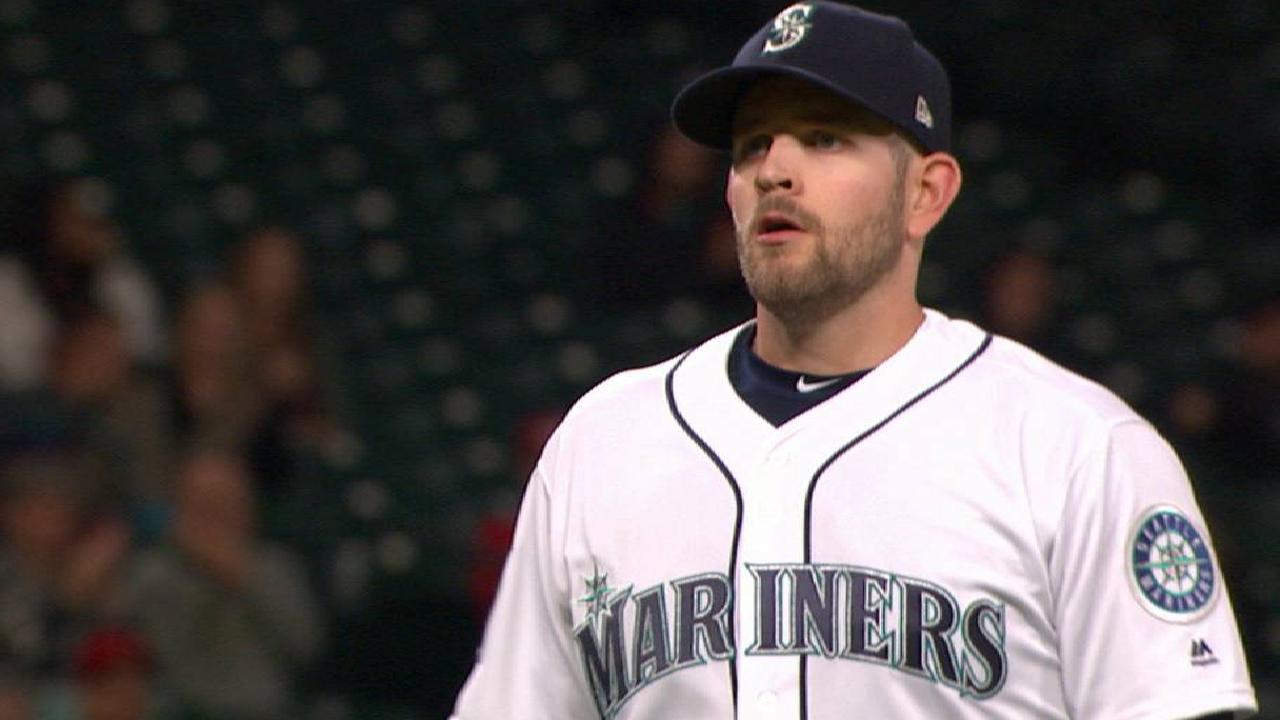 SEATTLE -- Mariners manager Scott Servais admitted the light at the end of the tunnel is still distant when it comes to regaining his fleet of injured pitchers, but progress is underway and James Paxton is the closest to returning after throwing a 25-pitch bullpen session on Thursday.
The Mariners have four of their original rotation members on the disabled list and all are back throwing again now, although Felix Hernandez, Hisashi Iwakuma and Drew Smyly are limited to playing light catch and could be a month or more from returning.
Paxton, out since May 2 with a strained left forearm, will throw another bullpen session on Sunday at Safeco Field. If all goes to plan, he'll then head to a Minor League rehab start -- possibly with Double-A Arkansas -- and then rejoin the Mariners toward the end of their upcoming road trip either in Boston or Colorado.
"It felt really good," Paxton said after throwing fastballs in his first mound session since his injury. "There was no pain at all. Loose and easy. I was probably going about 70 percent today. Sunday, I'll throw another one and crank it up a little more and keep riding that progression."
The 28-year-old southpaw was 3-0 with a 1.43 ERA in six starts before hitting the disabled list. Paxton acknowledged it's been a rough stretch with so many starters down at once.
"I had the itch to get back out there. It's tough to sit on the bench and watch," he said. "But the guys that are filling in are doing a great job. It's not easy. [Christian] Bergman last night was amazing. That was huge for us to get a win like that. Hopefully, we can keep it going here until we get everyone healthy."
Hernandez and Iwakuma, both dealing with shoulder issues, threw under the watchful eye of trainers as they began the slow buildup process. Smyly, out since the last week of Spring Training with a strained elbow, was pleased to finally be getting his own throwing program started again.
Smyly will play catch again at 60 feet on Friday and Sunday and then travel with the team on its upcoming trip so he can continue working his way back.
"It was good to have a baseball and glove in my hand again," Smyly said. "We're just taking it one day, seeing how it feels. Just testing it out and building strength. Everything felt good yesterday, no pain, so we'll just keep moving forward."
WORTH NOTING
• Second baseman Robinson Cano said he was feeling better and was scheduled to hit off a tee in the cages on Thursday as he works back from a strained right quad. He's expected to be ready to come off the 10-day disabled list next Tuesday when the Mariners open an eight-game road trip in Washington, D.C.
• Outfielder Mitch Haniger, out with a strained oblique in his right side since April 25, took batting practice on Wednesday and did some throwing and running on Thursday as he works toward a likely return toward the end of this month.
• Right-handed reliever Shae Simmons, on the 60-day DL with a strained elbow suffered in Spring Training, has been throwing bullpens at the Mariners' Arizona facility and is getting close to going out on a Minor League rehab assignment, according to Servais.
Greg Johns has covered the Mariners since 1997, and for MLB.com since 2011. Follow him on Twitter @GregJohnsMLB. This story was not subject to the approval of Major League Baseball or its clubs.