Welcome home: Ichiro celebrated in Seattle
Outfielder began career with 12 seasons for the Mariners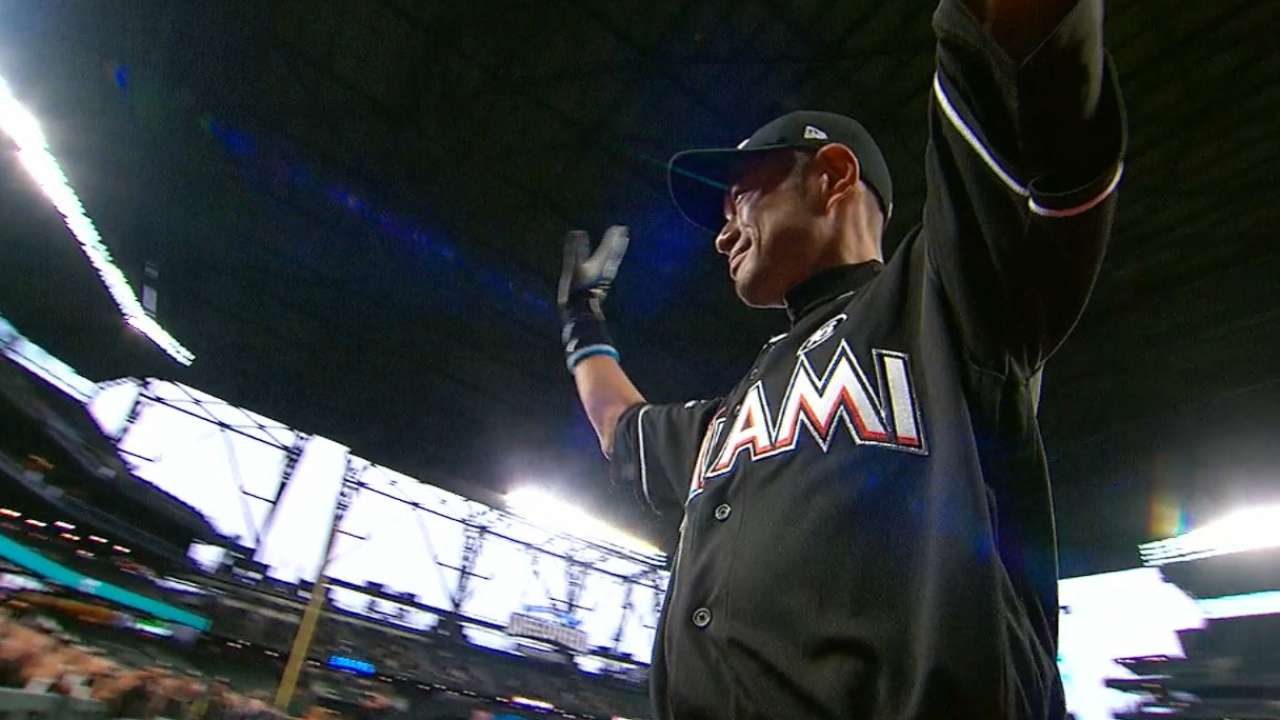 SEATTLE -- Marlins manager Don Mattingly chuckled Monday night after his team's 6-1 loss to the Mariners at Safeco Field. Surely he expected the Seattle media to question him on the availability for the remainder of the three-game series of a familiar 43-year-old outfielder with the No. 51 and his first name on the back of his Marlins jersey. It was only a matter of time.
"Just tell me when you want him to play, and I'll put him in there," said Mattingly of Ichiro Suzuki, the future Hall of Famer who returned to the place where his Major League career began in 2001. "We'll see how everything goes. It's a possibility."
Seattle fans know perhaps better than anyone that with Ichiro, anything seems possible.
They were reminded of that again on a chilly weeknight when the Mariners rolled out the red carpet for one of the franchise's all-time greats. Ichiro, who spent 12 seasons in Seattle as the team's leadoff man and right fielder, was feted on the field by Mariners players from the past and present, as well as team executives. It was the first time he had been back to Safeco Field since visiting as a member of the Yankees in 2014.
Ichiro went 0-for-3, all groundouts that could have been infield hits in his speedy prime. However, he made a leaping catch near the wall in the eighth, prompting Safeco fans to boo the fact that shortstop Taylor Motter had made an out, before they realized Ichiro caught it and cheered.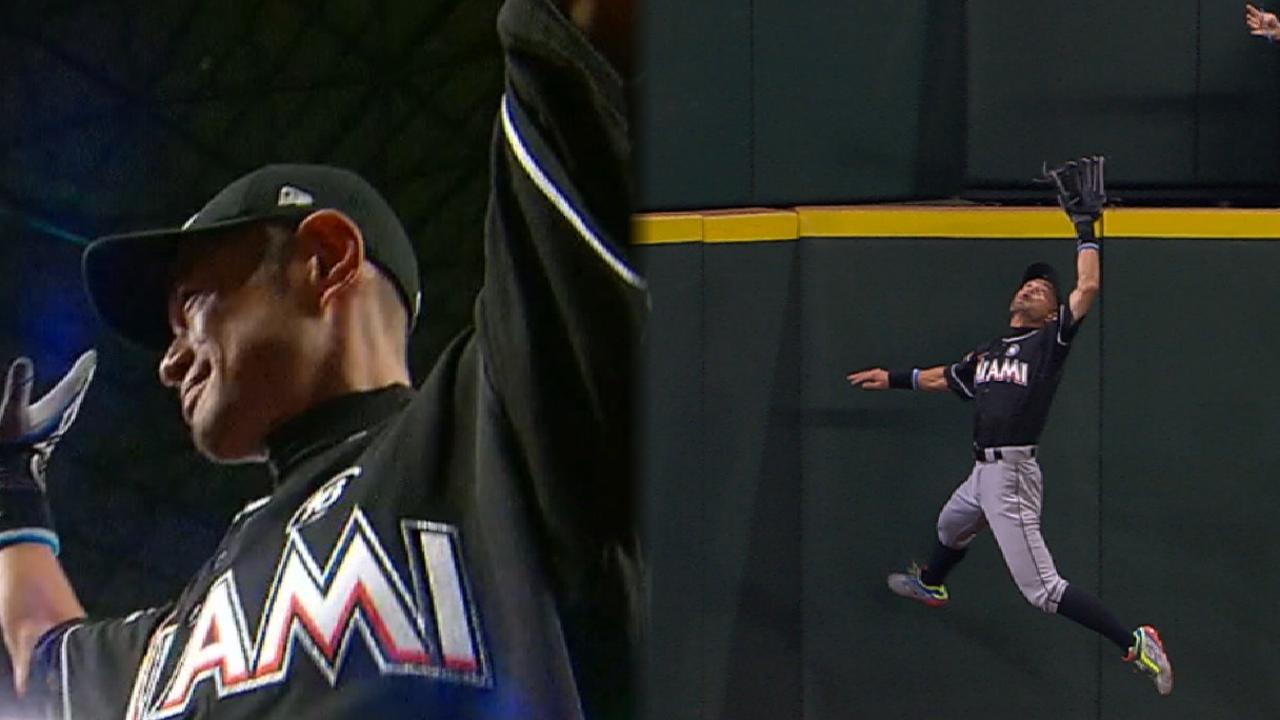 Throughout the game, Ichiro noticed the adulation. How could he not?
"It's been so long that I could have been forgotten," Ichiro said through an interpreter. "But for them to [show appreciation] for me, I'm very thankful. … For me, this is home, and it always will be."
The Mariners treated Ichiro like a returning member of the family, too.
Prior to first pitch, the Mariners played a short video honoring Ichiro, who set MLB's single-season record for hits (262) in 2004 and also became the first player in big league history to collect 200 hits in 10 consecutive seasons, a stretch that began in 2001, the year he won American League MVP and Rookie of the Year.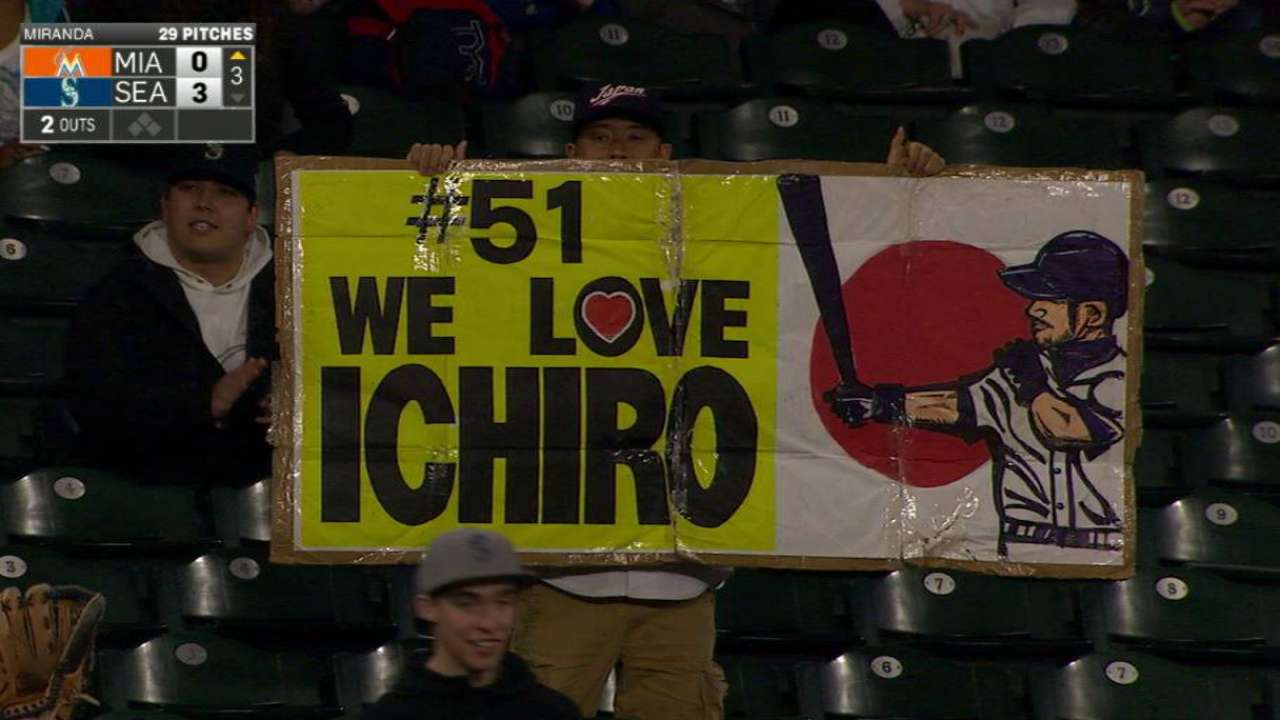 After the video, Ichiro was summoned onto the field on a red carpet and presented with two plaques -- one commemorating his first hit in the Majors in 2001 and another, with the title "Hitstory," with photos of Ichiro breaking George Sisler's single-season hits record in 2004 as a Mariner and reaching the 3,000-hit club last year in Colorado as a Marlin. There will be a bobblehead giveaway on Wednesday with the same dual-team theme.
Ichiro then posed for photos alongside Mariners president Kevin Mather, team CEO John Stanton, former team CEO Howard Lincoln, former Seattle teammate Edgar Martinez and current Mariners Felix Hernandez, Kyle Seager and Hisashi Iwakuma.
"To get that warm reception that I did get with the ceremony, and having the guys come out … I'm just grateful to them," Ichiro said. "And I'm grateful to the fans."
Doug Miller is a reporter for MLB.com. Follow him on Twitter @DougMillerMLB. This story was not subject to the approval of Major League Baseball or its clubs.