Mariners starters throw first spring session
Zych and Cishek's time frames slowed by offseason surgeries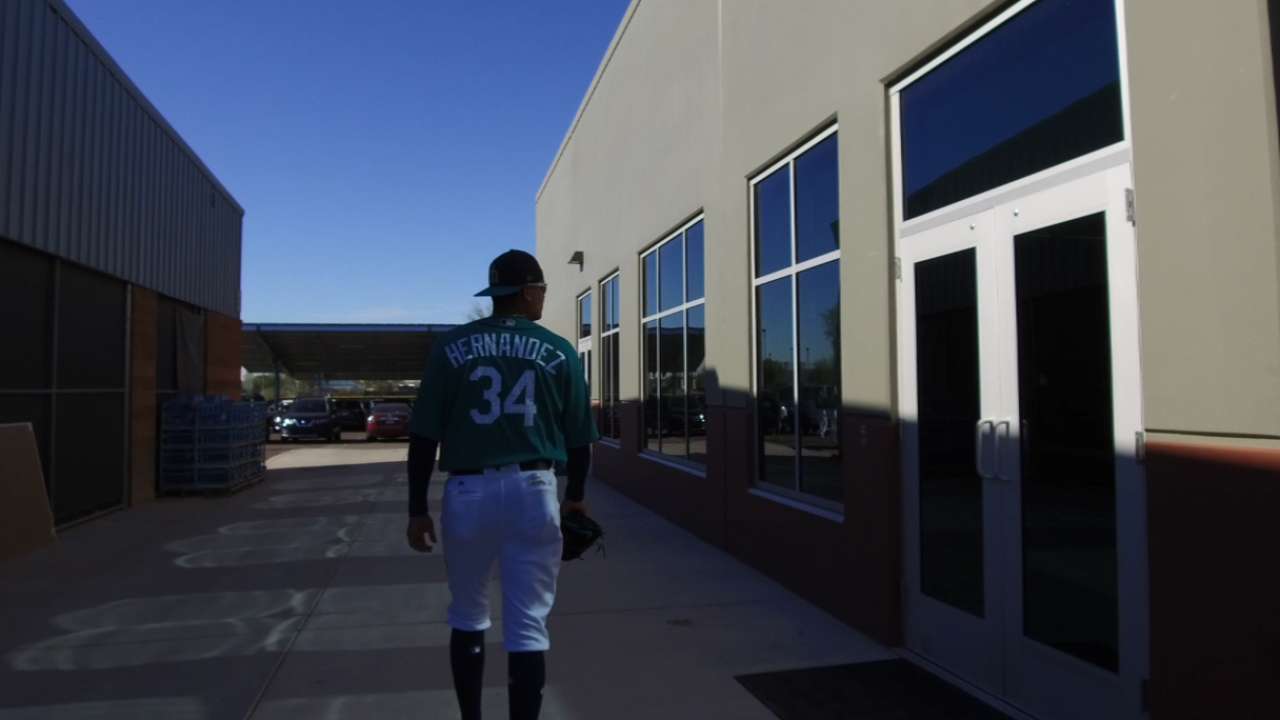 PEORIA, Ariz. -- For what the Mariners want to achieve this season, a lot depends on their starting pitching. And all five projected rotation members were on the mound for the first time this spring on Thursday during the second day of pitchers and catchers' workouts.
Felix Hernandez, the staff ace for the past decade, made his earliest spring mound debut in recent memory, as he works to be ready for the World Baseball Classic in early March, as well as Seattle's season opener in Houston on April 3.
Also throwing their first 10-minute bullpen sessions were returning starters Hisashi Iwakuma and James Paxton, along with newcomers Drew Smyly and Yovani Gallardo.
• Mariners Spring Training: Schedule | Information
The latter two are also gearing up for World Baseball Classic action, with Gallardo throwing for Mexico and Smyly one of the alternates for Team USA, with the possibility of being added for the second or third rounds of play in the three-week tournament.
"We want to get those guys ramped up a little quicker than we have in the past," Mariners manager Scott Servais said. "They're in great shape and feel good and are excited to be here. They're veterans. They know how to get themselves ready."
Hernandez threw 27 pitches in his first session and said everything went fine. The others also looked strong, with Paxton in particular unveiling some crisp heat.
Slow go for recovering relievers
The only pitchers not taking part in the early work at camp are rehabbing relievers Tony Zych and Steve Cishek, whose time frames are slowed by offseason surgeries.
Zych, who had right biceps surgery in October, played long toss at 120 feet on Wednesday, but he won't take the mound for his first bullpen session until "later this month," according to Servais.
Cishek had microfracture surgery on his left hip after doctors went in to repair a torn labrum in October. He has yet to begin throwing and seems a long shot to be ready for the start of the regular season in April. Servais said he could start throwing bullpens sometime in early March.
"I don't have an exact date for him. He's got to get his legs under him," Servais said. "His arm is fine. He's working his arm but not putting the whole throwing motion together because it was a hip issue. It was a little more severe than the doctors initially anticipated, so that's why it's a little slower recovery."
Worth noting
• The utility infield battle between Taylor Motter, Shawn O'Malley and Mike Freeman figures to be one of the biggest position battles during spring camp, and Servais acknowledged that it's even possible that trio could potentially provide an answer for the backup outfield spot, as well.
"More than one could [make it]," Servais said. "They can all play all over the field. They all bring a little bit different something. "They're going to play a lot this spring. We'll have a good idea when we leave here which guy we want to go with. I don't know if one is ahead of the others right now. It's an open competition."
• Veteran reliever Jean Machi has still not arrived at camp due to visa travel issues. He's the only pitcher or catcher to have not reported. Position players are due to report on Saturday, and the first full-squad workout is Sunday at the team's Peoria facility.
Greg Johns has covered the Mariners since 1997, and for MLB.com since 2011. Follow him on Twitter @GregJohnsMLB and listen to his podcast. This story was not subject to the approval of Major League Baseball or its clubs.