Mariners like Marte, but could acquire SS help
Adding veteran to roster could help high-upside youngster maintain consistency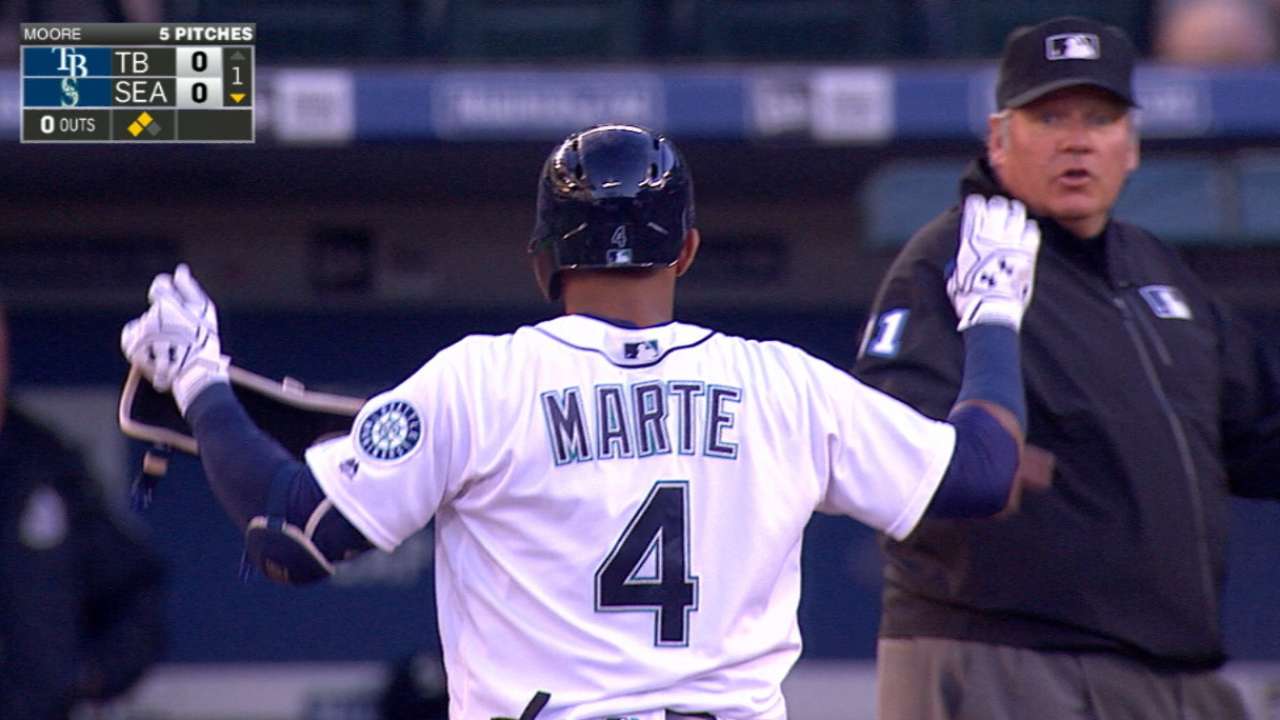 SCOTTSDALE, Ariz. -- The Mariners like what they have seen so far from young shortstop Ketel Marte. They just want to see more and on a more consistent basis.
"With Mike Freeman, with Shawn O'Malley and with Ketel, we feel we have some level of depth," Mariners general manager Jerry Dipoto said at the General Managers Meetings. "If something is going to happen for us at shortstop, it's going to be more significant than finding somebody who can augment our situation at Triple-A."
The front office believes that the acquisition of a veteran infielder could be beneficial to Marte, 23, on multiple fronts. In August, the Mariners and Reds were unable to complete a deal that would have sent 31-year-old shortstop Zack Cozart to Seattle. The acquisition would have lightened Marte's load during a difficult season.
"If we do something at shortstop, it's going to be more of a veteran guidance type of player," Dipoto said. "Maybe the shortstop version of a Carlos Ruiz, but the market is not brimming with that type of player."
On Monday, the Mariners officially acquired Ruiz from the Dodgers in exchange for Vidal Nuno. Ruiz will serve primarily as Mike Zunino's backup, but the veteran could also see significant playing time if Zunino slumps or is injured. Dipoto characterized his catching situation as two "start-worthy" types of players."
Could the same formula work at shortstop?
"I think 2015 was two and half months of showing the world what [Marte] was capable of. And as is often the case, when a player goes out and the league returns volley, he has to figure out have to give it back," Dipoto said. "It was a learning experience. He has areas he has to focus on and areas he needs to improve. We understand that. There is a reason he is out there playing shortstop for us every day, because we believe in his physical upside and what he is capable of. We saw it sporadically last year."
Marte burst on the scene with a strong season at Triple-A Tacoma in 2015, then he hit .283/.351/.402 in 57 games, a span of 247 plate appearances, once he was promoted to the big leagues. He finished the 2016 regular season with a .259 average, one home run, 33 RBIs, 55 runs scored and 11 stolen bases in 119 games. He spent time on the disabled list because of a sprained left thumb and mononucleosis.
"He dealt with mono. He dealt with an ankle issue," Dipoto said. "There were periods of times where we saw flashes of what he was showing us in 2015. We didn't see it consistently. That will be the next step for him, showing it consistently."
Jesse Sanchez is a national reporter for MLB.com based in Phoenix. Follow him on Twitter @JesseSanchezMLB and Facebook. This story was not subject to the approval of Major League Baseball or its clubs.