Montgomery set to face former club on road
Mariners lefty will make first appearance at Kauffman Stadium vs. Royals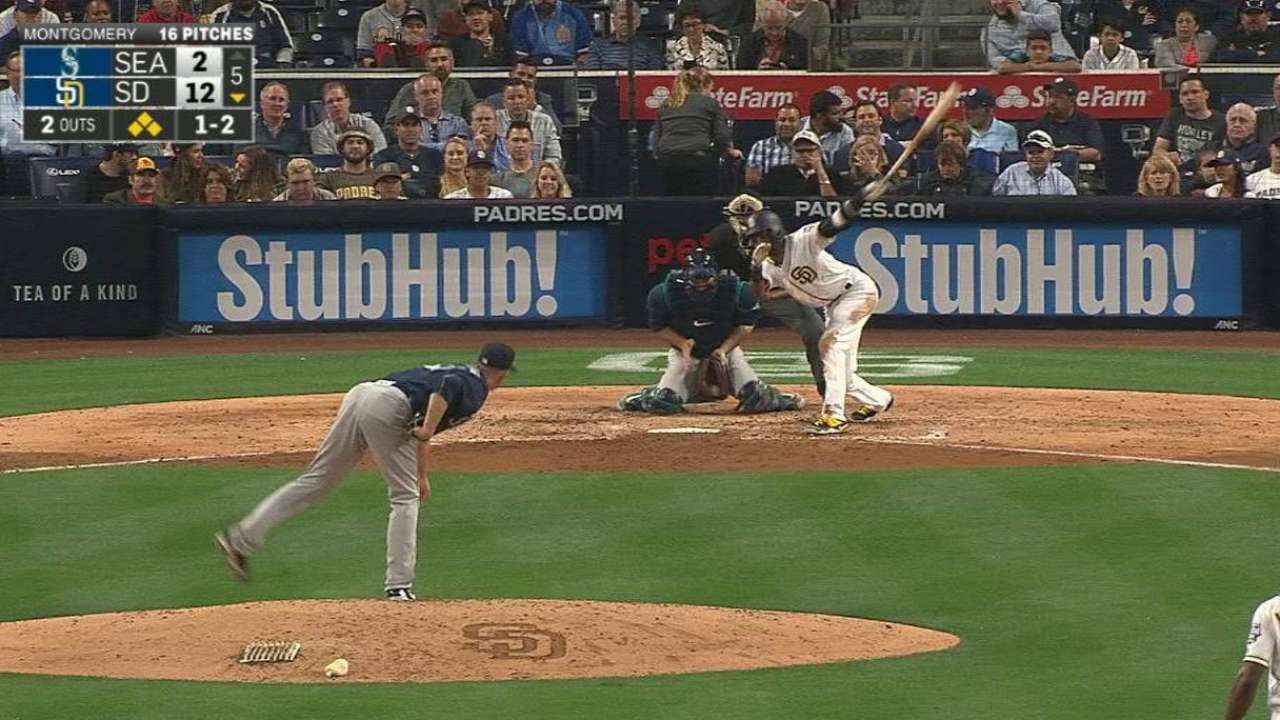 KANSAS CITY -- It's been a while since Mariners left-hander Mike Montgomery was a member of the Royals. Since he was first traded away, some things about Kansas City have eluded him.
"There was a barbecue place. I can't remember the name of it," Montgomery said with a laugh on Friday, attempting to recall the name of his favorite restaurant. "Yes, I know there's a few of them."
But in the three-and-a-half years that have passed since he was traded from the Royals to the Rays in the deal for James Shields and Wade Davis, and then again from Tampa Bay to Seattle, some things have stuck with Montgomery.
On the mound, Montgomery learned how to optimize his mechanics and figured out the best way to position himself on the rubber. But more than baseball, he built maintained relationships with several members of the Royals, including outfielder Jarrod Dyson and first baseman Eric Hosmer, who Montgomery roomed with at various points while playing for the Triple-A Omaha Storm Chasers.
"We definitely got competitive in our Madden and FIFA games," Montgomery said. "We definitely had some battles."
As Montgomery prepares for his Sunday start against the Royals, it won't just be his first game as a visitor in Kauffman Stadium, but his first game there period. For that, he said he feels some extra excitement for his start, although he worked a lot of the "awe" out of his system when he shut out the Royals at Safeco Field in 2015.
And that was exactly the mindset Mariners manager Scott Servais said he wanted to see out of Montgomery. Servais acknowledged it'd probably be cool for Montgomery to make the start at Kauffman Stadium, but hoped the jitters would be gone.
"Like a lot of guys, sometimes [it's] when you put your next uniform on when it comes together and clicks," Servais said of Montgomery. "[And] you always have the anxiety of going back and pitching against your friends, your teammates, but he's been away long enough, I'd hope that's kind of gone away."
However, even if the nerves are gone, that doesn't mean Montgomery won't have the chance to make a few memories. After all, Servais, who was a member of five different organizations throughout his playing career, said Servais "absolutely" remembered going back to Houston and Chicago after joining new teams.
And Servais was lucky. He had the storybook ending to his first trip back to Houston.
"I remember the first game[s] I played there," Servais said, recalling a 7-6 Cubs win on Sept. 19, 1995. "I faced Mike Hampton. Did OK."
Servais paused, brandishing a big smile.
"Hit a homer."
Scott Chasen is a reporter for MLB.com based in Kansas City. This story was not subject to the approval of Major League Baseball or its clubs.