Cano in elite group with 7th 20-HR season
Mariners' All-Star also doubles twice, reaches base 5 times in loss to Astros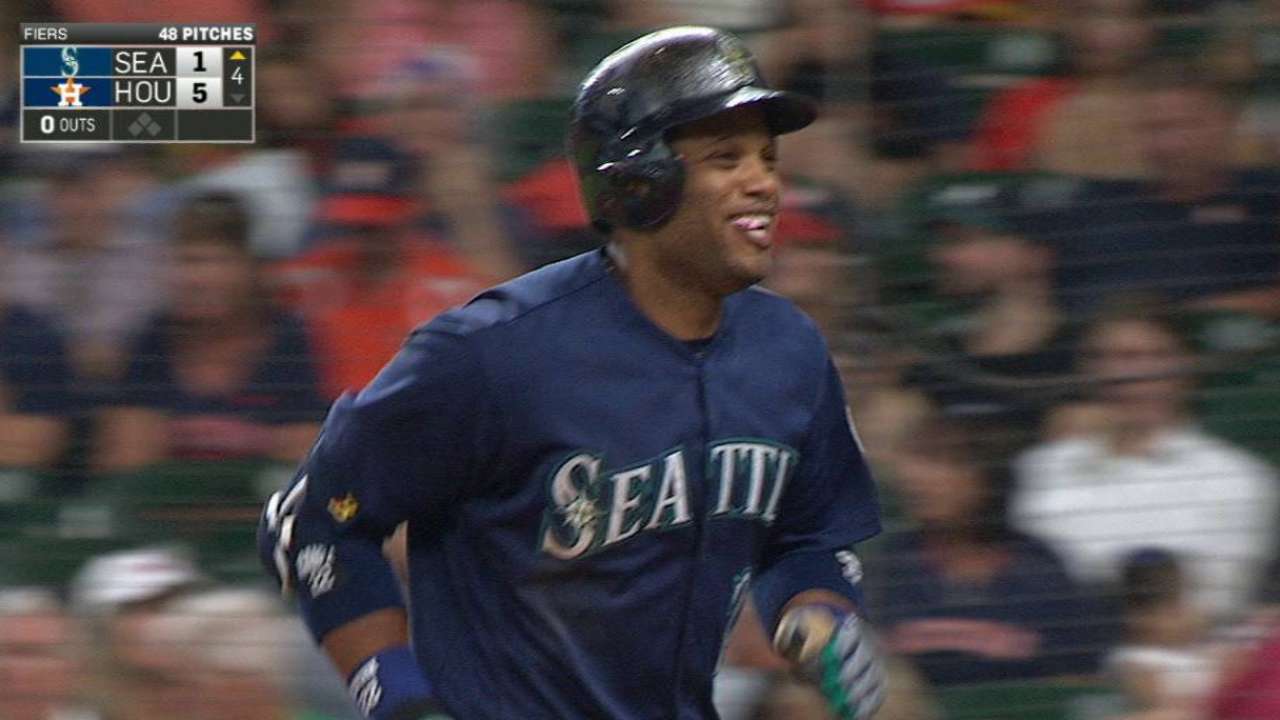 HOUSTON -- Robinson Cano, who is headed to the 2016 All-Star Game presented by MasterCard in San Diego next week, can thank the Astros for helping pave the way as he continued torturing their pitching in the Mariners' 9-8 loss Wednesday at Minute Maid Park.
Cano went 3-for-3 with a two doubles, a home run and two walks in the series finale, becoming just the sixth second baseman in Major League history with seven seasons of 20-plus homers. Six of those long balls have come in 10 games against the Astros, as he's hit .463 (19-for-41) with 19 RBIs this season against the American League West rivals.
That's a healthy chunk of Cano's production in a year in which he's batting .308 with 56 RBIs in 85 games and just earned his seventh All-Star selection.
Homer No. 20 was a long time coming for Cano, who sat on 19 for 17 games since going deep on June 17 at Fenway Park. But this one exited the park quickly, a line shot leading off the fourth against Mike Fiers on an 0-1 changeup.
"I wasn't trying to hit homers," Cano said. "I was fine with having 19 in the first half. That's just two below what I had total all last year. We still have the second half to play. So I wasn't worried about that."
Maybe not, but Cano definitely takes pride in joining the 20-homer group again. The only second baseman with more 20-home run seasons in MLB history is Jeff Kent, who did it 12 times. Cano is tied for second with Dan Uggla and Hall of Famers Joe Gordon, Rogers Hornsby and Craig Biggio, who all reached that mark seven times.
"Every time I get a milestone, those are the kind of things that make me work even harder," said the 33-year-old Cano. "Because in this game, you want to look in the past and put up numbers with the best second basemen to play the game. That is something I can be proud of myself. And it makes me want to keep working even harder because I still have seven years left on my contract, and who knows what can happen?"
While Cano hasn't been hitting the ball out of the park as much in the past month, he's continued hitting. He's batted .351 over his past 23 games, capped off by reaching base all five plate appearances Wednesday. The last time Cano reached base five times was Aug. 29 against the White Sox, and the last time he hit two doubles and a homer in the same game was June 13, 2013, at Oakland in his final season with the Yankees.
Greg Johns has covered the Mariners since 1997, and for MLB.com since 2011. Follow him on Twitter @GregJohnsMLB and listen to his podcast. This story was not subject to the approval of Major League Baseball or its clubs.