Mariners get Trumbo, Nuno in 6-player deal
Slugger provides versatility, pop; left-hander a candidate to start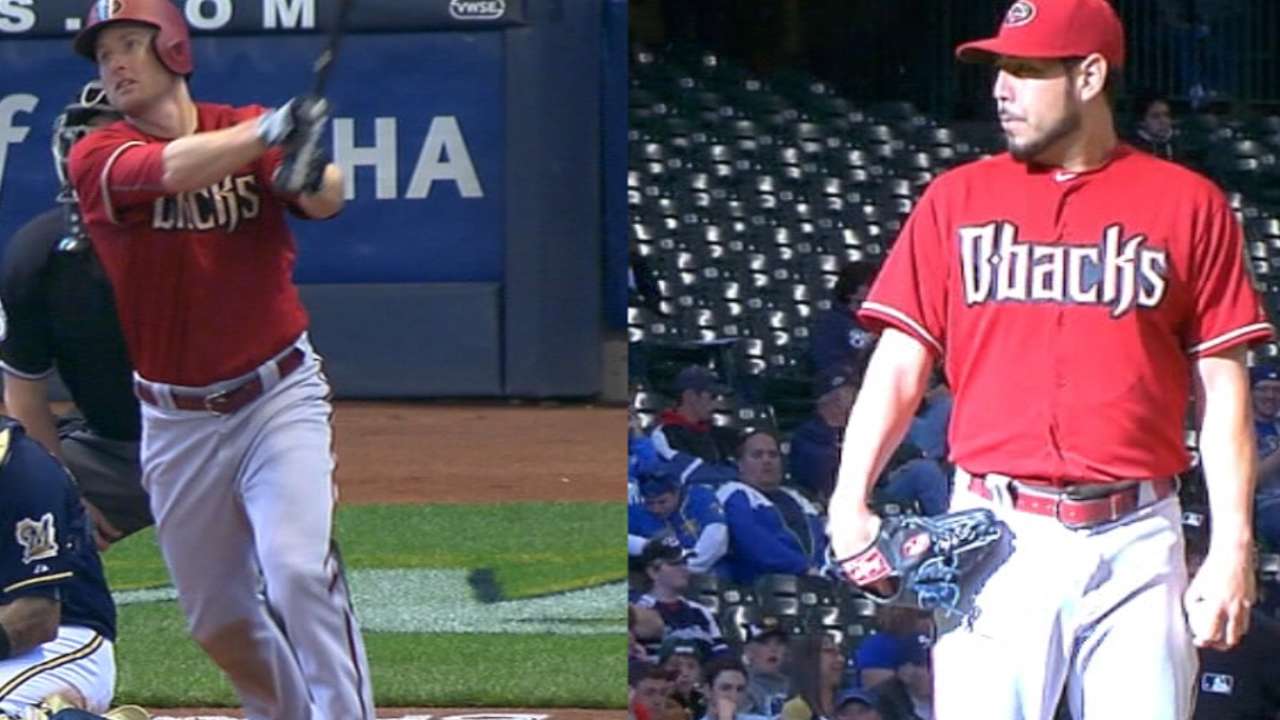 SEATTLE -- Looking to bolster their struggling offense, the Mariners acquired right-handed power hitter Mark Trumbo and left-handed pitcher Vidal Nuno in a six-player swap with the D-backs on Wednesday.
Seattle gave up right-handed reliever Dominic Leone, backup catcher Welington Castillo and Minor Leaguers Gabby Guerrero and Jack Reinheimer in a move designed to help the Mariners contend now in exchange for several promising youngsters. Guerrero was ranked No. 5 on MLB.com's Top 30 Prospects list for Seattle, while Reinheimer was 14th. Guerrero, 21, is the nephew of former MLB star Vladimir Guerrero.
"You look where we're at offensively and we're not doing exactly what I thought we'd do or what most people thought we'd do, and Trumbo is a guy that brings an awful lot to the table," said Mariners general manager Jack Zduriencik. "He's a big power hitter that will bat somewhere in the middle of the lineup and will be very good insurance for the ballclub."
• Mayo: Trumbo trade opens up spot for Tomas
• Justice: Seattle had to shake up lineup
Zduriencik said Trumbo can play either corner-outfield spot for Seattle, as well as designated hitter and some first base.
"We'll have a rotation system where he'll get his ABs along with Nelson Cruz and the other corner players," Zduriencik said. "That will still unfold. More than anything else, to bring the bat to this organization is what we're desiring to do.
Trumbo is earning $6.9 million this season and will be arbitration-eligible one more year before becoming a free agent in 2017.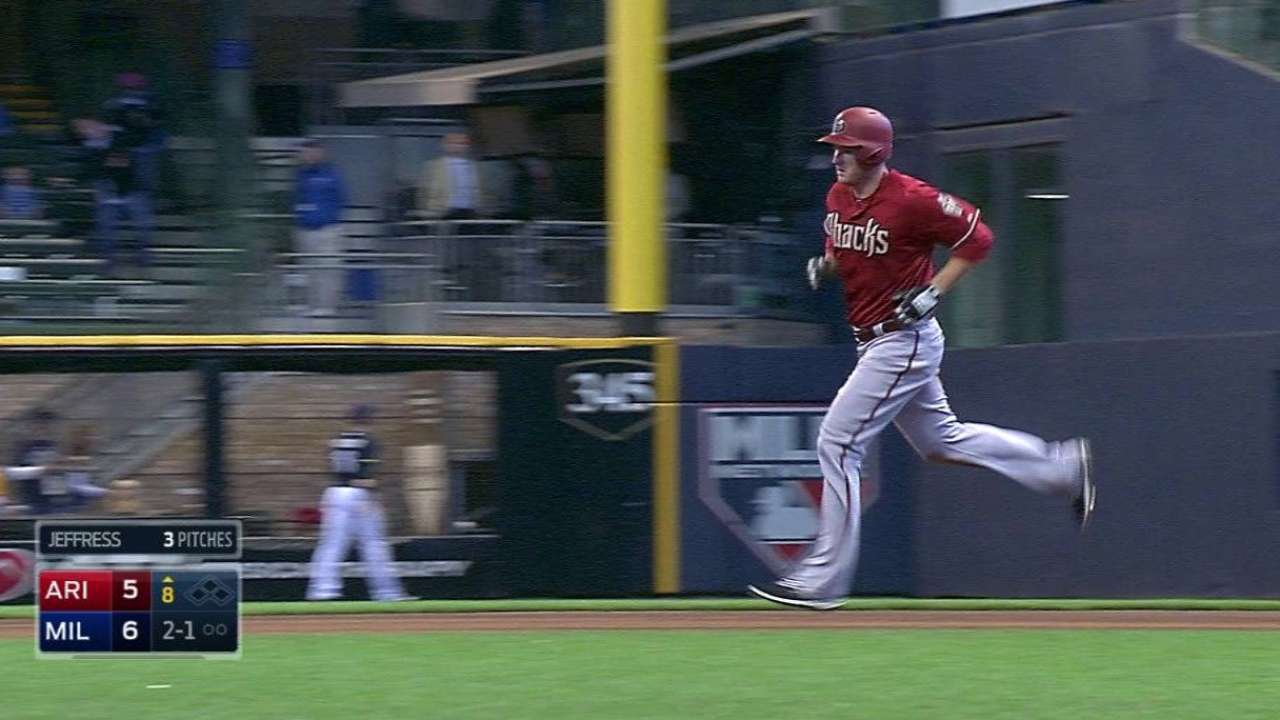 Trumbo hit .259 with 10 doubles, three triples, nine home runs and 23 RBIs in 46 games for the D-backs this season. The 29-year-old started 40 games in right field and one at first base this year, but he played extensively at first base as well as both corner-outfield spots in his earlier days with the Angels.
"I'm trying to figure out the logistics of what's going on more than anything," Trumbo told reporters in Phoenix after the deal was announced. "I knew it was a possibility, so I guess it's not something that catches me completely off guard. It's a bit of shock. You know, you get comfortable somewhere and you develop a rapport and you have great teammates and if you're removed from that situation, it's tough."
Trumbo was a 2012 All-Star and Home Run Derby participant, and he averaged 32 home runs and 94 RBIs over his final three seasons with the Angels from 2011-13 before being traded to Arizona. The Mariners hope he can bring that kind of force to a team that is 24-29 and ranks 14th in the American League in scoring despite the addition of Cruz, the AL home run leader this season.
"You're always looking to improve your club," Zduriencik said. "We'd still do it if we were leading the division and thought we could bring in a player to help us. But there's probably a little exclamation point here, doing the deal now and not waiting to get some additional help for this lineup is all the reasons why we did it."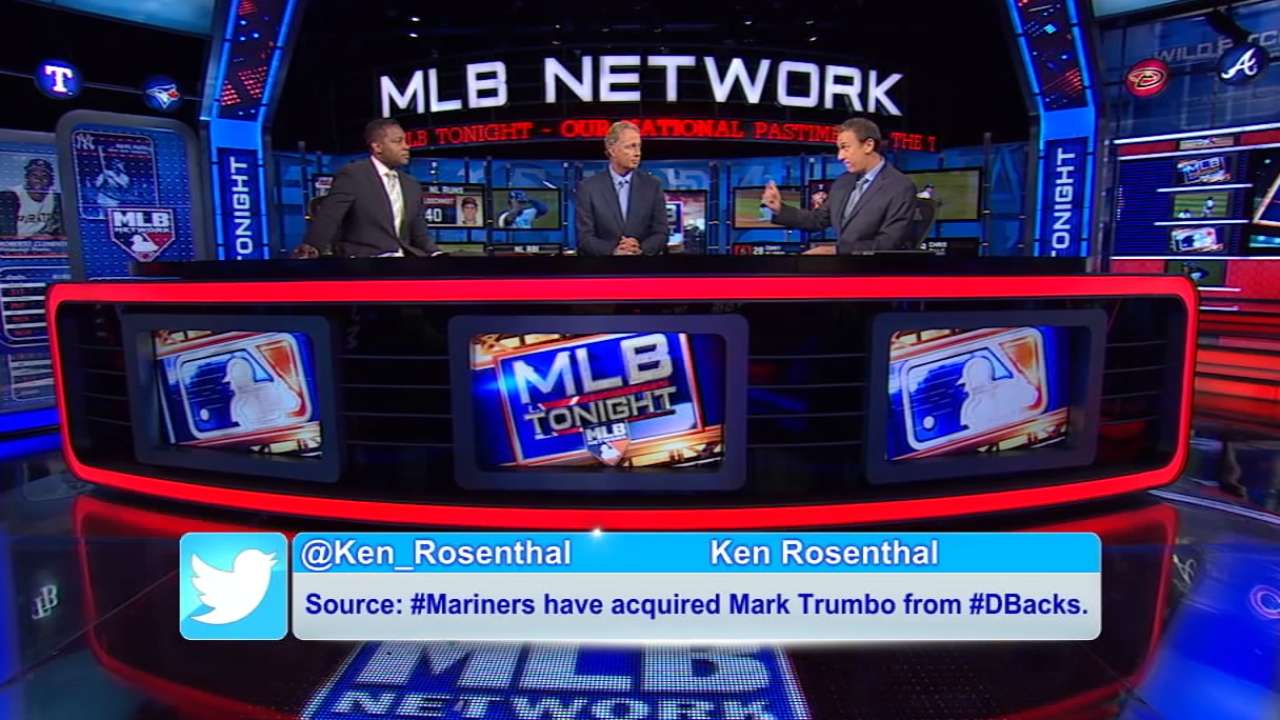 Nuno, 27, has split time between Triple-A Reno and the D-backs this season. He'll work out of Seattle's bullpen initially, but could be a starting candidate if needed. The Mariners currently have starters Hisashi Iwakuma and James Paxton on the 15-day disabled list, and neither is expected back until July at the earliest.
"It's no secret what has happened to our pitching just recently from a physical standpoint," Zduriencik said. "So to bring a pitcher like him -- who has started in the past and also been in the bullpen -- he's a versatile kid who is tough, has five years of control, we think it's an asset to the organization."
Castillo was just added as a backup catcher in a trade with the Cubs two weeks ago, so Jesus Sucre will presumably return from Triple-A Tacoma to take that spot back in another roster move that will come on Thursday.
Leone was a key member of last year's bullpen, but he had struggled this season and was 0-4 with a 6.35 ERA, while Guerrero and Reinheimer are both well-regarded young prospects.
"You hate to give up young kids," Zduriencik said. "But at the same sense, you look at the skill set Trumbo has and figure this might add 25-30 home runs to your ballclub and do it now with a club that can use that at this point. We hate to give up both players. One is a nice little shortstop and the other is a guy that has upside. But at least one of them we feel is several years away, and it's our job to replenish the system."
Greg Johns is a reporter for MLB.com. Follow him on Twitter @GregJohnsMLB, read his Mariners Musings blog, and listen to his podcast. This story was not subject to the approval of Major League Baseball or its clubs.