McClendon concerned with Rodney's save rate, not ERA
Closer has 6.23 earned run average, but has converted 12 of 13 opportunities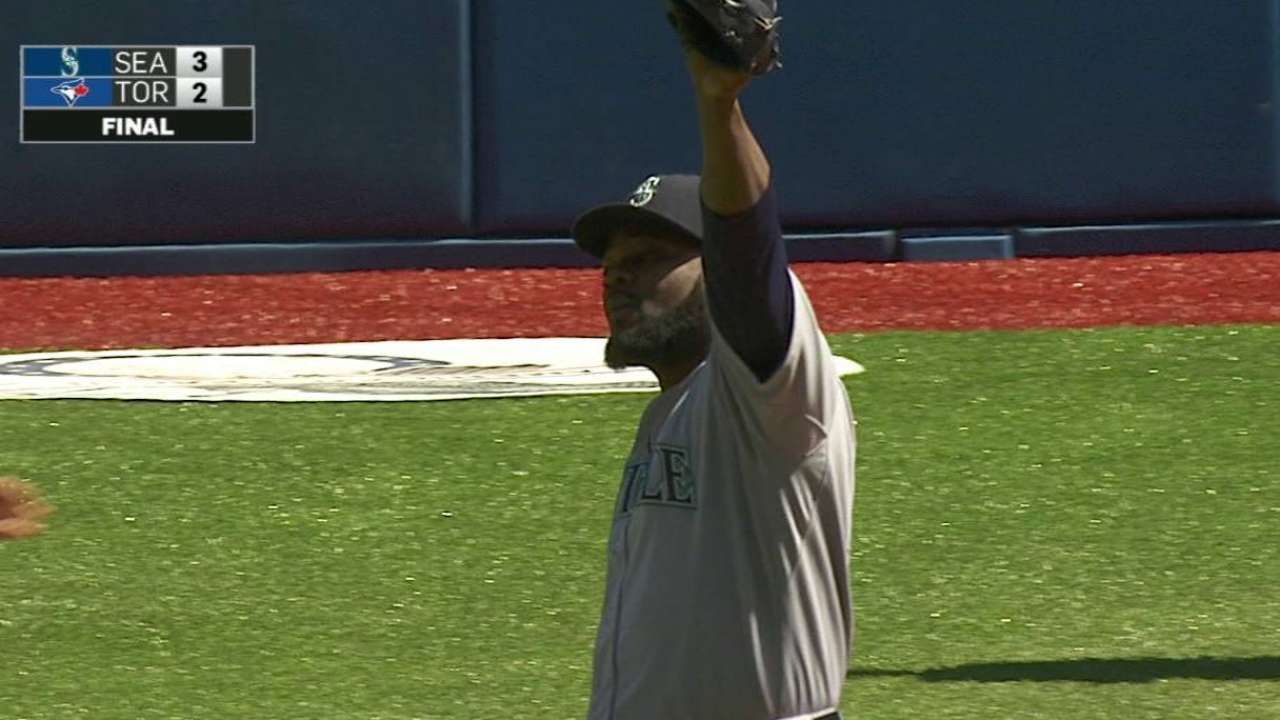 TORONTO -- Mariners closer Fernando Rodney had allowed runs in five of his seven May appearances, but the veteran right-hander has recorded 10 straight saves since his one blown opportunity in early April, and manager Lloyd McClendon said that means Rodney is getting his job done. The closer did so again with a clean ninth in Seattle's 3-2 win over the Blue Jays.

Rodney allowed a two-run homer to Chris Colabello in Friday's 4-3 win over the Blue Jays, and his ERA is still a lofty 6.23 after Saturday's win, but he's saved 12 of 13 games this year and 33 of his last 34 opportunities dating back to last July.
"I don't think you worry about his ERA much," McClendon said prior to Saturday's game. "A lot of that is inflated from [two early-season games]. My old skipper told me this a long time ago: Your responsibility as a manager is to get the ball to your closer in the ninth inning. After that, what are you going to do? He either wins it or loses it."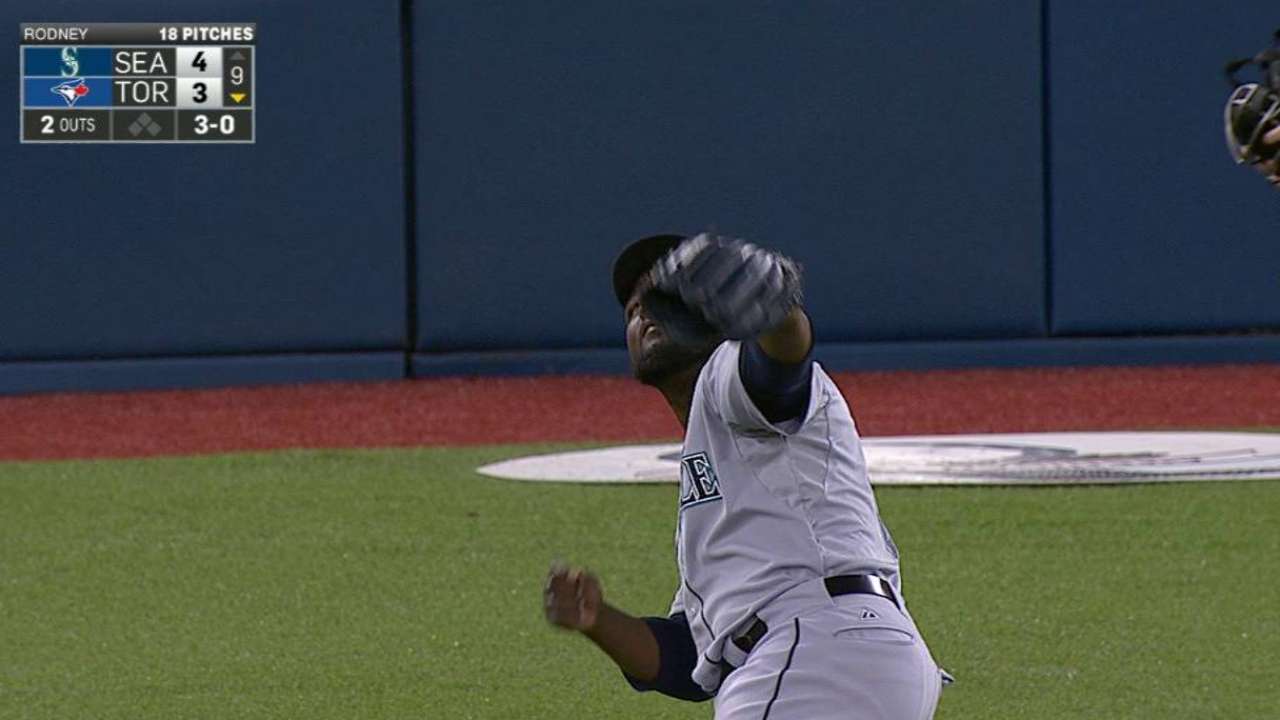 Rodney took the loss against the Red Sox last week at Safeco Field when he entered a 1-1 tie and surrendered the go-ahead run, but in straight save situations, he remains near perfect, albeit in a non-perfect way. His ERA in his first six May games is 9.00 (six runs in six innings) with nine hits, two walks and five strikeouts.
McClendon says Rodney seems to pitch to the situation, gearing up more in close save situations than the three-run lead he inherited on Friday. And he says that's not unique to his closer.
"He gets those one-run leads, I think he's a little bit more focused," McClendon said. "Three-run lead, he's a little more relaxed. It's just the animal that most closers are. It's not just him. I've seen it with other guys, too. It gets within one or two, and they tighten down.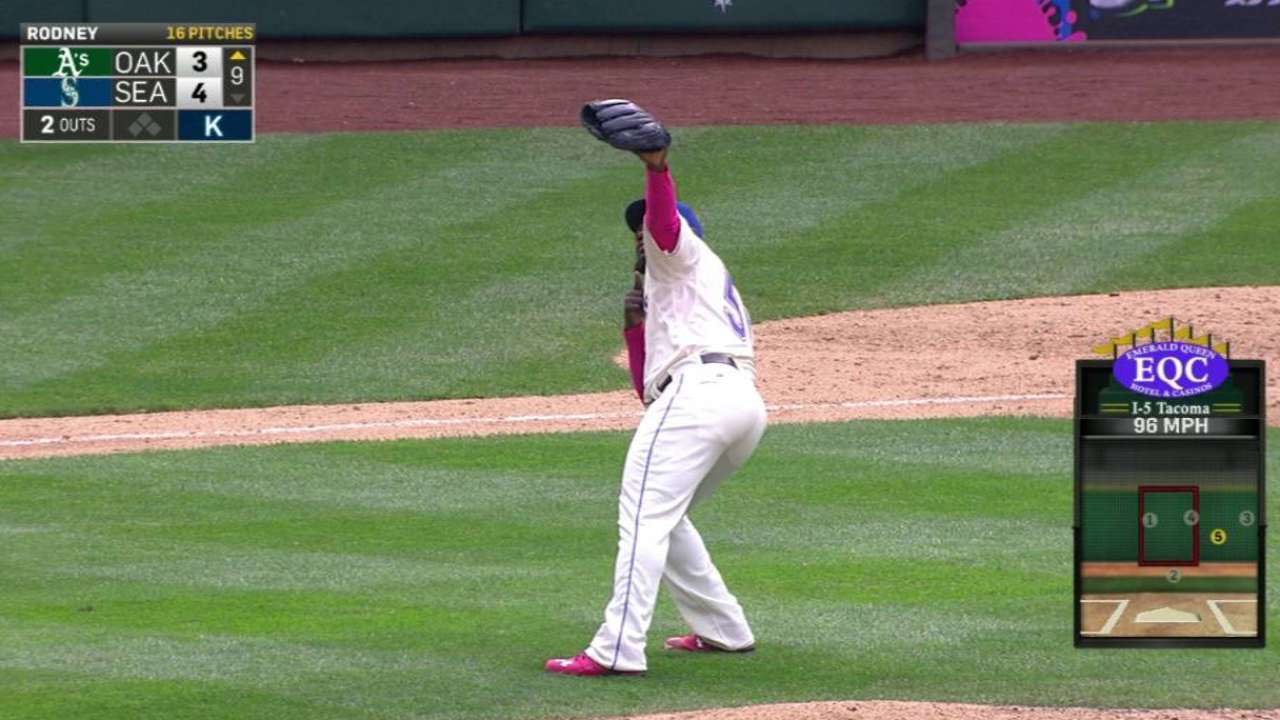 Rodney says he tries to pitch the same no matter the situation. He feels better when used more frequently and had better command Saturday because of that. But he acknowledged there might be some truth to the increased intensity of close games.

"Sometimes that happens," Rodney said. "I want to do my job. I love that situation when I come in a game with one run. I feel invincible. I know I can do it with one run. I know I can do my job. I can throw strikes and do my job. It's always been that way."
McClendon believes it takes a special mentality to close out games, and Rodney -- whose 145 Major League saves since 2012 are second only to Craig Kimbrel's 150 -- has the ability to deal with both the success and inevitable missteps of the high-profile position.
"Our closer is what he is," McClendon said. "Hopefully, he's 49 out of 50 with a 6.00 ERA. ... I don't care about his ERA. Just close the games out. Sometimes it's not easy."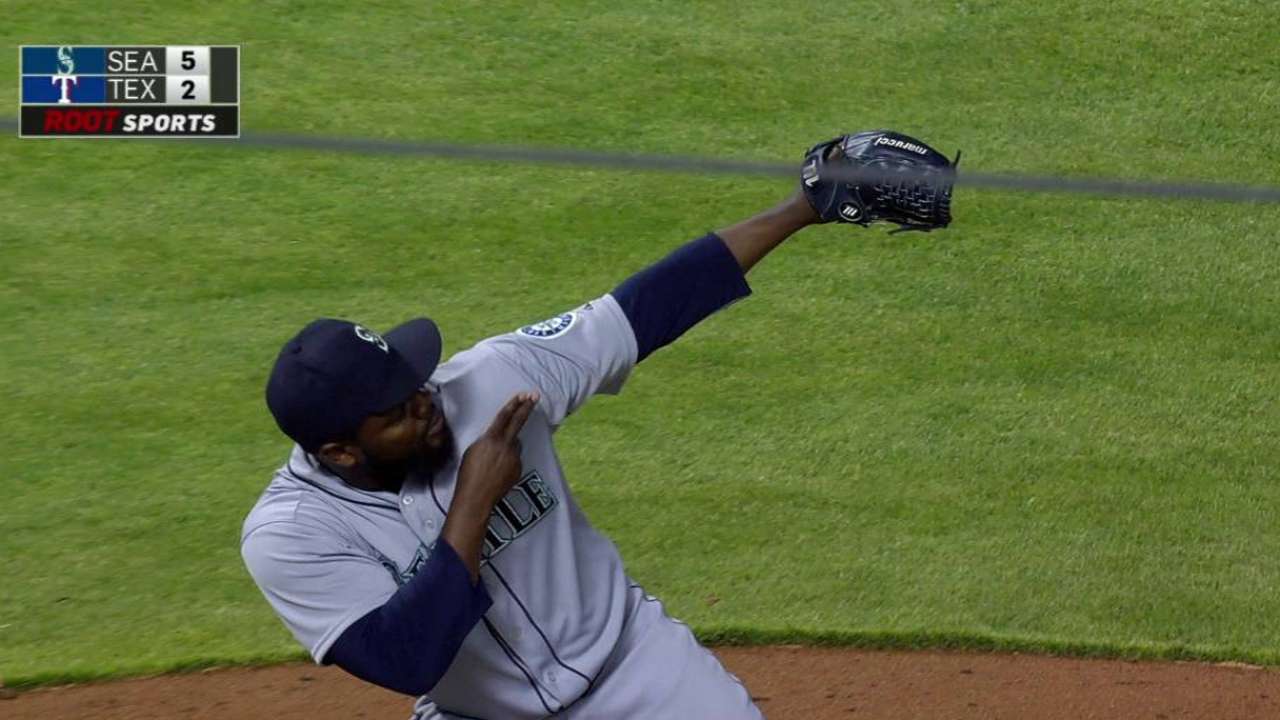 Worth noting
• Austin Jackson went 1-for-5 with three strikeouts in his sixth rehab game for Triple-A Tacoma on Friday while playing center field in a 10-9 loss at Iowa. He's hitting .250 (6-for-24) with four walks and seven strikeouts. McClendon said he's not sure when Jackson will be recalled as he returns from a sprained right ankle.
"The ankle is feeling good, but the bat isn't," McClendon said. "As of right now, it's still open."
• Right-hander Hisashi Iwakuma still isn't throwing as he remains in Seattle getting treatment on his strained right lat muscle.
"I would imagine when we get back, he'll start throwing again and then start his process all over again," McClendon said. "He's going to be out awhile."
Greg Johns is a reporter for MLB.com. Follow him on Twitter @GregJohnsMLB, read his Mariners Musings blog, and listen to his podcast. This story was not subject to the approval of Major League Baseball or its clubs.