Offense struggles following Seager's ejection
No. 5 hitter tossed after strikeout in fifth, misses two bases-loaded opportunities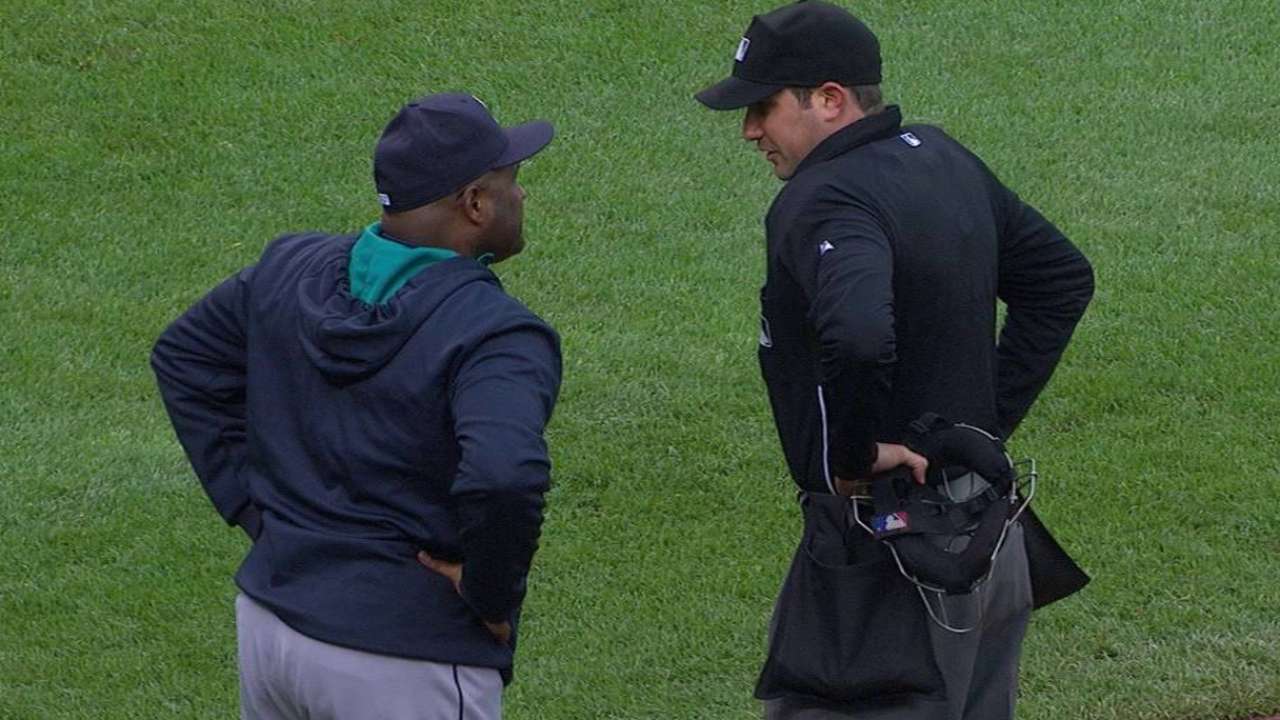 BALTIMORE -- Mariners manager Lloyd McClendon will be the first to tell you that his team has done everything it could do to get in its own way through its first 40 games of the season.
Third baseman Kyle Seager's ejection in the fifth inning of the Mariners' 5-4 loss Thursday afternoon at Camden Yards was the latest stumble, helping cripple an offense that had plenty of chances to come back, but was ultimately unable to produce in several key moments.
With the Mariners trailing by a run in the fifth, Seager was at the plate with one out and Robinson Cano on first. He took an inside fastball for a called third strike just moments before Cano was caught stealing second. Disagreeing with the call, Seager walked back to the dugout before home-plate umpire John Tumpane tossed him.
Willie Bloomquist, who was retired on two key opportunities in the seventh and eighth inning with the bases loaded, replaced Seager at third.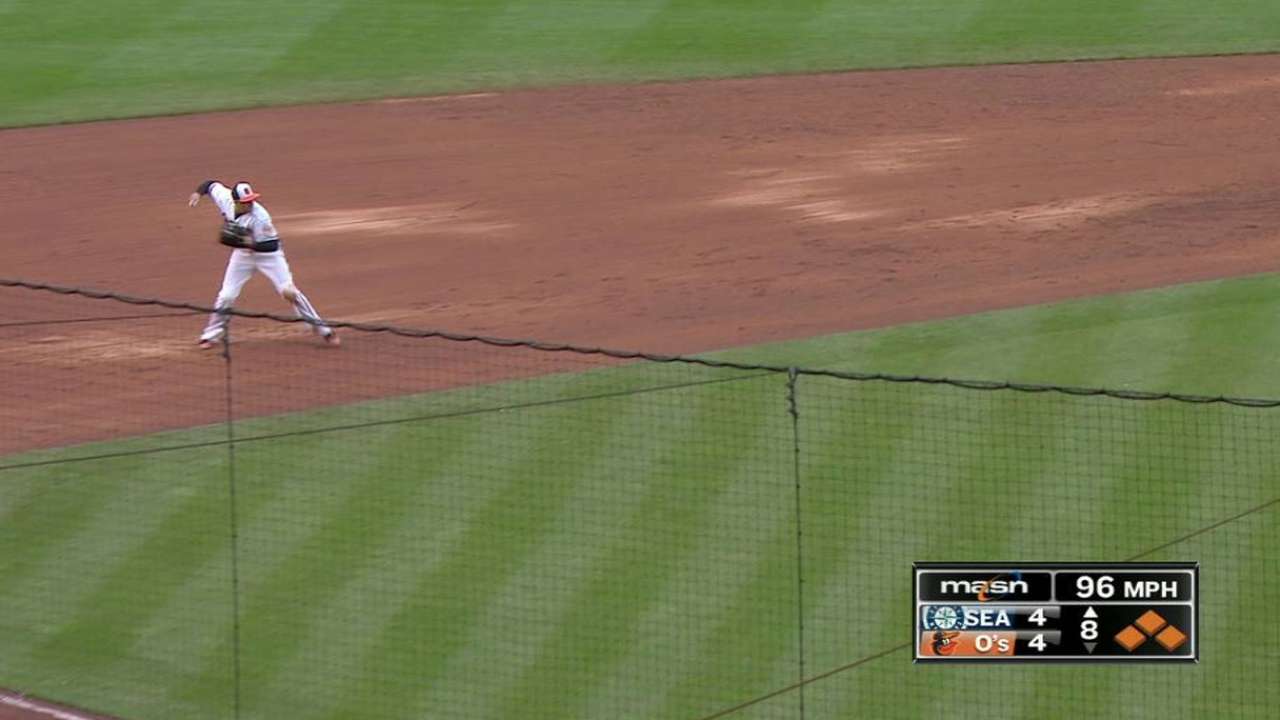 "I'm sure it would have been different," McClendon said of the game's outcome. "It's unfortunate he was thrown out of that ballgame. I'd like to say that's baseball, but it's not baseball. I didn't think that was warranted. It's very unfortunate."
"That's very frustrating," added Seager, who had never been thrown out of a game in the Majors. "I put Willie in a really bad situation. That's inexcusable. I need to be there for my team, be in that game, and that was really tough on Willie to get put in that situation."
The situation was the seventh inning, which provided the best chance for the Mariners to take the lead, when they loaded the bases down a run with nobody out. Instead of Seager, a lifetime .366 hitter with the bases loaded, coming to bat, Bloomquist stepped in and popped out to right.
A Logan Morrison two-out walk tied the game two batters later, but the offense, which went 3-for-15 with runners in scoring position, continued to come up short.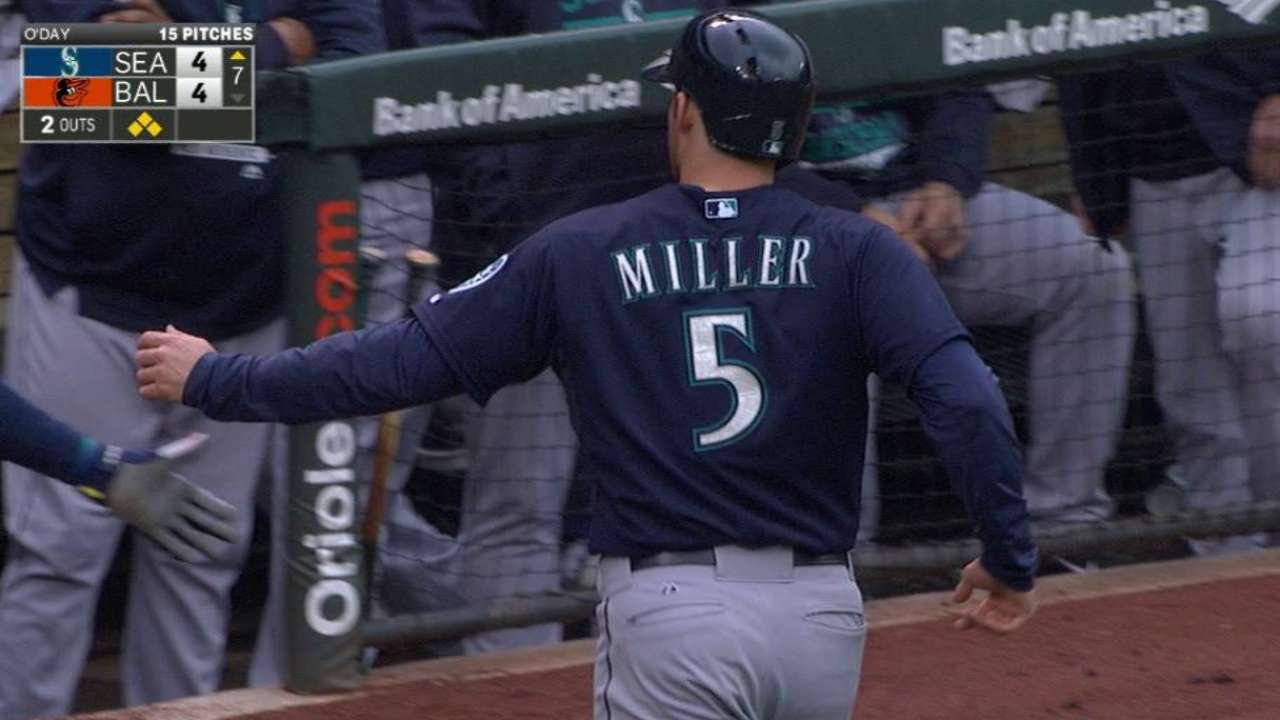 "That's a big blow for us," said Bloomquist, who grounded out to end the eighth inning with the bases full as well. "That's our five-hole hitter. I expect myself to come up in that situation and do more than I did, but those are big situations that ended up coming up."
After a two-hour, five-minute rain delay, McClendon inserted more righties into the lineup, including outfielders Justin Ruggiano and Rickie Weeks, who added a two-run base hit in the fourth. But the Orioles' bullpen stopped the bleeding late and capitalized with their own clutch hitting.
"We had a shot to put some runs on the board," McClendon said. "We put our righties in there to try and get it done, and I thought they did a real nice job throughout the ballgame. We just couldn't get the big hit to put us over the top."
McClendon believes the team is ready to hit the ground running and get on a winning streak, but he knows a loss like Thursday's, no matter who takes responsibility, will still have to be about more than one individual.
"Someone's going to have to come up with a big hit at some point in time," Bloomquist said. "I had the opportunity to do it twice, and I didn't get it done either time. Doesn't mean I'm going to fold up my tent and go home. I'm going to keep working, keep grinding, and so is everybody else in here. Hopefully it's going to break for us."
Jake Kring-Schreifels is a contributor to MLB.com. This story was not subject to the approval of Major League Baseball or its clubs.