Mariners fall as comeback comes up short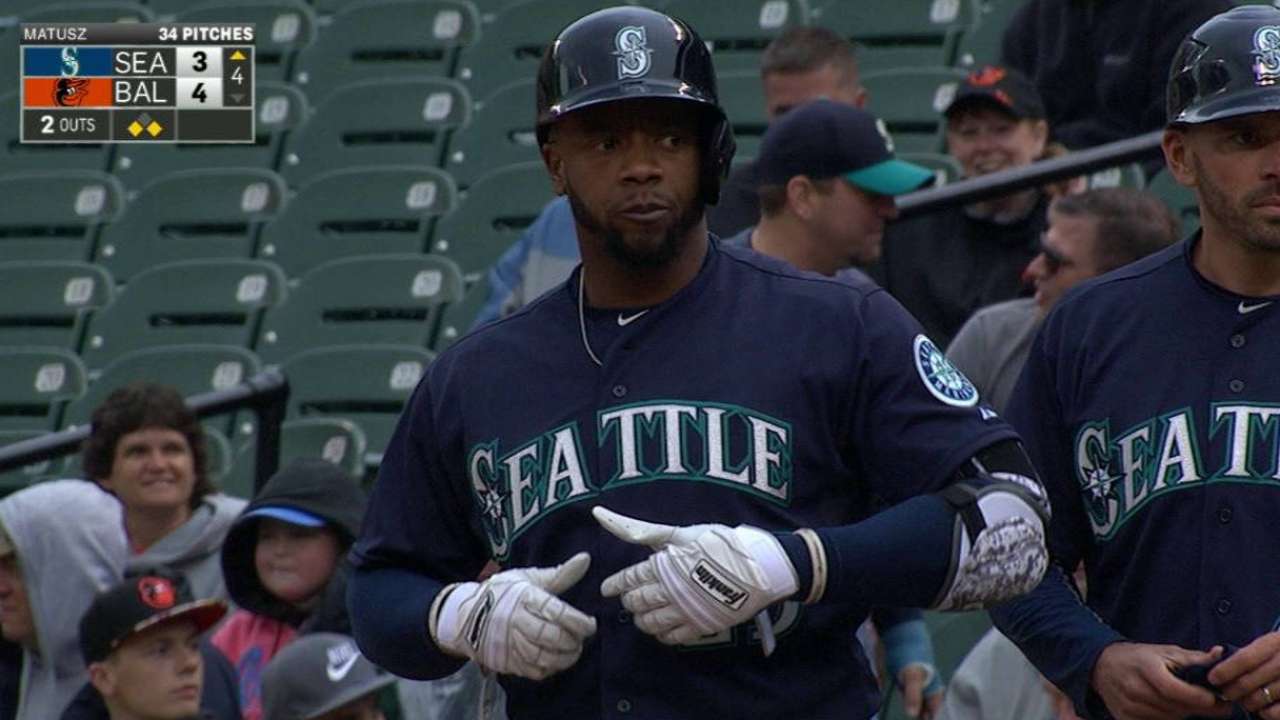 BALTIMORE -- J.J. Hardy delivered the decisive hit with a single up the middle in the eighth to give the Orioles a 5-4 win and series victory over the Mariners on a cold and rainy Thursday at Camden Yards.
Steve Pearce got Baltimore started in the first inning with a grand slam, the first of his career, but the game was halted due to rain in the middle of the third inning. Upon returning, the Mariners' bullpen held the Orioles hitless for five innings while tying the game at 4, thanks to Rickie Weeks' pinch-hit two-run single in the fourth and Logan Morrison's bases-loaded walk in the seventh.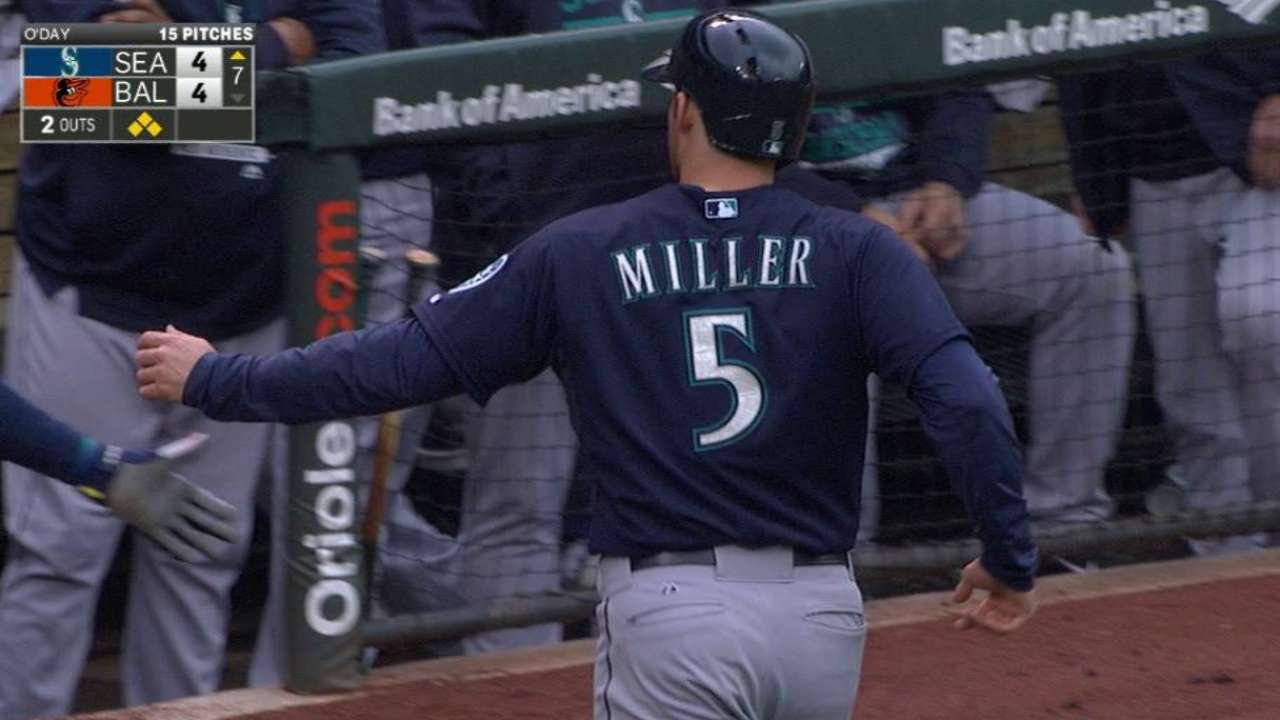 Zach Britton closed out the game with 1-2-3 ninth and Tommy Hunter picked up the win for Baltimore. Danny Farquhar was credited with the loss.
MOMENTS THAT MATTERED
Hardy comes up clutch: Hardy gave Orioles the run they had been searching for since the first inning. Chris Davis started the inning with a single and advanced to second on Pearce's groundout to the pitcher, and Hardy came through with the go-ahead run on a hard-hit ball up the middle.
"[I was looking] fastball, just something out over the plate that I could put a good swing on." Hardy said. More >
Bullpen gives Mariners a chance: After rain took out starter J.A. Happ in the third inning, Seattle's 'pen stepped up the best it could to give its offense an opportunity to come back. Righty Tom Wilhelmsen began the patchwork of relief with two scoreless innings, followed by Mark Lowe and Joe Beimel, and the three combined for six strikeouts over four innings. But locked in a 4-4 tie in the eighth inning, Farquhar couldn't hold the streak, surrendering the RBI single to Hardy.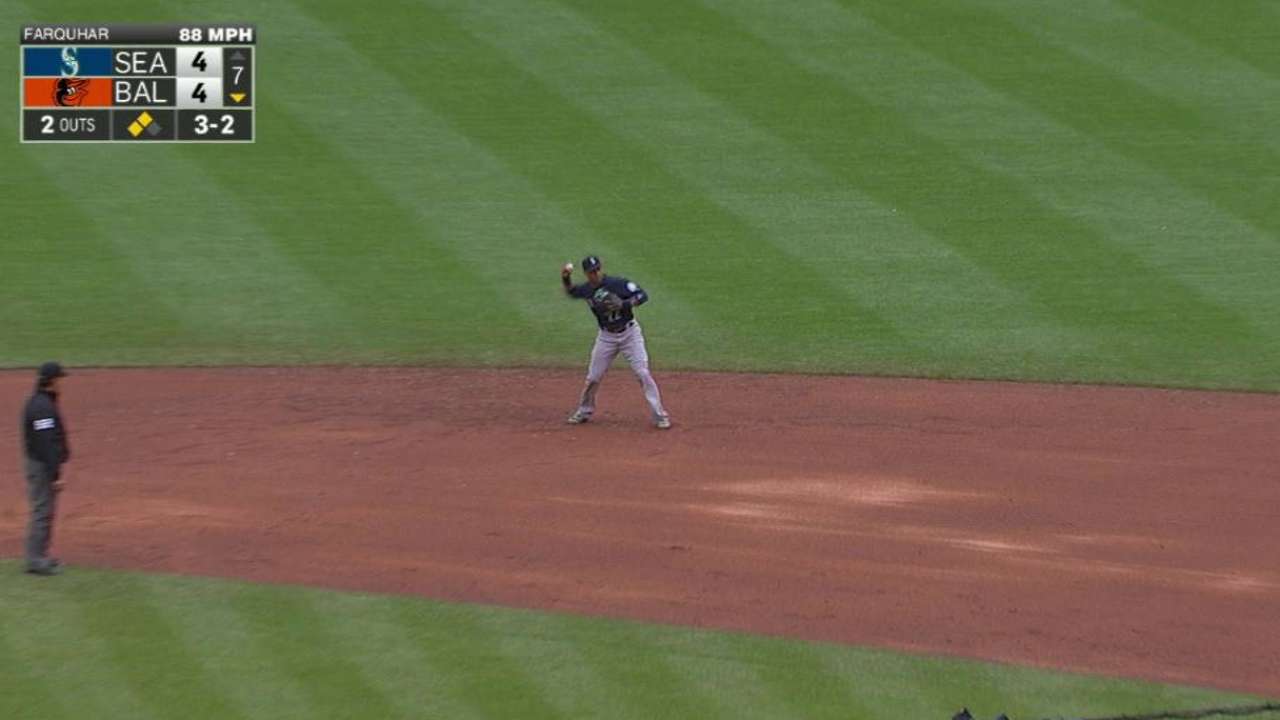 "I thought the bullpen did a great job. Just gave up that run at the wrong time," Farquhar said. "You definitely want to win, especially on a getaway day. ... A rain delay, it definitely hurts, but we've got a resilient team. We'll bounce back. It's a long season." More >
Pearce launches first career grand slam: After Davis' walk loaded the bases in the first, Pearce gave the Orioles a 4-0 lead with his first slam. Pearce crushed the first pitch he saw from Happ into the left-center-field stands, scoring Jimmy Paredes, Delmon Young and Davis. The grand slam was the second of the season for the O's (Jonathan Schoop hit the first).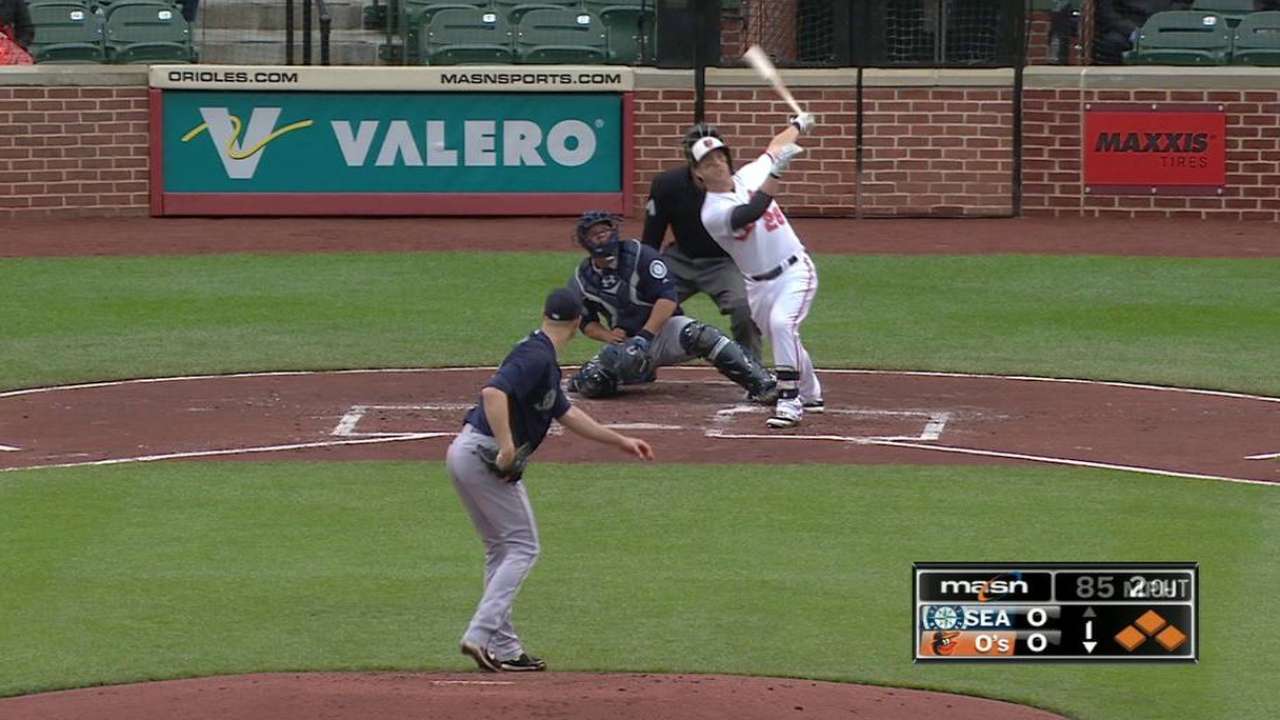 "It was great, considering how I've been swinging the bat lately," Pearce said. "Hopefully this gets me started."
QUOTABLE
"It's a grind game for both teams. It's what separates what these guys do for a living. It's just so easy to give in." -- Orioles manager Buck Showalter
RAIN INTERRUPTS FINALE
The game came to a halt due to heavy rainfall with the Orioles leading, 4-1, following a Nelson Cruz strikeout in the third. It didn't pick up until two hours and five minutes later, forcing both starters to exit the ballgame. Chris Tillman went three innings, giving up one hit and one run, while Happ allowed four hits and four runs over two innings. Brian Matusz and Wilhelmsen picked up for their teams, respectively, once play resumed.
SEAGER EJECTED
Third baseman Kyle Seager didn't realize he had been ejected to end the top of the fifth until his manager Lloyd McClendon came running out of the Mariners' dugout to protest. With one out and Robinson Cano on first, Seager took a fastball for a called third strike just moments before Cano was caught stealing second. Disagreeing with the call, Seager walked back to the dugout before home-plate umpire John Tumpane tossed him.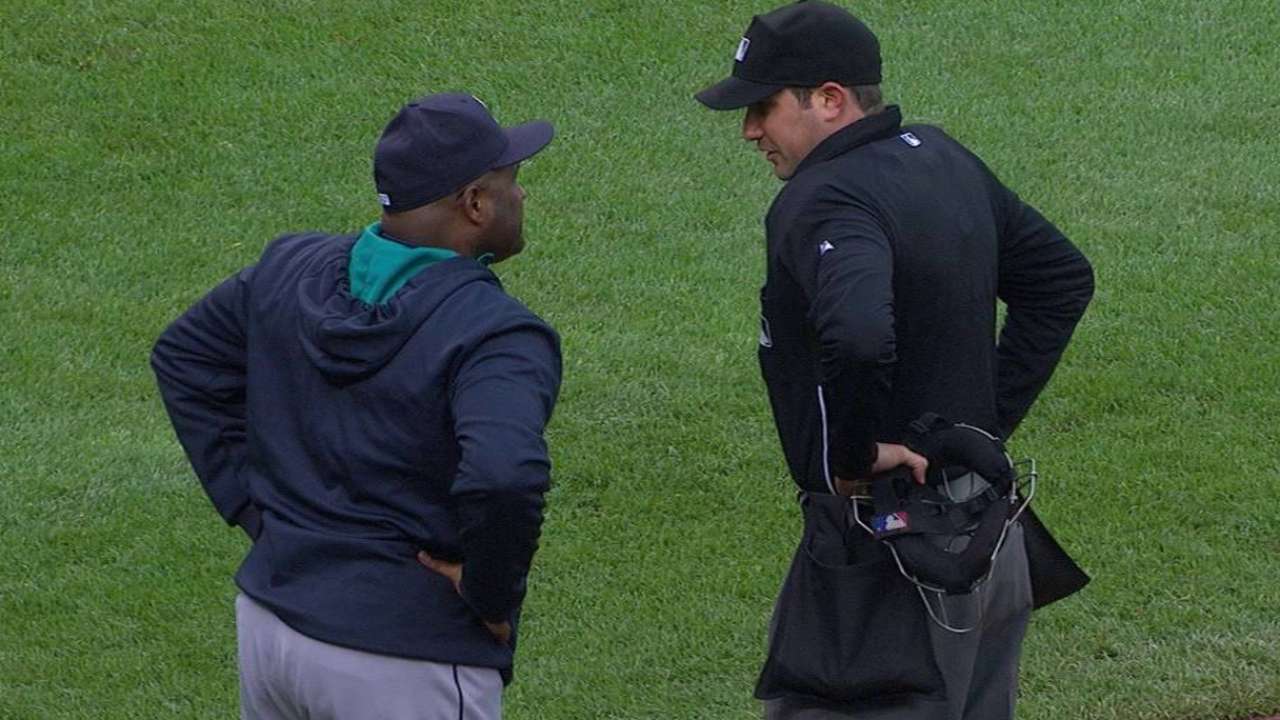 "I'm sure it would have been different," McClendon said of the game's outcome. "It's unfortunate he was thrown out of that ballgame. I'd like to say that's baseball, but it's not baseball. I didn't think that was warranted. It's very unfortunate." More >
WHAT'S NEXT
Mariners: Felix Hernandez will look to avenge his first loss of the season -- a 4-2 setback to the Red Sox on Saturday -- when the Mariners continue their road swing with a three-game set in Toronto starting at 4:07 p.m. PT on Friday. Hernandez, who will oppose righty Marco Estrada, has 13 career starts against the Blue Jays and holds a 4-4 record with a 3.56 ERA at Rogers Centre.
Orioles: The O's will begin a three-game series with the Marlins in Miami on Friday. Ubaldo Jimenez (3-3, 2.43 ERA) and Henderson Alvarez (0-3, 6.23 ERA) are set to square off at Marlins Park at 7:10 p.m. ET.
Watch every out-of-market regular-season game live on MLB.TV.
Connor Smolensky is an associate reporter for MLB.com. Jake Kring-Schreifels is a contributor to MLB.com. This story was not subject to the approval of Major League Baseball or its clubs.