Early run support boosts Elias' confidence
With offense behind him, lefty earns first win of 2015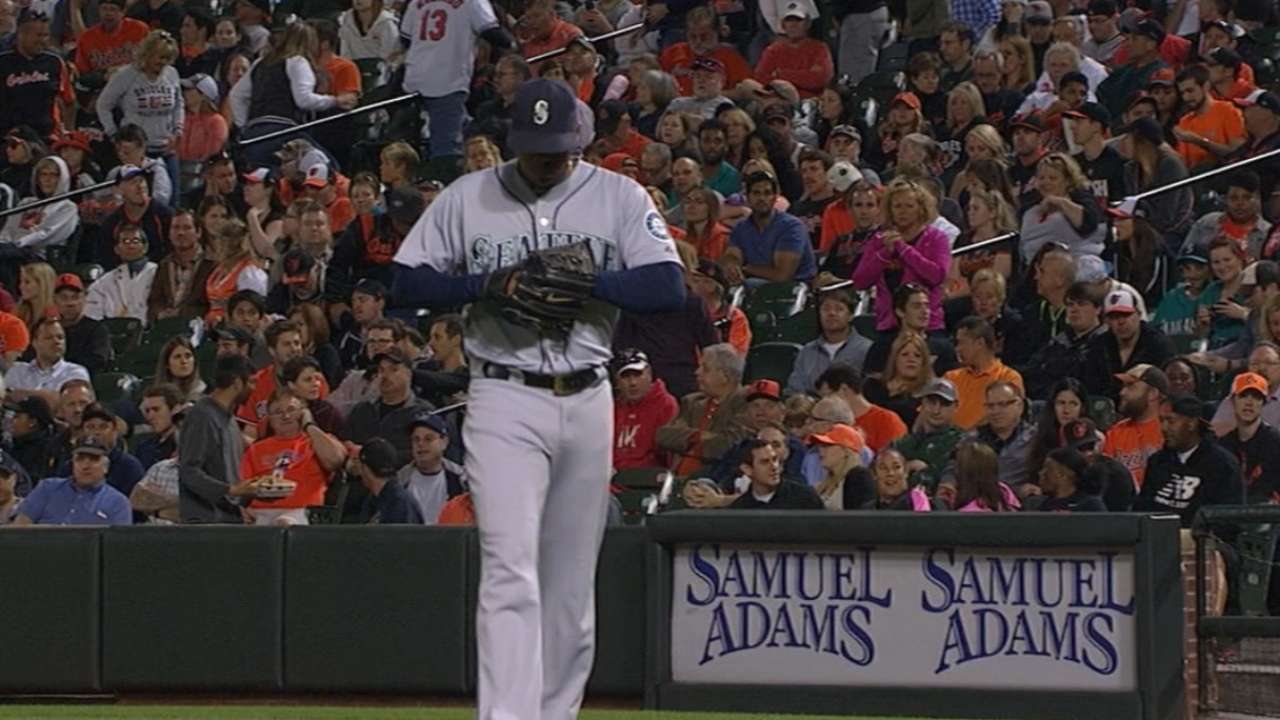 BALTIMORE -- Roenis Elias knew he was going to have a good day against the Orioles on Wednesday, judging from the way he was throwing in the bullpen prior to the game.
The young left-hander has pitched well all season, but that still has not translated into wins because the Mariners have struggled to get him runs. This time, Seattle got some early offense, and Elias did the rest, holding Baltimore scoreless into the eighth inning en route to a 4-1 victory.
It was Elias' first win since Sept. 4, 2014, at Texas.
"I had a good changeup," Elias said through an interpreter. "I hardly threw any curveballs today. I had a good command on my fastball."
Seattle manager Lloyd McClendon said Elias pitched well enough to win his first four starts, when he allowed three runs or fewer in each game. He simply did not get enough offense. That trend finally ended Wednesday as the early runs helped Elias relax a bit more.
"We came out swinging the bats pretty good for him tonight," McClendon said. "He's been outstanding. He's been very consistent since his recall from Triple-A. I've been extremely happy with him."
Nelson Cruz, who went 2-for-4 with a double and run scored, was impressed how Elias was able to shut down the powerful Orioles' lineup. The early runs only boosted Elias' confidence, Cruz said.
"It's huge," Cruz said. "It gives him space to work and throw his pitches."
Orioles manager Buck Showalter said Elias was simply effective in keeping Baltimore off-balance.
"A lot of changeups," Showalter said. "If you look at his percentage, it happens a lot against us. His percentage of fastballs was a whole lot higher than what we figured he would throw tonight, and he threw a lot of changeups. There's no such thing as a hitter's count anymore in the big leagues. It's almost more of an offspeed count -- 2-1, 1-0, 2-0, 3-2. And you go back through it, that's probably the key for him."
Todd Karpovich is a contributor to MLB.com. This story was not subject to the approval of Major League Baseball or its clubs.