Mariners look to add to haul at Winter Meetings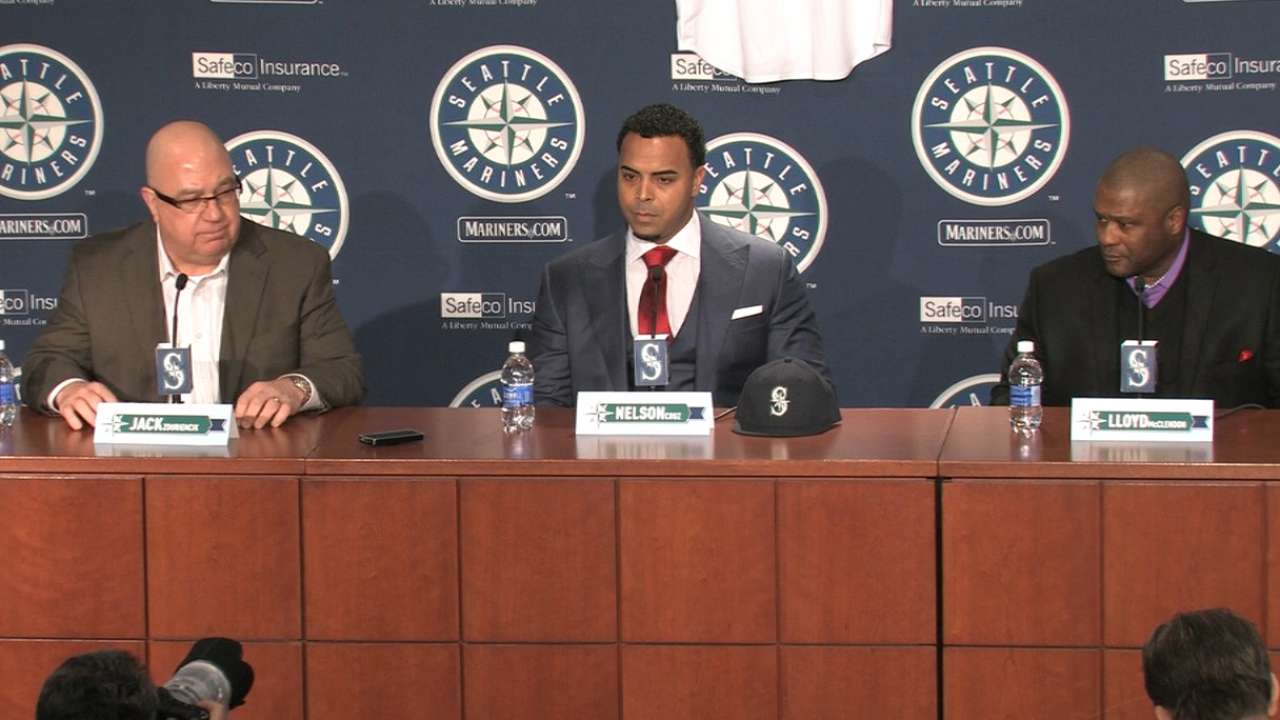 SEATTLE -- The Mariners have already landed their desired right-handed slugger in free-agent signee Nelson Cruz, and they flushed out their rotation by trading for veteran lefty J.A. Happ, but general manager Jack Zduriencik isn't done dealing as the club prepares for the Winter Meetings in San Diego.
While a corner outfielder is the logical target following the trade of Michael Saunders for Happ, Zduriencik isn't limiting his options.
"It'd be nice to add offense, that's the best way to say it," he said. "Another piece would be very nice. We've added a pitcher, a big bat. Another nice offensive piece would help us."
The Mariners appear flush with starting candidates now with Happ -- whom manager Lloyd McClendon said should slot in as the No. 3 or 4 starter -- joining a staff that already has five returners from a 2014 club that led the American League in ERA. But Zduriencik said depth is critical there, noting the youngsters in that group haven't thrown a lot of innings and injuries always threaten any rotation.
He reiterated that Hisashi Iwakuma isn't being shopped, despite recent reports to the contrary as he enters the final year of his contract.
"He's not going anywhere," Zduriencik said. "You've got Felix Hernandez, Hisashi Iwakuma and all these other nice arms. Why would you break that up right now? Any general manager will tell you to never say never, but it's about as close to never as I would say. It's not going to happen this year. It's just not going to happen."
McClendon indicated a preference for adding one more right-handed-hitting outfielder, noting James Jones provides a left-handed option. But Zduriencik said the biggest push is to improve the club by whatever means available.
"You're not going to walk away from a good hitter," he said. "Right-handed would be good, but if you get a chance to get a good hitter, you do it."
Here is a quick glance at the Mariners' situation heading into the Winter Meetings, which will take place Monday through Thursday in San Diego.
Club needs
Offense: Zduriencik made a big move to bolster one of the AL's least productive lineups by signing Cruz to a four-year, $58 million deal. Cruz gives McClendon a much-needed right-handed thumper to hit cleanup behind Robinson Cano and fills Seattle's gaping hole at designated hitter. But the Mariners would like to add another bat, and will have their ears open on both the free-agent and trade fronts for more potential upgrades.
Starting pitcher: Zduriencik checked off that box with the Happ trade on Wednesday. With Hernandez and Iwakuma and some outstanding young arms in James Paxton, Taijuan Walker and Roenis Elias, Seattle appears set in the rotation. However, if Zduriencik uses one of his young arms as a trade chip, he'll want to replenish the rotation with another arm.
Bullpen: Seattle had the lowest bullpen ERA in the Majors last season and returns that group almost completely intact. The only potential departure is veteran southpaw Joe Beimel, and he's a strong candidate to return. If Beimel goes elsewhere in free agency, the club likely will pursue another situational lefty, or look to add another veteran presence to the mix.
Who can be traded if necessary
Right-hander Taijuan Walker: The Mariners' top young pitcher has been talked about frequently as the club's biggest trade piece if Zduriencik pushes for a blockbuster deal. He was included two years ago in a deal with the D-backs for Justin Upton, though Upton nixed the swap with a no-trade clause in his contract and ended up in Atlanta. The Mariners love Walker's potential, however, and would only trade him if they felt that was the only way to add more-needed offensive firepower, a pressure that was lessened by this week's Cruz signing.
Shortstop Brad Miller: Miller split time last year with fellow rookie Chris Taylor, who is regarded as a better defender. The Mariners have some organizational depth at shortstop and are high on young Ketel Marte, so if Miller isn't deemed the likely starter, he could be available. Miller hit very well in the Minors and has surprising pop for a middle infielder, so he could be attractive to other teams, or to the Mariners as a utility player or even an outfield prospect.
Young relievers: The Mariners have some outstanding young power arms in their bullpen and could potentially deal any of them to add a bat. Brandon Maurer was extremely impressive after moving from the rotation to the bullpen last season, Carson Smith opened eyes as a September callup and Dominic Leone, Yoervis Medina and Danny Farquhar are also valuable right-handers who are not yet arbitration eligible.
Top prospects
The Mariners' top 10 prospects, per MLB.com, are outfielder Alex Jackson, third baseman D.J. Peterson, outfielders Gabriel Guerrero and Austin Wilson, right-hander Edwin Diaz, third baseman/first baseman Patrick Kivlehan, outfielder Gareth Morgan, Marte, left-hander Luiz Gohara and catcher Tyler Marlette.
Seattle has had some of baseball's top prospects in recent years, but many of those are now on the Major League roster. The new group is led by the last two first-round Draft picks in Jackson and Peterson, and the Mariners are hoping that pipeline yields some offensive firepower in coming seasons. Prospects can always be dealt, but the Mariners take pride in the development of their farm system under Zduriencik's guidance and would like to continue using their pipeline to build for the long haul.
Rule 5 Draft
Infielder Carlos Rivero was non-tendered last week in order to open a spot on their 40-man roster, which is at 39 after Cruz's signing. That leaves a potential spot open if the Mariners do want to add someone in the Rule 5 Draft that concludes the Winter Meetings on Thursday, though it's difficult to keep a young player on the 25-man roster for the full season on a contending club.
Big contracts they might unload
Seattle's highest-paid players -- Cano, Hernandez, Kyle Seager, Cruz, Iwakuma and Fernando Rodney -- aren't going anywhere. Austin Jackson figures to make about $8 million in his final season of arbitration eligibility, but he's expected to fill a key role in center field. None of the highest paid Mariners is in any danger of being dealt as the club continues building.
Payroll summary
The Mariners say they closed out 2014 with a $106.7 million player payroll after some midseason additions like Jackson and Kendrys Morales and they'll have more budget available this year. They've backed that up already with a seven-year, $100 million extension for Seager and a four-year, $58 million agreement with Cruz. Cano and Hernandez will earn a combined $48 million just this coming season and the rest of the Mariners already under contract -- including newcomer Happ's $6.7 million -- put Seattle's payroll already at $94.5 million for nine players.
Seattle has five remaining arbitration-eligible players who are expected to combine for about another $16.5 million. With another $12 million or so owed just to minimum-wage youngsters, the Mariners clearly are pushing well past last year's budget.
Asked Thursday if the club still has payroll flexibility to keep adding, even after the Cruz signing, Zduriencik simply said, "Yes."
In terms of spending, the Mariners will never be the Yankees or Dodgers, but they do have two of the highest-paid players in MLB in Hernandez and Cano and sound willing to supplement those stars in increasing fashion as their young core matures.
Greg Johns is a reporter for MLB.com. Follow him on Twitter @GregJohnsMLB as well as his Mariners Musings blog. This story was not subject to the approval of Major League Baseball or its clubs.